Spring Fashions for Men - 1912
Here's a state of things!  Enter the fluffy, frilly woman and the man in distinctly form-fitting clothes. It seems to be a give-and-take game in fashions for men and women just now. In a measure, what one gives up, at least in general line, the other takes.
As women bid farewell to their extremely tight, untrimmed skirts and straight, plain, mannish, little jackets, men take on clothes tighter than for many Seasons past.
Paris says right now, that femininity is fashionable, that women are to go back to their once-loved flounces and frills, that skirts are growing wider, and that panniers have appeared.
The edict for men reads, form-fitting clothes in general, small waists, tapering lines, no more padding, small sleeves, with no flare at the wrist, close trousers, and form-fitting coats with skirts that fit closely over the hips.
Now the average man is more interested in clothes than the average woman thinks. He long ago realized that his clothes expressed his disposition and his purpose. They speak for themselves before he can speak for himself. "Show me," is the first thought with everyone with whom he deals; and they show.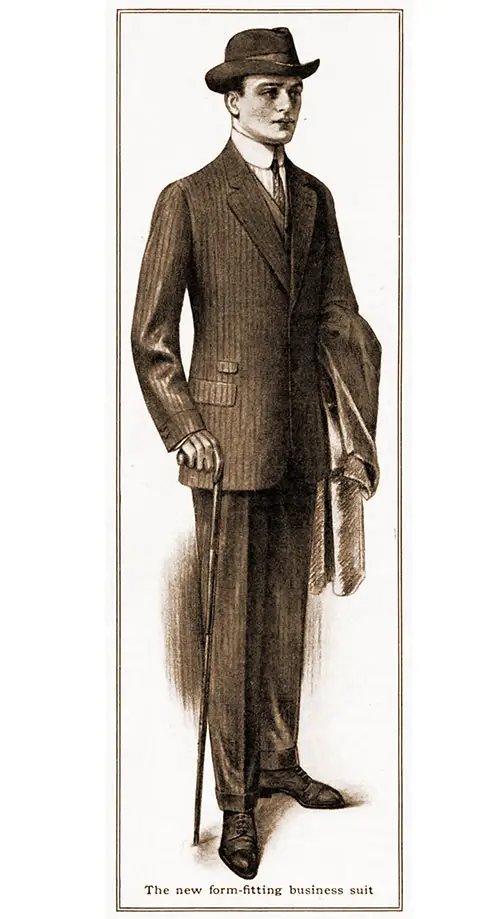 The New Form Fitting Business Suit. Woman's Home Companion, May 1912. GGA Image ID # 19c605c6d1
The reason for this is, that, far more so than in feminine dress, a man's clothes represent his individual taste. If they be flashy, slovenly, ignorant, then those who meet him in the business world, who form a swift judgment with the first glance, will attribute one of these qualities to him; so here is the important reason for a man to be well dressed.
Let us first consider a man's business clothes, and learn what are the latest edicts in fashion. Fortunately, there is variation in style, so that one's individual taste may be carried out, but in every instance softness and naturalness prevail.
For instance, the coats will be made up soft, without padding in the shoulders or "sheet iron," more familiarly known as canvas, in the fronts. Curves are fashionable in most clothes. Few angular lines will be seen.
The fronts of coats will be cut away abruptly at the bottom below the last button. Collars will be round. Lapels will have a convex outer edge, and sleeve cuffs, in case they are added, will generally have rounded corners.
Though form-fitting clothes are the correct style, there must be no undue tightness or corseted effect. The waist will be outlined and fitted snugly, yet the coat will not be enlarged above the waist, nor will the skirt flare be exaggerated in order to emphasize the small waist.
Trousers will be natural in outline, neither peg-top nor too tight. The straight line will rule. In regard to materials, there is a wide range in patterns and weaves.
The well-dressed man will scorn pronounced stripes, checks, and positive patterns. Quiet stripes on black, blue, or brown are good taste and good style. Plain mixtures in grays, browns, and blues will also be correct.
Then there are the mixtures in which browns and purples are the predominating hues, while for the man who dares and is happy in his daring, the very latest thing is green, one of the especially new mixtures being called "jade oceanic," the name of which proclaims its color.
Correct Accessories for the Spring Business Suit. Crocheted and Brocaded Silk Four-in-hands: Socks Which Show the Plissé Effect, and Those in Two Tones with Clocks in Solid Color; New Handkerchiefs; "toga" Hat; and Light-weight, One-button Gloves. Woman's Home Companion, 1912. GGA Image ID # 19c649428e

In some of the materials, no weave will show. Others will have the herring-bone and basket weaves or a hair-line stripe. It is again the worsteds, the demi-worsteds, the cheviots, the serges, and the cover-finished goods which wear so well.
For everyday business wear, it is, of course, the sack coat. It may be single or double breasted, though the former model is the most generally favored.
The newest sack coats show the lapels long. The sleeves are narrow and a trifle short, and there are three buttons in front and two on the sleeves. The pockets are flap pockets. The patch pocket is good style for very informal wear only. The coat shows a somewhat sloping shoulder rather than square.
With this sack coat, the trousers are of the same material, and also the waistcoat. With a dark blue, brown, gray, or black sack coat, a white edging on the waistcoat is good style.
The waistcoat to wear with the sack coat is made without a collar, and is cut rather high, and is generally finished with slight points at the bottom.
The soft-front shirt may be worn with the sack coat, though the stiff-front shirt is equally good style. In shirtings, the small-stripe patterns are high in favor.
Many of the stripes are of silk, or they are mercerized and have the silk sheen. Shirts of silk and flannel mixtures are always in favor in the summer and are made with turned-back cuffs.
In collars, the fold and the wing are those mostly used. Cuffs are starched or soft, according to the shirt. Some have square and others round corners. Each are equally in style.
For business wear, either the four-in-hand or bow tie may be worn. There is a decided vogue for folded scarfs of medium width, in soft colored silks. The knit and crocheted silk ties are still popular. In the bow tie, it is the bat wing, and the ends may be square or pointed.
With the business suit, the soft felt hat is favored. This hat also comes in rough cloth mixtures. Of course the Derby, especially the black Derby, always holds its own.
This year it is made with a not too low crown. A new soft hat known as the "toga," made of gray mixed cloth, with a band and bow of the material, will be worn by younger men, especially for outdoor sports and general knock-about Wear.
Many men this spring will wear what is known as the English walking-coat for business, though it is regarded as a much more formal garment than the sack coat.
In a measure, it is the substitute for the frock coat. It is made up of fancy worsted or of cheviot and is cutaway in effect. The coat has rather large flap side pockets and a breast pocket. With the black morning coat, striped worsted or cashmere trousers are worn.
The new brocaded silk ties show many pastel tones, and some of the silk and lisle socks which are considered so smart strongly resemble in their coloring the new taffeta silks for women.
Silk and lisle socks in accordion effect are still fashionable, and then there are the plain-toned socks with a plissé effect which are very new. Loosely crocheted ties are in favor, giving somewhat of a bouclé effect.
These ties are generally made with a stripe in a contrasting color. Frequently the brocaded silk ties show a stripe, too. In handkerchiefs, the newest are of plain, sheer, white linen, with a white-embroidered initial set in an embroidered seeded medallion in color. These handkerchiefs come with the medallion in all colors.
When a white shirt with a deep violet stripe is worn, then the same tone of violet is carried out in the embroidered seeded effect of the medallion for the handkerchief. Other new handkerchiefs are of cross-bar dimity with a plain, colored border.
Light-weight tan gloves with one white pearl button, which buttons through a buttonhole, are good style gloves for spring. Also, chamois gloves are correct for informal and business wear. With formal dark clothes, a quiet shade of gray is correct, and unfinished deerskin gloves in a slate shade.
Unlike the rest of men's spring clothes, the overcoats show much fullness. They are made in mixed materials in grays, browns, and greens, and frequently show the Raglan shoulder.
Grace Margaret Gould, "The Spring Fashions for Men," With Illustrations by Paul W. Furstenberg, Woman's Home Companion, Outdoor Number, New York: The Crowell Publishing Company, Vol. XXXIX, No. 5, May 1912, p. 89.