Girls Dresses, Costumes Etc 7384 7425 7436 7373 - 1904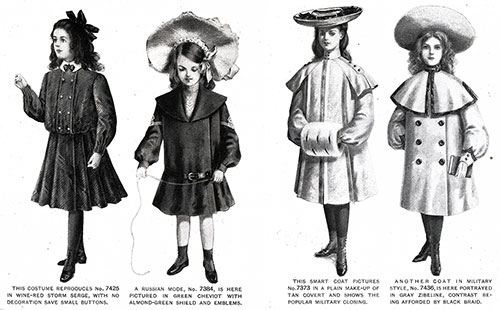 This costume reproduces No. 7425 in wine-red storm serge, with no decoration save small buttons. A Russian mode, No. 7384, is here pictured in green cheviot with almond-green shield and emblems. This smart coat pictures No.7373 in a plain make-up of tan covert and shows the popular military closing. Another coat in military style, No. 7436, is here portrayed in gray zibeline, contrast being afforded by black braid.
Girls' Russian Dress No. 7384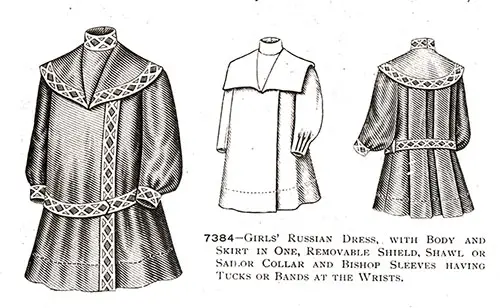 7384-Girls' Russian Dress, with Body and Skirt in One, Removable Shield, Shawl or Sailor Collar and Bishop Sleeves having Tucks or Bands at the Wrists.
Description
The Russian modes are still popular for girls, and a smart design embodying several attractive features is here represented in dark-blue cloth enlivened by Persian bands.
The body is in one with the skirt, and a hem finishes the lower edge. Two broad box-plaits are arranged in the back, and the fronts are without fulness, the right one broadly overlapping the left one. A removable shield with standing collar is introduced and may be framed by a shawl or sailor collar.
Bishop sleeves having their fulness confined in close bands, as well as sleeves tucked at the wrists are supplied, either type being appropriate. The belt is held in place by straps at the under-arm seams.
Dressmaker Options
Red serge and white flannel may be combined in this mode, and bands, of white trimmed with black or red braid will afford effective ornamentation. Golden-brown Venetian cloth will make up stylishly with the sailor collar and shield of cream-white flannel.
A white suede belt may replace the one of the material, and decoration be supplied by embroidered emblems on the collar, shield and sleeve. Flannel, cashmere, Sicilian, pique, linen, tweed and velveteen are adaptable.
Pattern Information
Pattern 7384 is in 10 sizes from 3 to 12 years of age. For 5 years, it calls for 2 5/8 yards of material 44 inches wide. Price, 15 cents.
Girls' Costume No. 7425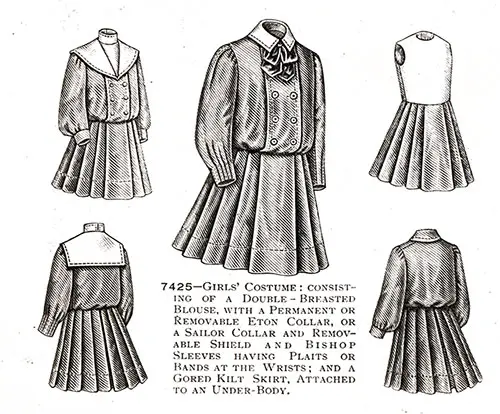 7425—Girls' Costume: consisting of a Double-Breasted Blouse, with a Permanent or Removable Eton Collar, or a Sailor Collar and Removable Shield and Bishop Sleeves having Plaits or Bands at the Wrists; and a Gored Kilt Skirt, Attached to an Under-Body.
Description
A smart little costume for a small girl is here pictured in a pretty and serviceable development of navy-blue serge simply trimmed with machine-stitching and buttons and effectively contrasted with white.
The blouse is double-breasted and sags all around over an elastic inserted in a hem at the lower edge. Bishop sleeves are employed and may be banded closely in the regulation manner or tucked at the wrists to simulate cuffs and box-plaited at the top.
The Eton collar may be permanent or removable, and provision is also made for a sailor collar, deep and square at the back, the neck being cut out to accommodate a removable shield topped by a standing collar. A silk tie gives a finishing touch when the Eton collar is used.
Shoulder and under-arm seams shape the under-body to which the gored kilt skirt is attached. Buttons and buttonholes effect the back closing.
Dressmaker Options
This design is exceedingly practical for school frocks and the materials usually selected are cheviot, cloth, tweed, Sicilian and flannel. Bright-red prunella cloth trimmed with black silk braid and with a linen Eton collar and black silk tie will be girlish and pretty.
Pattern Information
Pattern 7425 is in 10 sizes from 5 to 14 years of age. For 9 years, it needs 4 1/8 yards of material 44 inches wide, with 5/8 yard of contrasting material 27 inches wide for shield and sailor collar, or 1/2 yard of linen 30 inches wide for Eton collar. Price, 20 cents.
Girls' Double-Breasted Long Coat No. 7436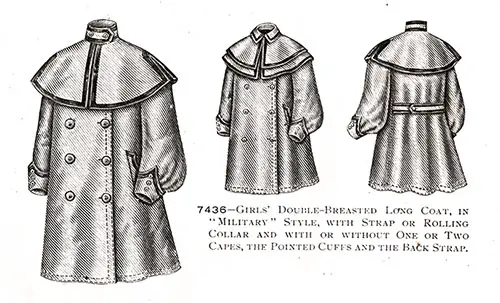 7436—Girls' Double-Breasted Long Coat, in "Military" Style, with Strap or Rolling Collar and with or without One or Two Capes, the Pointed Cuffs and the Back Strap.
Description
The fashionable military characteristics are observed in this smart coat. Navy-blue cloth was used for its construction, and the decoration consists of gilt braid and gold buttons. Shoulder and under-arm seams are employed, and the fronts lap and close in double- breasted fashion.
A back strap, lapped at the center under a button, may be inserted in the under-arm seams, and provision is made for upright pockets in the fronts concealed by laps.
The pattern includes a rolling collar as well as one in strap style, choice also being given of one or two capes, plain or slashed at the back and on the shoulders. The sleeves are of the bishop order completed with wristbands, which may support cuffs in pointed outline.
Dressmaker Options
Green bouclé might be trimmed with black braid and buttons, and red Venetian would also be smart relieved with black. Pebble or plain cheviot, granite suiting, habit cloth, flecked or plain vicuna, tweed, covert, velvet and silk are adaptable for serviceable and dressy reproductions of the design.
Pattern Information
Pattern 7436 is in 11 sizes from 4 to 14 years of age. For 9 years, it needs 2 5/8 yards of material 54 inches wide. Price, 15 cents.
Girls' Tucked Long Coat No. 7373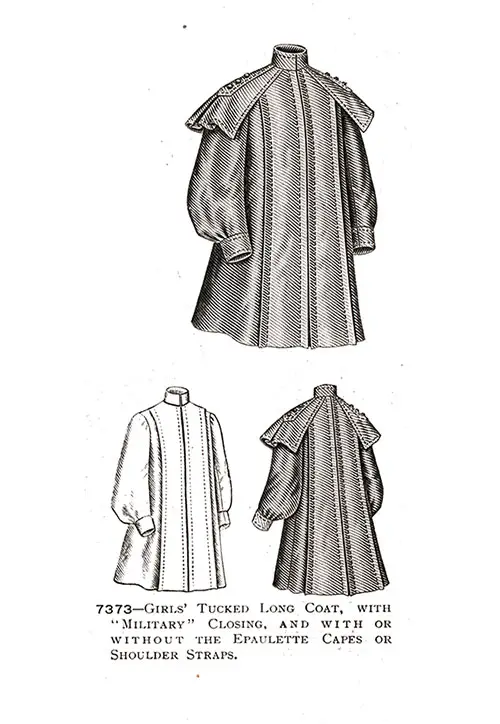 7373—Girls' Tucked Long Coat, with "Military" Closing, and with or Without the Epaulette Capes or Shoulder Straps.
Description
A coat of novel design is here pictured. Lengthwise tucks are introduced at each side of the front and back, and at the center are turned to give the effect of an inverted box-plait and form a military closing.
Seams are allowed at the shoulders, under the arms and at each side tuck. Epaulette capes and shoulder-straps accompany the pattern, either or both of which may be used, and brass buttons increase the military effect.
A standing collar and full bishop sleeves lengthened by band cuffs complete the mode, which is here shown in a plain development of cardinal kersey, with a tailor finish of machine-stitching.
Dressmaker Options
Brown velveteen is excellent for wear and may be associated with smooth-faced cloth of the same shade. Other materials that are suitable are melton, serge, vicuna, lady's- cloth, velour, cravenette and cheviot.
Pattern Information
Pattern 7373 is in 9 sizes from 6 to 14 years of age. For 9 years, it requires 2 7/8 yards of material 54 inches wide. Price, 15 cents.
"Girls Dresses Costumes Etc.," in The Delineator: An Illustrated Magazine of Literature and Fashion, Paris-London-New York-Toronto: The Butterick Publishing Co. Ltd., Vol. LXIII, No. 2, February 1904, p. 220-221.