Titanic Reference Map - World's Most Famous Shipwreck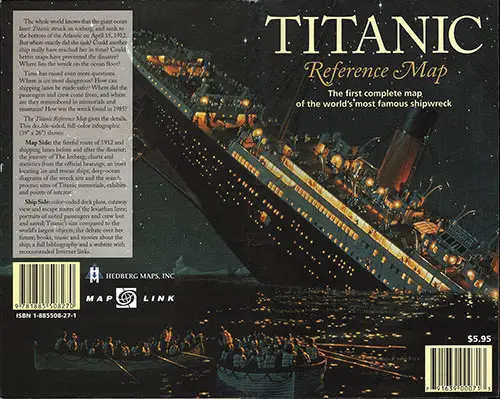 Cover of the Titanic Reference Map: The First Complete Map of the World's Most Famous Shipwreck. Hedberg Maps, Inc. GGA Image ID # 1046b21a55
The first complete map of the world's most famous shipwreck. Map side includes the fateful route of 1912, deep-ocean diagrams of the wreck site and more.
The ship side features deck plans, escape routes, famous crew and passengers, bibliography, related Websites and more. Learn more about Titanic's story of discovery, as much as her maiden voyage continues to challenge human limits of ethics and technology.
From the Cover
The whole world knows that the giant ocean liner Titanic struck an iceberg, and sank to the bottom of the Atlantic on April 15,1912. But where exacdy did she sink?
Could another ship really have reached her in time? Could better maps have prevented the disaster? Where lies the wreck on the ocean floor?
Time has raised even more questions. Where is ice most dangerous? How can shipping lanes be made safer? Where did the passengers and crew come from, and where are they remembered in memorials and museums? How was the wreck found in 1985?
The Titanic Reference Map gives the details. This double-sided, full-color infographie (39" x 26") shows:
Map Side: the fateful route of 1912 and shipping lanes before and after the disaster; the journey of The Iceberg; charts and statistics from the official hearings; an inset locating ice and rescue ships; deep-ocean diagrams of the wreck site and the search process; sites of Titanic memorials, exhibits and points of interest.
Ship Side: color-coded deck plans, cutaway view and escape routes of the leviathan liner; portraits of noted passengers and crew lost and saved; Titanic's size compared to the world's largest objects; the debate over her future; books, music and movies about the ship; a full bibliography and a website with recommended Internet links.
Library of Congress Catalog Listing
Corporate Name: Hedberg Maps, Inc.
Main Title: Titanic --reference map : the first complete map of the world's most famous shipwreck : [North Atlantic Ocean] / HM ; Lynn Noel, editor ; Nat Case, cartographer ; Don Marietta, information graphics ; Jessica Buster, research assistant ; map and publication design by Hedberg Maps, Inc.
Published/Created: Minneapolis : Hedberg Maps Inc. ; Santa Barbara, CA : Map Link Inc., c1998.
Description: 1 map : col. ; 64 x 97 cm., folded to 23 x 15 cm.
Scale Info: Scale [ca. 1:1,600,000] (W 83⁰--E 9⁰/N 63⁰--N 20⁰).
ISBN 10: 1885508271
ISBN 13: 9781885508270
LC Classification: G9111.P54 1913 .H4
Variant Title: Title on verso at foot of floorplans: RMS Titanic
Related Names: Noel, Lynn E.
Case, Nat.: Map Link (Firm)
LC Subjects
Titanic (Steamship)--Disasters--1910-1920--Maps.
Titanic (Steamship)--Charts, diagrams, etc.
Steamboat lines--North Atlantic Ocean--Maps.
Shipwrecks--North Atlantic Ocean--Maps.
Steamboat disasters--North Atlantic Ocean--Maps.
Icebergs--North Atlantic Ocean--Maps.
Memorials--North Atlantic Region--Maps.
Notes: Shows Transatlantic passenger steamship routes, Titanic disaster site, other shipwreck sites, iceberg occurrence areas, major ocean currents, and locations of Titanic memorials.
Depths shown by shading.
Panel title.
Includes text, graphs, directories, and col. ill.
Insets: Ice and rescue ships, April 14-15, 1912 [Titanic disaster vicinity] -- [Map of sonar search patterns].
Text, 10 floorplans of decks of the Titanic, vertical section diagram, comparative size diagram, chronology of "Titanic on stage and screen", and ill. (some col.) on verso.
Bibliography.
LCCN: 99442872