RMS Titanic Postcards and Posters
Collection of Titanic Postcard Replicas that also includes some of her sister ship, the Olympic. Many postcards were printed before 1912 to market the new vessels to the public. One postcard in this collection was released after her sinking. Information from the back of that card was reprinted below it.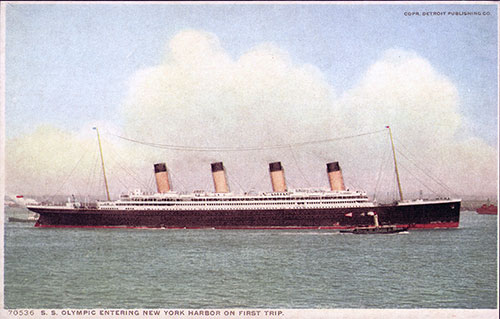 S.S. Olympic Entering New York Harbor on First Trip. Phostint Card #70536. Made Only by Detroit Publishing Company. GGA Image ID # 10515908cc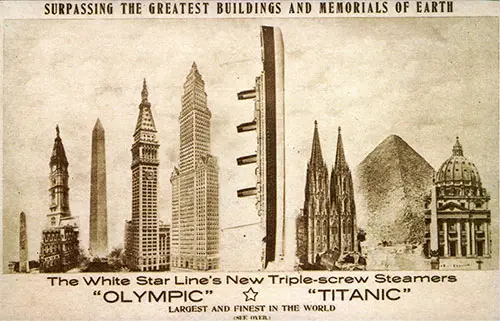 The White Star Line's New Triple-Screw Steamers Olympic and Titanic, Largest and Finest in the World, Surpassing the Greatest Buildings and Memorials in the World. KSC. GGA Image ID # 10517c166b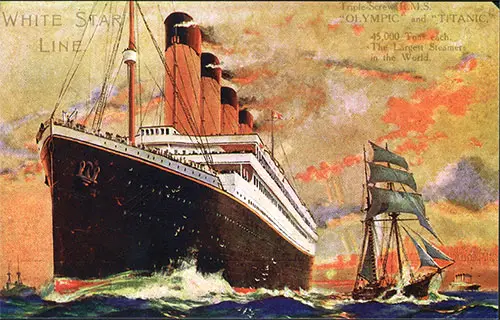 White Star Line Olympic and Titanic - Comparison to Clipper Ship. GGA Image ID # 10519e6efd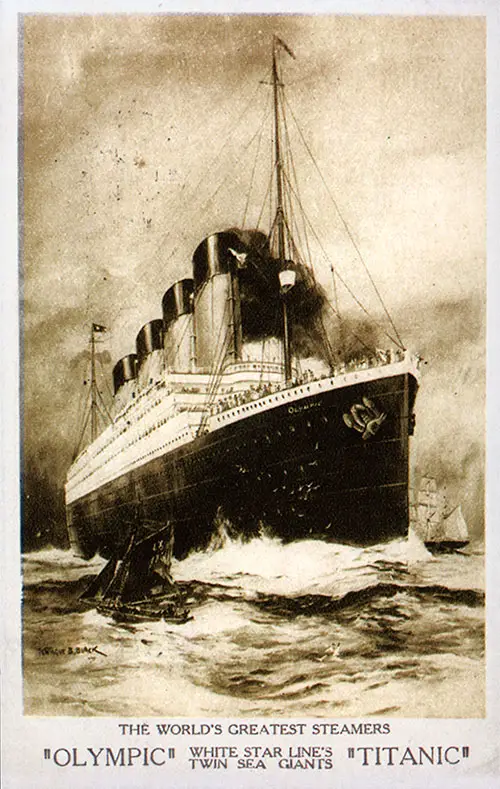 The World's Greatest Steamers Olympic and Titanic - White Star Line's Twin Sea Giants. the Largest Steamers in the World "Olympic" Launched Oct. 20, 1910 "Titanic" Building at Belfast 882 1/2 Feet Long 45,000 Tons Register 92 1/2 Feet Beam. 66.000 Tons Displacement. GGA Image ID # 1051aea2e3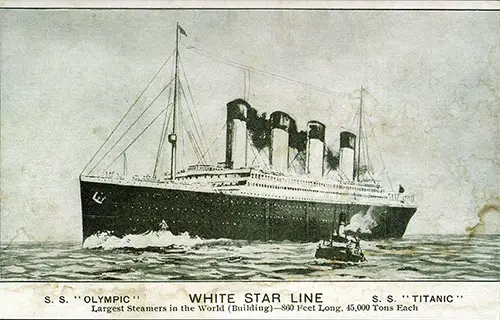 S.S. Olympic | S.S. Titanic - White Star Line. Largest Steamers in the World (Building) -- 860 Feet Long, 45,000 Tons Each. GGA Image ID # 105210b9d6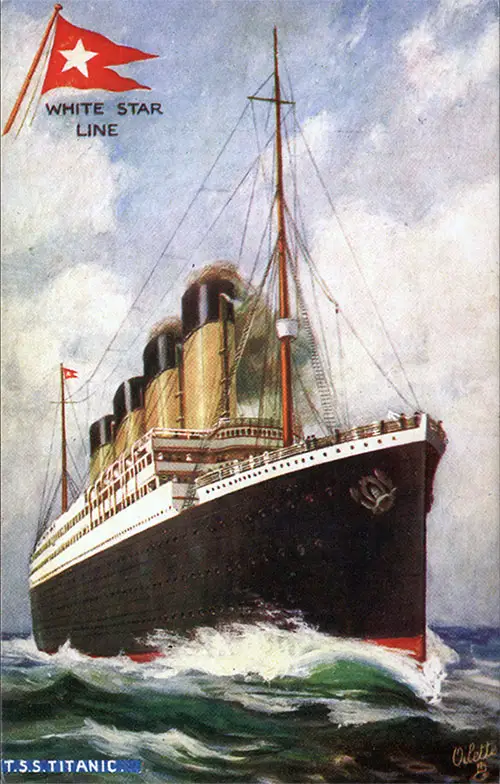 T.S.S. Titanic - The White Star triple-screw Steamer 'Titanic,' launched at Belfast 31st May, 1911, the largest vessel afloat at the time, was a wonderful achievement of British shipbuilding, combined with the enterprise of the owners; This modern leviathan was nearly 900 feet long, 45,000 tons gross register, and 66,000 tons displacement. Celebrated Liners. - White Star Line. Raphael Tuck & Sons; "Ollette" Postcard No. 9898. Art Publishers to Their Majesties the King & Queen. GGA Image ID # 1052321d8a
The "Titanic," in the White Star Line's mail and passenger service between Southampton, Cherbourg, Queenstown and New York, had accommodation for about 2,500 passengers, with a crew of 860. She was unhappily wrecked on her maiden voyage—from - Southampton to 'New York—on April 15th, 1912, by collision with an iceberg, off the coast of Newfoundland, with the terrible result that over sixteen hundred of those onboard perished, the ship and cargo, valued at some 2 1/2 millions sterling, being a total loss.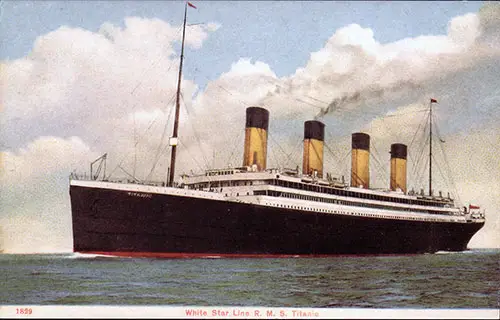 White Star Line RMS Titanic Postcard # 1829. GGA Image ID # 105241496b
White Star Line Titanic - The World's Largest Liner Poster Postcard - Southampton ~ New York via Cherbourg & Queenstown. GGA Image ID # 1052612bf5
White Star Line Olympic & Titanic - Largest Steamers in the World Poster Postcard. GGA Image ID # 1052af4618