Camp Dix Pictorial Review - Content - 20 October 1918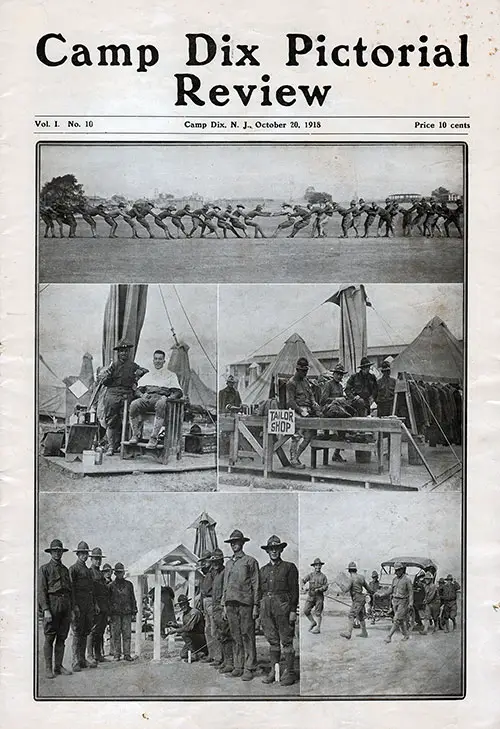 Front Cover, Camp Dix Pictorial Review, Volume 1, Number 10, 20 October 1918. GGA Image ID # 18cf272a20
The October 1918 Issue included articles on Advice for the New Recruit at Camp Dix, and the Spanish Influenza. Photos Included Games Played and Cots Aired During Quarantine, The Mole Tequop Soldiers' Club, Wrightstown, and more.
P2
SHUTTLE RACES AND RELAY RACES
EACH BATTALION DURING QUARANTINE HAS ITS OWN GAMES
TENTS FURLED AND BEDDING AIRED DAILY DURING THE QUARANTINE
P3
WASHING UP
COTS AIRED OUTSIDE OF BARRACKS DURING QUARANTINE
WHEELBARROW RACE
RETREAT
P.4
THE MOLE TEQUOP SOLDIERS' CLUB, WRIGHTSTOWN.
Boys, this Is your Club. A smoking, lounging and reading room with magazines. A writing room with stationery. Parlors to entertain your lady friends. Pianos. Frequent dances and entertainments. And a cafeteria with EATS of quality at prices lower than the ordinary restaurant.
Rooms to accommodate ladies who must stay overnight. Drop in when in Wrightstown and be at home. This clubhouse is entirely for your benefit and is under the management of the war department commission on training camp activities, Mr. Wm. P. Jackson, Local Representative.
MAUD, GOING UP!
IN THE CIRCUS NOVELTY RACE.
ROOKIES JUST ARRIVED, WAITING AT THE MUSTERING OFFICE
p.5
STRENUOUS GAMES OF THE SANDSTORMERS.
THE DIAMOND HITCH DONE IN DOUBLE-QUICK BY THE REMOUNT BOYS.
Maj. Gen. Scott and Brig. Gen. Johnston Keenly Interested in the Drills and Exhibitions of Fancy and Rough Riding by the Remount Boys on Pershing Day. See Page 8 for Samples of Fancy Riding, Riding a Bucker, Rescue Race and Double Roping on the Same Day.
BAYONET DRILL EXHIBITION BY AN ENTIRE REGIMENT.
P.6
 "YOU'LL LIKE IT!"
First registration, then a searching questionnairefication, followed by anxious expectation, and finally the realization that you can drop your little everyday work and worries and take part in the Great Adventure.
Maybe you have never been "from home" and don't know how to act out in the world, or maybe you have. In either case the parting from home and loved ones will probably not affect you as much as will the anxiety of not knowing exactly what is "coming to you" when you reach Camp.
You have a vague, nervous dread that you may show yourself a boob when you land amid strange scenes and fellows and try to fall in with a method of life entirely new to you. You wonder also what you ought to take along to Camp; in fact, a multitude of questions crowd into your busy mind, and maybe no good friend is at hand to put you wise.
A New York organization recently asked us to give them some information on "What a man needs to know" when about to leave for Camp. We publish this below, with the hope that it may be helpful to some.
FOOD AND CLOTHING
What is the average daily menu at Camp ?
Each company has its own mess sergeant, who plans the meals so as to give as much variety as possible from day to day. We asked the nearest mess sergeant to give us his menu for the last two days, and this is what was served :
Breakfast—Boiled eggs, two to a man; plain fried potatoes, a piece of honey dew melon, bread and coffee, with plenty of milk and sugar. The second day's breakfast included hot cakes with syrup and butter, corn flakes, sliced bananas, bread and coffee.
Dinner—Roast loin of pork, with apple sauce and brown gravy, browned potatoes, cocoanut pudding, bread and tea. A typical Sunday dinner — Fricassee of chicken, baked sweet potatoes, fresh string beans, boiled rice, ice cream with lady fingers, bread and coffee. A Friday dinner usually includes some kind of fish— say, fried codfish with tomato sauce.
Then along about 5:45, you hear the bugler's welcome call again, and although it may sound like:
"Soup-y, soup-y, without a single bean;
Pork-y, pork-y, pork, without a streak of lean ;
Coffee, coffee, coffee, the weakest ever seen,"
what you are likely to find is roast beef with gravy and browned potatoes, fresh peas and bread and coffee.
You will be well fed in the Army. Most men gain in weight after a few weeks in Camp. Those with too much soft fat, the result of overeating or underworking in civilian life, will, of course, soon find themselves with less fat and more hard, healthy muscle.
Notwithstanding the high cost of living, the cost per day of feeding a man in Camp Dix with the kind of food that builds him up and puts pep, spunk and fight into him is $0.4865— less than fifty cents a day at this writing.
Yes, Uncle Sam makes his contracts in the open market, but he buys in immense quantities, and the company cooks serve 250 men at a time. Some civilian stewards of big hotels and restaurants might profit by the Army system if they didn't try to cater to the hundred different taste whims of people who want a wide choice at each meal, war or no war. .but the management which raises the price of milk five cents a glass when it costs it only five cents more a quart— well, what we would like to say about such would break our printing press? Any of the boys in Camp would like to shoot them with bullets made from Liberty Bond buttons.
Can men buy food outside or own mess, and it so, where ?
Yes, at the post exchange or canteen, which is the Army name for regimental store. Here, you can usually buy some kind of soft drinks, milk, coffee, pies and cakes; fruit, like oranges and apples, candy and tobacco, in these exchanges may also be bought everything else that may be wanted by the boys — pencils and fountain pens, stationery, daily newspapers and magazines, anything necessary for shaving, toothbrushes and paste, soap, Army insignia, and so on.
Is there any substitute provided for those who do not drink coffee?
Usually cocoa and tea, and very often milk, may be had. Good, pure water always.
Should a man wear his own uniform (if he has any), or should civilian clothes be worn until equipment is furnished?
A man should leave for Camp with an old suit of clothes, a change or two of underwear and socks, an old pair of comfortable shoes, an extra towel and plenty of soap, patience and good nature. Your Uncle will furnish you with uniform and everything you need, and in a few days,  you will probably be able to send back everything you brought along.
The less "truck" you have in Camp, outside of what your barracks bag is supposed to hold, the less your troubles will be. Of course, you may have your own tailored uniform, but it isn't good politics to push your officers too hard on style.
In the Army, the tailor does not make the man. The wise ones with a tailored uniform keep it at home to doll up in when home on pass or furlough. But it is hardly patriotic to have such an extra uniform, considering the need of khaki cloth.
MONEY
In what form should money be taken?
You can get along in Camp without any money whatever. But few care to. Ten to fifteen dollars in cash is a fair amount to bring along, and should last you till your first pay, except in case of emergency, or until you have bridled your extravagant tastes and habits. It is best not to have too much money with you.
You can open a bank account in nearby towns. Morey from home should be sent in Postal or American Express money order; the first can always be cashed at the Camp post office, the second at the YMCA huts, on proper endorsement from your commanding officer. Do not bring any Canadian money.
Advise your folks and friends not to write to you until you have sent them the number or letter of the company and the regiment or battalion to which you are assigned; otherwise, their letters may never reach you. Simply Mr. Reuben Green, Camp Dix, N. J. is not enough. When Mr. Green joins the Army, he becomes Private Reuben Green and should be addressed as such, Company — (Letter or number), — Regiment (or Battalion No. —, if in Depot Brigade), Camp Dix, N. J.
HEALTH
What minor operations is it desirable to have performed before reaching Camp? (Teeth fixed, eyeglasses fitted, haircut, etc.)
Some haircuts we have seen brought to Camp we would class as major operations. If your hair is frowsy, have it trimmed. A neat appearance, even if in old clothes, on your arrival in Camp will give your new comrades and your officers a better impression.
There are barbers in Camp, but— well, have you ever put off that haircut until the last thing before seeing your girl!
Also, there are lots of dentists in Camp, and these drill masters usually have lots of work; but they will do the work free for you. However, if you can have your teeth fixed by your favorite dentist, so much the better, "fixed" they will have to be, if they need it.
If you need glasses or a change of glasses, oculists in Camp will examine you and hx you up with proper glasses at cost.
INOCULATIONS
How soon do inoculations take place ? Are prior inoculations accepted as a substitute for inoculations after arrival?
The new men are usually inoculated on the way of arrival or the day following. Prior inoculations are not accepted, except when properly certified to by an Army doctor; and this is seldom practical.
MISCELLANEOUS
Furloughs and passes.
A pass may mean anything from a few hours to a week. A furlough is usually ten days. A furlough only entities you to the cent-a-mile railroad fare. A "midnight pass is the easiest to get, and generally permits you to leave Camp from retreat or suppertime at night to reveille in the morning.
Weekend passes, good from noon Saturday until reveille Monday morning, are generally limited to a certain percentage of the men one week, other men to a like total being allowed off the next week.
On holidays, sometimes as many as one man in four, or even more, are given passes. In granting a pass, your record is generally considered, the purpose for which you want a pass, passenger traffic conditions on the railroads out of Camp, and so forth.
Furloughs in the Army are a gift of the gods, seldom granted unless you have been in the service several months, and then entirely dependent on a great number of conditions and circumstances.
Should final naturalization papers be taken out before going to Camp?
Get your final papers, by all means, if at all possible, before coming to Camp. Being a full-fledged citizen will help you a lot in a number of ways.
However, if time and other conditions make it impossible for you to obtain your final papers before going to Camp, as soon as assigned to a company bring the matter to the attention of your commanding officer, and he will pave the way for you.
Naturalization court sessions are frequently held in Camp.
What kinds of cigarettes, cigars, tobacco, etc., are obtainable at Camp?
Practically all popular brands of each may be beucht "at the exchanges. As the boys sing: "Ashes to ashes and dust to dust; If the Camels don't get you, the Fatimas must."
But if you do not use tobacco in civil life, you can certainly also get along in the Army without it.
Are there obtainable at Camp medicines, books, games, candy, chewing gum, etc.?
Do not bring any medicine along; neither Peruna nor bitters. Your health will be more carefully looked after than it ever has. Whatever treatment or medicines you may need you may be assured you will obtain.
The bugler's "sick call" in the morning will soon sound to you like: "Come and get your iodine, come and get your salts.  Oh, come and get your iodine, come and get your salts!"
As for books, there is a big library in Camp, under the management of the American Library Association. This contains nearly 10,000 volumes, on almost any subject you may be interested in.
Books can be drawn without any red tape. In addition to this, the YMCA huts and K. of C. buildings have each a fair-sized library entirely for your use. You will probably find more opportunity for reading, study and self-improvement in Camp than you have had in civilian life, if you will but take advantage of it.
In the line of games, you will find everything from checkers to pushball. Candy, especially of the chocolate bar variety, may be had at the exchanges. A great many fellows soon find they get more of a hankering for candy than they ever had in civil life, due partly to the lack of jellies and sweetened preserves, of which they may have had their till at home. When on guard or similar duty a bit of chocolate somewhere about you is often a big comfort.
The sporting of a mustache depends largely on your temperament. If it is a natural part of you, well and good. But woe unto you if the fellows decide it does not fit. Most of the boys shave clean and shave every day; for you are in the Army now. Beards are not becoming below the rank of colonel, and even then, sparingly indulged in.
How often may one receive visitors?
Usually every Saturday afternoon and Sunday visitors may come to Camp, and you will have time to be with them; except, of course, in cases of quarantine or other emergencies.
Are Notaries Public accessible?
Generally, someone at Camp Headquarters in the Judge Advocate's office can act as such. Ask your officers.
TELEPHONES?
Yes, there are public pay booths in Camp, but the service is usually swamped and delays frequent and annoying. For long distance, "appointment" calls are best. Put in a call, advising the other party to call you up at a certain time.
Finally, when you get to Camp you will find your arrival was expected, and you will probably be met by men in uniform wearing white bands on their arms. Thereafter it will be a personally conducted tour. Keep your eyes and ears open, obey orders, "pack up you troubles in your old kit bag and smile, smile, smile."
P. 7
TRENCH-FOOT, FROST-BITE OR CHILBLANES
The Three Conditions Are Practically the Same
NOW IS THE TIME TO GUARD AGAINST THIS CONDITION
By DR. H. A. GARTNER - 323 Ninth Street, Brooklyn, N. Y.
The cause:
Prolonged exposure to cold and moisture. Immobility for long hours at a time.
Too small socks.
Tight shoes.
Tight puttees or spirals.
General exhaustion.     '
Symptoms:
The first thing noticed is the increasing coldness of the feet, with entire loss of feeling. Except for the discomfort associated with the cold feet, pain is not complained of at first.
Pain usually referred to the ankles but may extend up to the calf of the leg.         
Swelling of the feet and ankles. Extreme coldness and pallor of the skin with a light pinkish or blue color over the toes and ball of the great toe. Blurred sensation, but tenderness on pressure is complained of.
The Prevention:
Whether boots or shoes are worn they must be roomy, and both foot and leg coverings should be laced or fastened loosely.
The feet should be rubbed with mutton tallow, cold water, or snow, to increase  circulation. Never apply warm applications to the feet. Under no circumstances are they to warm their shod feet against a stove or radiator.
Exercise while on duty when the man cannot move about. "Marking time" will increase circulation.
Extra size shoes should be worn and also an extra pair of stockings worn. Wrapping the feet in paper, instead of putting on woolen socks has been tried with success.
Massage the feet daily.
A dusting powder consisting of equal parts of boric and salicylic acid should be applied once daily.
Feet should be washed daily, and fresh socks put on.
Care of the Shoes
Oiling. The sole and welt of the shoe should be well oiled to keep the leather supple and prevent absorption, but on the upper just sufficient oil should be used in dry weather to keep the leather supple, as heavy oiling of the upper interferes with evaporation of perspiration, thus causing the feet to be constantly hot and sweaty in warm weatner, but when constant exposure to wet is anticipated, heavy oiling may be used.
Neat's foot oil may be used or bacon rind, which is first soaked in water to remove the salt, may be used.
Drying. Shoes must always be carefully dried when removed for the night, or otherwise they will get out of shape and wrinkles form in the leather, which are apt to produce blisters. Rapid drying hardens the leather and so must be avoided. When speed is necessary, clean pebbles may be heated in the mess pan, put into the shoe, and shaken about until inside moisture has been driven off, or hot, dry cloths may be stuffed into the shoes and if necessary reheated.
When nearly dry the shoes should be thoroughly brushed or rubbed to remove all dirt and soften the leather. If the upper is stiff after drying, the leather should be well worked with the hands and oiled lightly. Shoes must be protected from dampness during the night, and this is especially important in the winter to prevent moist leather from freezing. If damp, the inside of the shoe should be wiped out occasionally with a dry cloth.
The soldier should examine the inside of his shoes regularly for wrinkles, nail points and other uneven places and should correct them at once. Especially should the soldier look for sharp points (or hummocks) that are caused by the large lasting tack that is removed when the last is removed from the shoe, as they leave a sharp point on the inner side of the shoe and the constant pressure from marching will prick the sole of the foot and cause WARTS, which burrow into the skin and are very painful and are also often mistaken for corns.
Cases like this should be reported to the Orthopedic Department for treatment and this point or hummock in the shoe filed down and made even.
The United States soldier is supplied with the very best last and material for a shoe that science and money may obtain.
Credit must be given here to Col. E. L. Munson, U. S. A., who has made a special study of the soldier's shoe.
The Following Exercises Will Relieve the Tired Foot and Will Help to Develop a Strong Foot.
Rising on the outer border of the foot, stand with the feet parallel and rise on the outer border without twisting the legs or bending the knees. See Exercise A.
Walking on the outer border of the feet, with the feet parallel, rise on the outer borders and walk this way. See Exercise B.
The ball of the foot is placed on the sharp edge of a depression in the ground with the toes projecting over the edge. A thick board, table, or other secure support may be used. The toes are deliberately bent downward as far as possible. If the toes do not bend readily, assist them with the hands until they become more flexible. See Exercise C.
Corns
Corns are due to pressure, friction, weak feet, spastic feet, ill-fitting shoes and stockings; either those being worn at present or which have been worn at some time in the past.
The present type of army shoe gives great relief, and in a good many cases corns disappear by themselves.
Nevertheless, a corn salve properly applied will give excellent relief and in many cases a cure.
An excellent corn remedy is composed of the following:
Salicylic Acid: 40 parts
Vaseline: 30 parts
Lanoline: 30 parts
This corn salve can be used on hard corns, soft corns, corns between the toes and callouses.
It is smeared over the corn and for an eighth of an inch beyond the margin of the latter and beyond this circle the part with vaseline, to prevent spreading of the corn salve when pressure is brought to bear on the foot.
The commercial corn plasters are usually merely felt rings and have no great merit.
A dusting powder, consisting of equal parts of boric and salicylic acids, should be applied daily for frost bites or chilblanes.
The best way to apply corn salve is as follows:
1. Wash the feet thoroughly for ten minutes.
2. Wipe the feet and especially the corn dry.
Apply the corn salve, covering the corn and salve with zinc, oxide plaster. Remove this zinc oxide plaster ONLY every night and apply corn salve for three or four nights.
The corn should then present a whitish appearance after washing the foot. Work around the corn with the back of a knife and pry it loose but taking great care not to cut its attachment into the flesh.
In this way a corn may be lifted entire out of its position and a cure at once follows. If the attachment of the corn is cut through and not pulled out, return of the corn is almost certain to occur.
The object is to pull away in one piece with all the thickened tissue down to the "quick" without causing bleeding. If it appears that the corn is not completely removed, treatment should be renewed in a few days.
The above treatment applies to soft corns and callouses also.
Corns cannot be permanently cured if the causes which first produce them are allowed to continue.
The toenails should be trimmed every month.
They should be cut squarely across; cutting them around the corners favors ingrowing of the nails.
Remember that nails are to protect the ends of the toes.
"Spanish Influenza"
Spanish influenza! Why blame the land of the lazy Don for it?" says one man who is well known in Camp. "It is an old friend of mine. I just recovered from it; in fact, was one of the first to keel over with it in this epidemic, but this is not the first time I had it—only the third time.
But both other experiences were in London, England. Call it English influenza, as it is better known there than anywhere else. In January of the year 1904 I landed at the Great Northern Station from Liverpool—we had crossed on the Celtic—and hit a
genuine London winter season. Fog, black with a mixture of soft-coal smoke; rainy one day, foggy the next and cold the following.
Gradually I began to feel 'rotten.' My back ached, I had a sore throat and was without any initiative. I simply could not pull myself together. Finally, one day I thought it best to go to my diggings. Shortly after arriving home, I, a big, strapping healthy youth in my middle twenties, fainted.
When the doctor arrived, he said my temperature was 103 ½ and that I had the 'floo.' 'That is what we call grippe in Yankeedom,' I said. 'No,' said the medico, 'it is a different germ and we are just beginning to understand it as such.'
They kept me in bed a week  and I was glad to stick around the house for another week.
"Eight years later I was again in London. It was summer time. Such a summer! Cold in the morning, hot and muggy around noon and rain before night in one day. The thermometer gyrated from 50 degrees to nearly 80 in twenty-four hours.
Then I got the 'floo' again. This time, it was worse than before. It left me with an optic neuritis, which means the phlegm reached up into the cavity through which the optic nerve passes and squeezed that tiny but essential line of communication from the eye to the brain.
Today,  I see but dimly with the right eye. It also raised old Ned with a tonsil. That must come out some fine day—a gory operation to look forward to. And, for almost a year I fought malaria, which followed as a sequence.
"So, when a few weeks ago I felt that old familiar feeling, I hiked myself to bed just as fast as I could get there. I had the doctor sent for in advance of my arrival home. This time, I beat the germ to it. I got after him so hard that he had no time to get his fangs into me in a serious way. Had I continued to bluff it out I might have lost the other eye and tonsil and maybe lost everything in a casket.
From much experience, I say go to bed the moment you feel feverish and stupid; the very minute that throat begins to feel sore—don't wait for the enemy to get a strangle hold. Your  lungs may be weak and you don't know it—pneumonia is a favorite jump for the 'floo.'
"No, I am no weakling. I have been to bed with no other disease in my adult life. Outside of a bad eye and a bum tonsil, the left-overs of 'floo,' I am physically perfect. They tell me my arteries are those of a youth of twenty (and I am twice that); I have been exposed to smallpox, diphtheria and all kinds of 'catching' diseases, but never was touched by any of them.
I have drunk water that put almost everyone else down with dysentery or typhoid, but I escaped. Evidently, my Obsonic Index, as Dr. Osier says, is very low when it comes to the 'floo.'
Again, I say, beat the devilish germ to it by going to bed at once. You need every ounce of strength to fight him and that strength used when you keep going around provides a more devitalized system for him to feed on.
"Look out for a relapse. The disease may be seemingly ousted in a short time, but it is lasting—a convalescent from the 'floo' remains weak for many a day, and if you backslide into it—well, make your will if you wish to avoid a family dispute about
your old watch chains and such like."
P.8
Friday, the 13th of September, General Pershing's Birthday—The Day He Cleaned Up the St. Mihiel Salient, Camp Dix Celebrated with a Rousing Circus. Fancy Riding. A Bucker, Whoopee ! Roping Two at a Throw. Rescue Race.
p.9
EXHIBITION OF MAN-KILLING "IN-FIGHTING." 'WARE, HUN, THE YANK CAN KILL WITH BARE HANDS
p. 10
OFFICERS OF THE 11TH BATALLION
CAPTAIN B. R. MURPHY - CAMP ATHLETIC OFFICER
Our new Camp athletic officer and physical training director, Captain B. R. Murphy, came to Camp Dix with a splendid athletic record and with fresh laurels from Camp Lee in Virginia.
Captain Murphy started in Camp Lee last Fall as civilian aide to Major General Cronkhite, commander of the 80th Division. In January he received his commission and was placed in full charge of athletics at Lee. He helped to form many athletic teams, and under his supervision Lee captured several championship events.
He also did good work in building up the physical training program of the 80th Division and the 155th Depot Brigade. An athletic field remains at Lee, largely the result of his efforts.
Captain Murphy will soon have a bunch of friends at Dix, he is that kind. Get in touch with him in Building No. 20, near Camp Headquarters.
TENT FURLED, READY FOR INSPECTION
NURSES' CLUB AT THE BASE HOSPITAL
NEW RED CROSS ADMINISTRATION BUILDING
p. 11
NORMAN HACKETT - CAMP DRAMATIC DIRECTOR
Get hep to the Camp Dramatic Director. Yes, he is the same Norman Hackett who for the past twenty- three years has been in big Broadway productions and has produced his own plays. He is now in Camp Dix to help you shoot the blue funks.
If you have any talent or ability on the stage, in the line of vaudeville, minstrels, monologue and sketch writing or reciting, storytelling, dancing or an entertaining stunt, get in touch with Mr. Hackett at the Fox cottage, Seventh Street and New York Avenue. If you can do anything that entertains, tickles a smile or makes the other fellow laugh, Mr. Hackett wants you, the whole Camp wants you.
Plans have been made for entertainments at the Hostess Houses, the YMCA huts and K. of C. buildings, at the Base Hospital, club houses and barracks. Plays will be staged in nearby cities by Camp talent during the Winter. A number of plays and acts are already being rehearsed.
Mr. Hackett has taken part in such plays as "The Double Producer," "The Typhoon" and "The Knife." He has acted in Shakespearian plays with Sothern, Marlowe and James. Mr. Hackett is a University of Michigan graduate and a Theta Delta Chi man.
SEVEN INDIANS IN ONE COMPANY AT DIX, ALL CORPORALS
Front row left to right: Corporal Knorr, Assinaboine Tribe; Corporal Summers, Oneida; Corporal Danforth, Oneida; Corporal Munnell, Chippewa. Back row: Corporal Lambert, Sioux; Corporal Frazier, Sioux, and Corporal Snell, Sioux. These Indian boys come from Wisconsin, Minnesota, South Dakota and Montana. They like the Army and the Army likes them, or they wouldn't be corporals. Who said an Indian couldn't smile? Or fight!
AROUND THE POOL TABLES, K. OF C. MAIN BUILDING
NORMAN A. SMITH - REPRESENTING NEW JERSEY FRATERNAL ORDERS
The six leading lodges and fraternal orders of New Jersey are represented in Camp Dix by Mr. Norman A. Smith, quartered in the Fox cottage, Seventh Street and New York Avenue.  Mr. Smith's work is mostly in the Base Hospital. If you belong to any order whatsoever, fraternal, beneficial or similar, Mr. Smith is at your service.
p. 12
MAJ. GEN. SCOTT AND BRIG. GEN. JOHNSTON READY TO REVIEW.
TWO SCENES FROM LAFAYETTE DAY CELEBRATION.
WALL SCALING AND CHARGING THE DUMMIES.
p. 13
Prize Physical Drill by Three Companies of "Sandstorm" Machine Gunners, Given Before Major General Scott and Brigadier General Johnston.
Kicking the "Can't" Out of the Hun
One of the many American "ginger" mottoes" — in fact, the father of efficiency sayings
is the time-honored, "Never say can't." How often has the "old man" roared that over the table to some subordinate who came back and said, "it can't be done"? We all know that old friend. We also know somethings simply can't be done, nevertheless. Some of us have the "punch" to get there, while others simply can't —they lack the ability.
They were born that way. Cook didn't and Peary did. Now, we have the super can't. "Germany can't be beaten." Every junker, every German offizier, school teacher, clergyman, lecturer, professor and writer has ding-donged that refrain into Fritzies' ears so long he simply had to believe it, like the poor, simple, kidlike boob that he has proven himself to be.
He got it fastened into his super-childish noodle until it became a fetish—a form of religion. It was not a case of "Paris or bust"—"we can't be stopped because we are Germans."
Still, he should not be condemned too severely, as the German war lords certainly put up a fine appearance that made others, not excluding the Czar of Bulgaria, King Constantine and the Sultan, to agree with them. The bluff had a fine fifty- year plate on it that did not seem like a wash or tinsel.
What an awakening! The dream is about over, but millions still believe and so the fight will go on until the master dreamers are kicked over the Rhine and then some further.
Apropos of the German "Can't." Willie was born in Brooklyn, but Vader was kittened in Prussia. Vader always came back with the German boast, "The Germans can't be beaten." Willie listened, but was always dubious—in fact, quite convinced to the contrary.
One day the newspapers came out with the news of the capture of the St. Mihiel salient. Vader came home from a meeting of the neighboring Saengerbund, and when comfortably settled in his chair, Willie, in pajamas, tiptoed into the room and, putting the daily with the big headlines about the Yankee victory in front of Vader, said: "Dad, the Germans can't be beaten, can they?" Then Willie beat a strategic retreat behind the Hindenberg line of his mother.
p. 14
BEFORE AND AFTER PASSING THE ROOKY STAGE. NOTE THE STEP.
WILLIAM SIMMONS – CAMP SONG LEADER
You may not feel like singing till you catch a glimpse of our new Camp Song Leader, Mr. William Simmons. If Bill suggests "Katy," why, you just can't help yourself, but sing "K-K-Katy," thinking all the while of you own beautiful, well, you sing harder and determine you'll fight harder and get back to her sooner.
Mr. Simmons is one of the noted baritones whose training was obtained entirely in this country. He has risen entirely on his own merits and has received generous recognition as a concert artist. He has been heard in the Columbus May Festival, singing Valentine in "Faust," with the Chicago Symphony Orchestra, the University Glee Club, Schuman Club, Beethoven Society and all prominent New York choruses.
The War Department Commission on Training Camp Activities has picked a good man to "whooper up" in Dix. Mr. Simmons is a worker and jes' a natural leader.
CLEANING UP A COMPANY STREET
The "Animated Crest" on the back cover of this issue was posed by 16,000 officers and men of the 34th Division at Camp Cody. While at Cody the 34th Division adopted as their emblem a desert water can, that is, the form of water bottle usually carried when out in the desert—on which are painted the skull bones of a steer often met with in the desert, a grim reminder of the danger of unpreparedness.
The officers and men of the 34th Division use this emblem in the form of a line cut stamped on all their stationery. General Johnston himself took an interest in working out a distinctive color scheme for each regiment and unit in the Division. For instance, one unit may use it with the outline in red, the motto—"Duty, Honor, Country," in blue, and the skull in gray. Another unit transposes the colors or uses different ones.
The accompanying photo shows the outline of this crest posed on the desert sands at Cody, while the large picture on the back page shows the figure filled in solid, 500 feet deep, including the above number of men.
p. 15
Just before the war a leading New York daily had as one of their European  correspondents a big typical East Side Irishman, Harrigan —which is not his name, who had lifted himself above the level of the East Side, worked his way through  the City College of New York and fought his way up to the top in the hard newspaper game of the metropolis.
Harrigan landed in Hamburg one day and went direct from the Bahnhof to one of the popular restaurants. He arrived a little early for dinner and the restaurant was practically deserted. Harrigan picked a cheerful table near a window, sat down and ordered as near as could be had an American dinner of the quality and proportions fit for a big hungry Irishman.
While waiting for his order the room started to fill up and in came three German army officers, caps on. Chins in air they looked around, one of them twirling the points of his schnurbart (which is Heinie for Prussian lip alfalfa), pointed in Harrigan's direction, came over to his table and in the take-it-for-granted arrogant air of Prussian officers toward civilians peremptorily ordered Harrigan to "go and sit elsewhere."
Harrigan didn't take any notice. Bellowed Herr Offizier, "Get out of here, you , before I put you out, we want to sit here!"
Up jumped Harrigan and straight into the face of the Prussian he sent a volley of all the choicest names and terms in the Hun lingo, which Harrigan can handle perfectly, with the proper artistic emphasis as only a riled Irishman can supply.
When Mr. Hun recovered from the surprise attack and Harrigan just began to sniff battle, the restaurant proprietor reached the scene and advised the officers, "Better go slow, this man is a foreigner." Harrigan ate his dinner with relish.
When Harrigan again eats a Hamburger in Hamburg, he will probably wonder whether it's the same place.
Captain McDevitt, an Irish captain of Irish boys, said to his company: "Ye spalpeens, ye're up against the biggest and the hardest day's work of yer lives. Ye've got to meet the Prooshian Guards face to face. What I want to know is will ye fight or will ye run?"
The boys with one voice shouted, "We will!"
The captain answered, "Ye will what?"
Back came the cry that rent the welkin, "We will not!"
"Thank ye, boys!" exclaimed the captain, in a voice trembling with emotion, "I knew ye would!"—Philadelphia Public Ledger.