Camp Dix Pictorial Review - 20 June 1918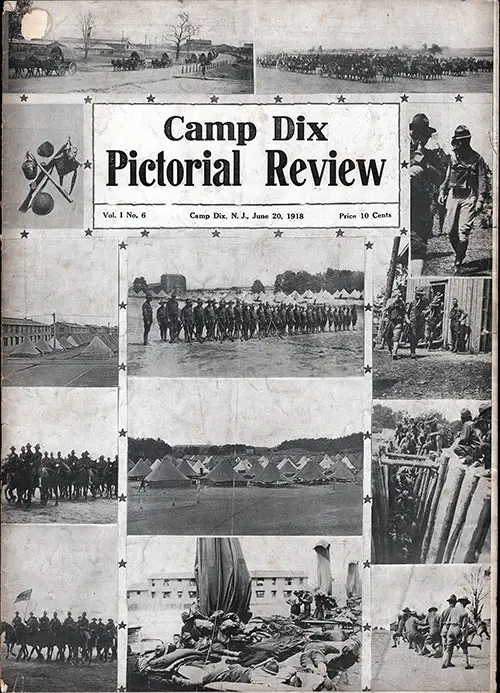 Front Cover, Camp Dix Pictorial Review, Volume 1, Number 6, 20 June 1918. GGA Image ID # 18cefe2575
The June 1918 Issue provided a list with a photograph of a typical soldier's overseas equipment. Other articles include Getting Money Over There and Damaged Parcel Post. Photos Included many of the companies at Camp Dix, Hostess House, and more.
p2
MME. SCHUMANN-HEINK, THE "MOTHER OF THE ARMY," SINGING TO 25,000 SOLDIERS AT CAMP DIX.       
A STRING OF ARMY TRUCKS AT DIX.
THE 78TH DIVISION BASEBALL TEAM WHICH DEFEATED COLGATE,     PENN AND PHILADELPHIA ATHLETICS.
5TH BATTALION 153RD DEPOT BRIGADE, BASEBALL TEAM
DAMAGED PARCEL POST. THOSE SENDING GOODIES BY PARCEL
POST TO DIX SEE PAGE 13 which I highlighted in yellow below.
YES, GIRLS, MARRY AN ARMY COOK OR MESS SERGEANT.
P3
A SCENE AT THE FIRST DIX FIELD MASS. BISHOP MORLEY, GEN. SCOTT
A DIX BUSY STREET ON SUNDAY.
WHEN DIX LICKED PENN.
ARTILLERY BOYS.
BISHOP MORLEY—"MEN, CHRIST IS WITH YOU
A DIX GOULASH CANNON.
p4
A BOXING BOUT IN THE COLORED REGIMENT. - Photo by Roshon, Wrightstown, N. J.
CAPTAIN TUTTLE AND GROUP OF MEN DETAILED TO THE LIBERTY THEATRE. - Photo by White Studio. Camp Dix.
AT TROUGH. - Photo by White Studio, Camp Dix.
A COMPANY "MIXING IT UP."
HERE COME THE GUNS!
P5
The Soldier's Overseas Equipment
The greater part of the following list every soldier is provided. Naturally, the equipment varies with the character of the regiment. Items marked (MC) are issued to men of the Medical Corps only.
In the picture above is the boy's assortment, except what he has on. For instance, the usual service hat is not shown because he is wearing it.
Photo by White Studio, Camp Dix – COMPLETE OVERSEAS OUTFIT OF A PRIVATE
SCULLIONS, LETTUCE AND "SASS" RIGHT NEXT TO AN OFFICER'S QUARTERS KITCHEN.
BRANCH LIBRARY IN YMCA No. 1
Here is shown the branch library in YMCA No. .1. This contains more than a thousand books and was recently installed by the educational secretary of No. 1 hut, Raymond P. Sanford, aided by the Camp Dix Library of the American Library Association.
The books are card-indexed and range from fiction to technical books and reference works. The drawing of books is simple and easy and many of the boys are patronizing it.
Books not on the shelves of the branch library may usually be had from the Camp Library. It is planned to have a substantial branch library in each YMCA hut soon.
The proportion of technical books read by the soldiers is very large, indicating that many of the boys are seriously trying to make the most of their leisure time.
p6
The Camp Dix Pictorial Review
PUBLISHED MONTHLY BY L L. COCHRANE - 321-323 Cherry Street Philadelphia, Pa.
EDITORIAL OFFICE: NEW JERSEY AVE. & 654 ST., CAMP DIX, N. J.
SUBSCRIPTION, $1.00 PER YEAR
Copyright, 1918, by I. L. Cochrane.
THE DEVIL S RELIGION
How can the devil have a religion? Why not? Waving aside all the brain-confusing theological discussions as to what the word religion means, it is simply what we are taught to believe, not so much about the hereafter, but the ways and means to live rightly in the eyes of our fellow men and in our own interests.
Whether a man is a Jew, Romanist or any branch of Protestantism he is a mighty good fellow if he lives up to the tenets of his faith. All true religions follow the Golden Rule ; all their preachers struggle to make better men out of us. All except the devil's religion.
One day, an intelligent young man reached up to a burning electric incandescent lamp and took a tight hold. He drew away in a hurry with the remark : "I thought those things were cold." Pondering over his evident foolishness he realized that he should have known better—a cold light was opposed to fundamental physics such as he had learned in high school. Where did he gather the idea that a lamp was cold ?
In early childhood a teacher, who should have known better, told her class of small boys that one of the features of Edison's invention was its cool exterior. The child mind unconsciously buried that thought in the mind. Supposing' that lamps were something in the line of abstract morality, reasoning incapable of absolute physical disproof.
He would go on believing the fallacy to his grave, especially if his books, his newspapers, his teachers and preachers kept on saying that an electric lamp is cold. All students of the mind are aware of the impressionability of the child mind. "Give me the child and the man will never seek any other church," said a famous preacher. The German Fagans applied the same principle.
Kultur is the Devil's religion,-made in Germany. It is a form of super Mahomedism. A religion of crass materialism that has been taught in school and church to enable a gang of despots to blind a nation to its purpose. Mahomed promised seven beautiful wives in heaven to the Arab who fell in battle.
One may easily imagine an uneducated Turk, bothered by one or three ugly wives and all the petty cares of this life, sighing for such eternal bliss. Mahomedism was a plan to conquer the world and permit only Arabs to rule the world, hence an incentive to fight must be found. Kultur is exactly the same thing.
But today a nation must be educated to read and write; there must be men of science and skill; a seventy-mile gun is more complicated than an arquebus. Hence other pleasant dope to feed the youth and adult mind of Germany. "The Prussian is a brute; education will make him ferocious," said Goethe.
When the Belgian found an officer entering the bedroom of his sister, like any brother he promptly shot the foul beast. The general in. command ordered the brother, the daughter and the father shot. That general, without a shadow of doubt, acted in the manner which he considered proper and correct. He had been educated to consider an enemy to have no right of any kind. In his mind there was no sacredness in enemy, young or old, male or female.
His boys must have some "fun" to keep them going. Mahomedism provides whoreling girls in heaven, but Kaiserism permits rape on earth. Does the Kaiser believe that he is a side partner of God and that "God demands the destruction of my enemies?" Certainly. He was so taught in childhood and has been fed with that pabulum ever since.
It is the easiest thing in the world to believe a lie, especially in the garb of religion, if it suits us, and doubly so if a fawning gang of courtiers, authors and pseudo scientists, teachers and preachers keep the lie going. And they have done it, not only in Germany, but in this country among the Germans.
The Devil's religion, Kultur, has been shaped and fashioned for one purpose, as expressed by Siebert : "When we have reached our goal Germany must see to it that no race save the German race can have a title deed in land or carry weapons, just as in the first world empire no one but a Roman was allowed to own land or have a sword or spear."
God demands the destruction of my enemies, so I can rob their bodies and estates —the true creed of Pan-Germanism.
GETTING MONEY OYER THERE
Don't Leave Your Financial Arrangements Until the Last Hour. A Few Suggestions
Those who traveled abroad in pre-war days are well acquainted with a number of different methods that prevail in England and more so in France. The average American traveler looks upon these differences in transacting business as old-fogy; they grate upon his nerves and cause him unnecessary anxiety until he realizes that there is much common sense in the European way, although over-conservative from his American standards.
When an Englishman or a Frenchman tries to impress upon you the superiority of his ways you take offense, and justly so. Then don't expect him to be different; he is just as human as you are and is bound by his very nature to cling to those ways that were
taught him from childhood. This applies particularly to dealings with the civilian population.  Then be prepared to do business according to his ideas when his guest, which the majority of officers and men, we hope, will soon be.
American bank notes are foreign to the foreigner; he understands them as little as you do his paper money, so don't expect him to exchange his precious pounds or francs for your otherwise good American money.
Gold is bulky and bothersome to handle, although the English officer has his little coin purse, from which he extracts sovereigns. They cash a check at a London bank with a scoop and pour the gold on a scale until it balances with the number of pounds called for.
Buy some French franc notes on this side. They are usable either in France or England. Take just enough for current needs. Make a banking arrangement for subsequent requirements.
Your home bank will suggest the best means, as they are fully informed.
There are different means, but a credit with an old-established English bank with connections in every part of France and on any fighting,  front is the one sure way to be able to get money when needed, aside from the pay check.
Cox & Co., London, is one of those banks. Through its offices and arrangements with the Bank of France one is enabled to cash a check in any town or hamlet. In the turmoil and excitement it is safer to carry a check book—no loss if it turns up missing.
The one important feature of the Cox plan is that any officer with an account at their London bank may present his check up to $25 at any Bank of France branch and cash it without identification ; the uniform is sufficient. Don't expect it elsewhere, unless previously arranged.
The checking system among the common populace is still in its infancy in France. The British Government, in a sense, commandeered the organization of the Cox bank and so widely known are the facilities this bank affords that nine of every ten officers of Britain's army bank there.
For Cox & Co. are not merely the Officers' Bankers, they are his insurance agents, his stock and share dealers, his trustees ; they collect and credit his pay ; retired pay, pensions and dividends ; they clear his personal effects through the customs, and forward or store them ; take care, of his kit and personal belongings should he become a casualty and be obliged to abandon them on the battlefield ; keep in touch with his movements in the interests of his relatives and friends; provide him with all facilities for traveling abroad, and serve as his information bureau about everything.
They take care of his insurance premiums, income tax and club subscription payments, his remittances to relatives, his drafts and cable transfers, and all matters relative to finance. A service now extended to American officers.
The Hanover National Bank of New York city represents Cox & Co. on this side, and in turn your bank is enabled to establish a credit for you so that any time, almost anywhere you may step up to the counter, say "bon jour" and cash your check without further ado. Always have French money when you buy in France.
The plan outlined appeals to everyone as far superior to carrying money, which may be lost, or a letter of credit, which also may go astray, and you are the victim in a bad fix.
P7
Photo captions:
MIS GRACE SHEPARD (third from left) AND PART OF HOSTESS HOUSE STAFF
LEOPOLD LANE, YMCA DRAMATIC DIRECTOR FOR CAMP DIX.
THE P. R. R. SPECIAL OFFICERS AT CAMP DIX STATION WHO HELP TO HANDLE THE BIG CROWDS.
NOT A PARK FOUNTAIN, BUT MERELY THE FILTER SPRAY IN ACTION AT THE DIX DISPOSAL PLANT
LET GEORGE DO IT !
But the General Did It.
CHAPTER I - Like Gerard's "My Four Years in Germany* this is fact, not fiction.
Guess we'll have to do it, boys," said the village cut-up.
"Do what?" queried the unsophisticated chap from the city.
"Here we have had the worst winter in fifty years," replied the wiseacre, "the camp has been quarantined, no business to speak of—not enough to settle the payroll of the stores in town, and now comes this here order that the fifty odd business men—men who have lost money all winter must get together and put in a sewer. Boy, do you know that their sewer will cost about $30,000?
Sewers ! What's the matter with cess pools? Ain't they good enough?"
"No, cess pools are not good enough, "the camp authorities said; "We want the town to which our boys go to be clean—fit to live in." In a nutshell these sanitary sharps, who had the lessons of previous wars well-grounded in their system, said they didn't care how the sewers were put in or who paid for them, but in they must go.
This was repeated in private conferences and at a meeting of the town business men. Yes, the camp authorities would render all possible assistance which they did.
Then the fun began. A company of men from another section of the State had the sewer franchise from the Township Council. Certainly, they would put in the sewerage system complete, but the capitalists of the town would have to foot part of the bill—they must buy stock in the institution as well as pay a yearly rental for the connection.
A Sewer Committee was formed by the Business Men's Association—The Board of Trade—they held meetings while Bill and Ed argued pro and con about cost, who should be awarded the contract; one wanted bonds, and another said he would take any scrap of paper - and pay his money so long as he got sewers.
Ah! there's the rub. A few, and only a few, had that inborn sense to realize that time was fleeting, that the fatal May 1st, when either sewers must be installed or the soldiers refused admittance to the town, was advancing day by day.
Forsooth, what would the town be without soldiers?  An animated graveyard with the dead ones losing money every day. These wise men argued, changed their minds from time to time, and did everything except start the sewer ball rolling.
Time sped by, March ran into April and nothing but talk. A dozen or more men had placed their names on the subscription list and paid their money into the local bank. Where were the rest?
Singing the old song "Let George Do It— he'll do it, yes, he'll do it." A large cigar store corporation—a huge nation-wide enterprise who have been lauded by efficiency experts as the ideal of foresight in things commercial—sidestepped the issue. The buck was passed from one officer to another.
Another big corporation subscribed the noble sum of $50. Other corporations with branches in the town, passed it along, either to someone higher up or lower down, where it became last in the shuffle. Managers and Presidents smiled. Shopkeepers who had nearly all their capital in town, smiled and argued but failed to sign anything or pay anything. Why so much optimistic evasion?
If the soldiers were ordered to keep out of town it surely would not be many days before a sum much larger than called for by the Sewer Company would be lost. One answer summed up the situation. "These fellows who are after us to sign, they must have the sewers—let 'em raise the money." And the sewerage system was still in the air and not underground.
April showers had passed—a boom month—big business—the camp was crowded and so were the stores. Incidentally, the village had been recently incorporated and became a pocket borough of 40 voters with a Mayor and Council. What did the City Fathers do?
Nothing that was visible. May was here, the weather becoming warmer—no sewers — by this time, however, the soil pipes were seen on top of the ground, and so were too many mosquitos and fly breeding puddles.
So much business came to the town that the "good enough" cess pools overflowed. One cess pool had its current of overflow across the main street under another man's store. One chap, whose cess pool was filled and then a little more, was asked, "Why don't you clean it out?" Well, didn't I clean it the other week and it cost me $90?"
Incidentally, the money asked for by the sewer company had been raised—a few men had in the end to virtually take care of that entirely—the big corporations and many of the wise little fellows smiled if thought about it at all.
Right of way had been given that precious sewer pipe by the railroad company—the pipes are in town, but still on top of the ground. You know the answer. "You fellows dilly-dallied around until so late and we cannot do the job in a minute."
CHAPTER II.
"Say, Joe the town is to be closed —I got it straight."
"Closed, what you mean, who can stop people from coming in here?"
"You bone-head, I mean the soldiers will not be allowed to come in—do you get me?" "Why?" "No sewers, overflowing cesspools, and other unsanitary conditions."
"Oh, fooey, where will the soldiers buy what they want?"
"Never mind, just remember, I told you so—don't lay in any stock of perishables or order anything that cannot be countermanded; the town will be closed."
A committee was sent to interview the Camp Commander. He verified the ill-fated news. He told them firmly, but gently that he had given warning after warning, but no real attention had been paid, hence the order. The town would be closed to officers and soldiers until put into sanitary condition.
And, at 6 P. M. Thursday, May 23rd, a cordon of Military Cops closed the town to men in uniform.
His Honor, the Mayor, and Their Honors, the Borough Council, became unusually active. Sanitary ordinances were passed viva voice. A Justice of the Peace was appointed. Money was raised and the dirt began to fly. How precise and definite is hindsight!
Moral: Don't put it up to George when a military commander has any chance to kick in.
P 8-9
FIELD MASS AT CAMP DIX, MAY 12TH.
COMPANY G, 34th ENGINEERS.
JEFF SMITH GIVING BOXING POINTERS TO AN ENTIRE COMPANY
P.10
SUNDAY CROWD ARRIVING AT CAMP DIX RAILROAD STATION
SETTING UP EXERCISES
"ARMS AND THE MAN" – NEXT SHOT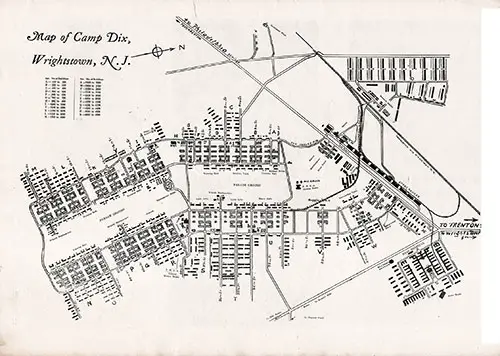 Map of Camp Dix
P.12
LIEUTENANT C. J. C. CLARKE AND HIS "ALL NATIONS" SQUAD FROM CAMP DIX, HELPING THE LIBERTY LOAN AND WAR CHEST DRIVES IN  PHILADELPHIA AND PENNSYLVANIA
SECRETARIES OF YMCA No. 6.
PEGGY MITCHELL - Here is Peggy Mitchell and her mother. Peggy has the unique distinction of being the first baby born in Camp Dix, the daughter of Sergeant Robert B. Mitchell, formerly of the 307th F. A. While Sergeant Mitchell was at Camp Dix Mrs. Mitchell lived at the Asa Parker House on the Pointville road, where Peggy was born three months ago.
ATLANTIC CITY HOSPITALITY
A Tribute By Boys Who Have Just Returned
A party of six boys from Camp have returned from Atlantic City, where they spent Decoration Day, and are enthusiastic about the unusual courtesy extended to them by the good people of the famous Boardwalk City.
"That is the place to go if you get a two-day pass," said one of them. "We went down Wednesday afternoon, and every minute that we were there some one passed along a feeling that we were more than welcome.
The first place we went to was the Soldiers' and Sailors' Club, under the management of the War Camo Community Service, in charge of Mr. DeWitt C. Reed, located at 12 South New York avenue, just around the corner from the Pennsylvania Station.
The Commission has leased the Morris Armory. A finer building could not be built to order. A good bed for twenty-five cents, pool and billiard rooms, reading and game rooms and a restaurant. Six of us took one meal there and the total bill was $2.31.
Coffee for three cents that a fellow would not complain about in an average restaurant if he were asked fifteen cents. In the morning we were handed introductions to the management of the Warwick Hotel and ate a bang-up breakfast as the guests of the hotel.
Dinner was provided, also without charge, by the Seaside Hotel—and you probably know the kind of dinner they serve at that well-known hostelry. Nothing better. We had a dandy time all-around, but were doubly pleased with the kindly, patriotic treatment accorded men in uniform.
Don't forget the address of the first place we went. Mr. Reed is the man to give you a right start, as it was his slips of paper that got us everything. The ladies who are assisting him made us feel at home—the same as everyone did, in fact. Besides all these things, Atlantic City is a place to have bully time."
P. 13
HOSTESS HOUSE (COLORED)
One of the most pretentious structures in Camp Dix is the new Hostess House for the lady friends of the colored men, composing: the two colored artillery regiments in Camp Dix.
This Hostess House, now receiving the finishing touches, was built by the War Work Council of the YWCA, with funds set aside to be expended in promoting the welfare of the colored boys.
A feature of this meeting place for the colored men and their lady friends is a large cafeteria and lunch counter and a thoroughly equipped kitchen. A spacious reception room is provided and two guest rooms for emergencies.
The house will be in charge of a colored executive, secretary, a business secretary and a cafeteria director.
DAMAGED PARCEL POST (Highlighted in Yellow by EBG)
Friends and relatives sending goodies, eatables and perishable goods by Parcel Post to their boys in Camp Dix should take a look at the picture on page 2, showing how a large amount of Parcel Post packages arrive daily at Camp.
Torn, mashed, crushed, contents lost, often spoiled, a number of packages arrive daily that are simply a "mess" and sorely try the patience of the postal clerks. All this is due to improper and insufficient packing and wrapping and attempts to mail perishables, which really should not be mailed.
Often packages arrive containing fruit like bananas in a very overripe state mixed with hard boiled eggs or even limburger cheese. In the picture may be seen a whole pie which forced its way out of its wrapping.
Often the only thing left for mail clerks to do is to dump such a mixture into the garbage can. Your boys get enough to eat; have they not taken on weight since they are in Camp ? They appreciate your consideration in sending them things which they cannot get here.
But hard boiled eggs, mashed pies and mushy bananas—well hardly. What you do send wrap and pack well. Remember Parcel Post is shipped in bulk with often great weight piled on top of the under mail bag.
MAJOR E. L. DOUGHERTY AND OFFICERS OF THE 6TH BATTALION, 153RD DEPOT BRIGADE, AND THE CAMP DIX MILITARY POLICE.
K. P., KNIGHTS OF PIE.
p. 15
CAMP DIX MILE, HALF-MILE AND MEDLEY RELAY TEAM.
Army and Navy Relay Champions, 1918, winning seven relay races in the meets (indoor and outdoor) of the Millrose, Meadowbrook, N. Y. A. C., Johns Hopkins and University of Pennsylvania, defeating Camp Meade, Camp Devens, Camp Upton, Camp Funston, Base Hospital No. 37, Fort Schuyler, Fort Slocum, First Naval District, Boston Navy Yard, Fourth Naval District, Charleston N. T. S., Wissahickon Barracks, Marines and Sailors, Philadelphia Navy Yard.
Left to right:—Camp Athletic Director By Walton (Penn.), Lieut. C. M. Finch (Syracuse), Officer Candidate J. Howard Berry (Penn), Lieut. O. C. Anderson (Colgate), Lieut. W. F. Kelley (Prudential A. A.), Lieut. Wm. Anderson (N. Y. A. C.).
WITH FIENDISH GLEE THE DENTISTS MAKE A GAS ATTACK IN A TORTURE CHAMBER IN THE DENTAL INFIRMARY.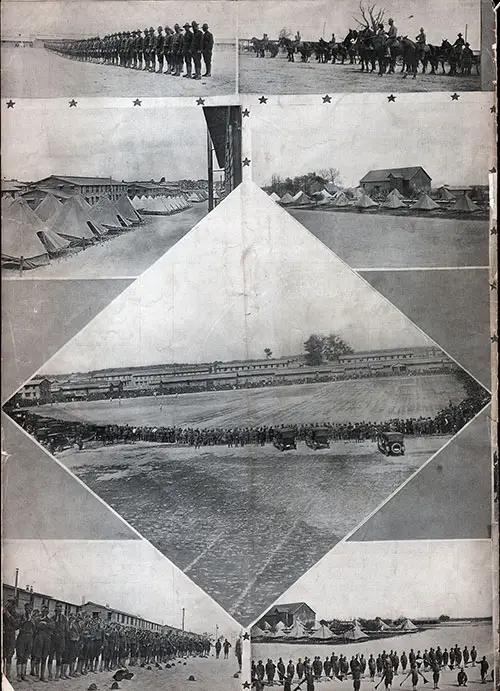 Back Cover - Scenes of Camp Dix