Camp Dix Pictorial Review - Content - 20 May 1918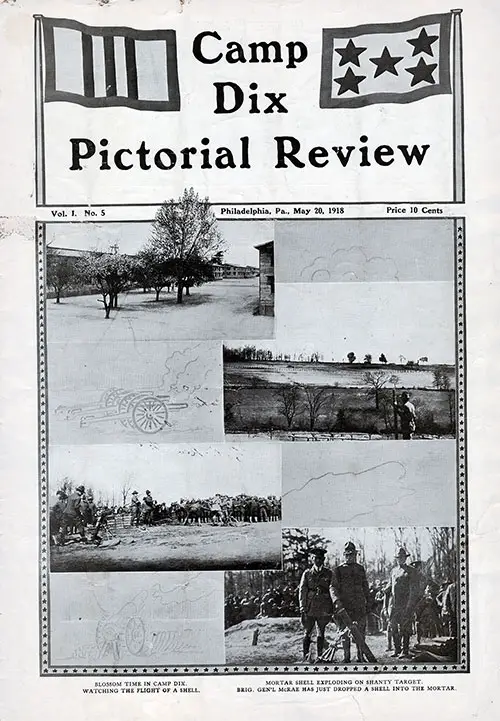 Front Cover, Camp Dix Pictorial Review, Volume 1, Number 5, 20 May 1918. GGA Image ID # 18cef5f2fb
The May 1918 Issue included an editorial on German Democracy, a review of a play, "The Beast of Berlin," and a Biography of Brigadier General James H. McRae. Photographs included Scenes of Camp Dix, Fire Houses, Remount Depot, and more.
P2
BRIGADIER GENERAL McRAE LOOKING ON AT MACHINE GUN AND TRENCH MORTAR PRACTICE.
A DANCE IN THE 303RD ENGINEERS' ASSEMBLY HALL.
THE 303RD ENGINEERS' LISTENING TO LIBERTY LOAN DAY ADDRESSES.
THREE FIRE HOUSES AT DIX AND FIRE DRILL BY THE 303RD  ENGINEERS.
P3
BRIGADIER GENERAL CLINT C. HEARN, 153RD F. A. BRIGADE, AND THREE ARTILLERY PRACTICE SCENES.
A LIBERTY DAY LOAN ADDRESS, APRIL 26TH OUTSIDE THE K. OF C. BUILDING.
OFF FOR A MORNING HIKE.
PART OF THE 309TH MACHINE GUN BATTALION.
P4
COL. REED AND OFFICERS OF THE 59TH PIONEER REGIMENT OF INFANTRY – Photograph by P. Figary, 808 Chestnut St., 'Philadelphia.
NELLIE'S WAR BABIES.
ROOKIES ATTACHED TO CO. E, 310TH INF., GETTING HEP.
A SPUD SQUAD IN THE 312TH INF.
P5
HERE AND THERE IN CAMP DIX.
RIFLE OR MORTAR FOR  THE 303RD TRENCH MORTAR BOYS.
309TH INFANTRY BOYS LINED UP AT RETREAT.
THE BAND OF THE 26TH ENGINEERS.
"SQUADS RIGHT" BEFORE IT'S' RIGHT.
UPTON BOYS ARRIVING IN DIX.
HORSES "AWAITING ORDERS."
BUGLE CORPS, 312TH INFANTRY.
A GROUP OF 303RD ENGINEER BOYS' ON RECONNAISSANCE DETAIL.
A PRIMER LESSON IN THE DEPOT BRIGADE.
P6
Photo by Harris & Ewing, Washington, D. C.
BRIGADIER GENERAL JAMES H. McRAE is now in command of the 78th Division at Camp Dix, coming here from Camp Greene, N. C., where he was in command of the 9th Infantry Brigade. He relieved Brigadier General J. P. Dean, of the 156th Infantry Brigade, who had also been acting commander of the Division.
General McRae is a veteran of 30 years in the service. He was born in Georgia, December 24, 1863, and was graduated from the United States Military Academy, class of 1886, when he was assigned to the 3d Infantry. He later served in the 14th, 3d, 16th and 5th Infantries, on the General Staff and in the Adjutant General's Department and graduated from the War College in 1911. He served in the San Diego campaign and the Philippine insurrection.
To avoid misunderstanding on the part of relatives and friends, Brigadier General McRae is in charge of the 78th Division, now quartered at Camp Dix, and will undoubtedly accompany it overseas. Major General Scott is in command of Camp Dix which, as now planned, will be a concentration and embarkation camp.
The Camp Dix Pictorial Review
PUBLISHED MONTHLY BY L L. COCHRANE
321-323 Cherry Street Philadelphia, Pa.
EDITORIAL OFFICE - NEW JERSEY AVE. & 6 ½ ST. CAMP DIX, N. J.
SUBSCRIPTION, $1.00 PER YEAR
Copyright, 1911, by I. L. Cochrane.
When the European War broke loose in August, 1914, a leading New York City daily, which had in and out of season consistently explained to the best of its knowledge the true meaning of Kultur, stated in an editorial on the Mexican situation, "The European War, at least, will be fought along civilized lines."
How faint the realization by the best informed of the utter savagery of the German state of mind. No one could then imagine the colossal egotism of that frightfully warped mentality of the Kultured nation.
Recently the German papers in referring to a clash with American troops came out with the conceited remark that the Yankees had been taught a lesson they would never forget. Seemingly, the German cannot be cured except by his own medicine, blood and iron.
We quote another example of the foul and perverted teachings of Germany. This is taken from a pamphlet issued by the German military authorities: " 'Democracies are the worst of all regimes. The democratic parties of the Reichstag wanted to force us by means of strikes and seditions to design a schemeful peace. Money is the mainspring of democratic regime.
The motto "Liberty, Equality," cloaks an association of international brigands. Parliament is a shop for gossips. The true German peace will give us for colonization the lands of Courland, Lithuania and a large part of Poland, as well as the coal and iron mines in the west and in the east. This peace will assure us the domination of the coast of Flanders."
One may readily understand the reference to the grabbing of Courland, Lithuania and Poland. "The motto, 'Liberty, Equality,' cloaks an association of international brigands." How besotted and dumb must be the German mind not to realize that such mendacity is opposed to common sense and reason !
At last they have the nerve to inform the world that they are seeking to destroy civilization. We now have a good .view of the Blonde Beast which we must kill in order to live our lives in peace and without menace from super-brutes.
"The Beast of Berlin"
Future writers of the tragic and blood-curdling brand of fiction are being saved their most difficult task. They no longer need to draw upon imagination to paint chilling horrors ; the Beast of Berlin has supplied material which far outdoes the wildest
and most vivid ravings of a Dumas or a Jules Verne.
In planning the scenario of the photoplay, "The Beast of Berlin," the only difficulty the author encountered was a selection of the milder well-established acts of the brutish horde in its march across Belgium into France, as it is really impossible to portray in either word or picture the unspeakable crimes committed by those super-devils.
The Rev. Newell Dwight Hillis, in a recent article describing the massacre of Gerbeviller, gives an account of the speech, made by the aged village priest upon the anniversary of that massacre. No more dramatic scene ever occurred in all history.
He told of the coming of the Germans, of the looting of the houses, the rape of the little girls, then, closing his eyes, the priest talked on and lived over again the scene of those terrible hours:
"I see our fifteen heroes standing on the grass. I see the German soldiers lifting up their rifles. I hear General Clauss cursing and shouting the command to fire.
"I see you, Thomas; a brutal soldier tears your coat back. He puts his rifle against your heart. When you sink down, I see your hands come together in prayer.
"I see you, Francois. I see the two big crutches on which you lean. You are weary with the load of ninety years. I hear your granddaughter when she sobs your name, and I see your smile, as you strive to encourage her.
"I see you, Jean. How happy you were when you came back with your wealth to spend your last years in your native town ! How kind you were to all our poor. Ah ! Jean, you did us good and not evil, all the days of your life with us !
"I see you, little Marie. You were lying upon the grass. I see your two little hands tied by ropes to the two peach trees in your mother's garden. I see the little wisp of black hair stretched out under your head. I see your little body lying dead. With this hand of mine upon that little board, above your grave, I wrote the words, 'Vengeance is mine ; I will repay, saith the Lord.'
"And yonder in the clouds I see the Son of Man coming in His glory with His angels. I see the Kaiser falling upon Gerbeviller. I see Clauss falling upon our aged Mayor. But I also see God arising to fall upon the Germans. Berlin, with Babylon the Great, is fallen. It has become a nest of unclean things. There serpents dwell. Woe unto them that offend against my little ones. For, lo, a millstone is hanged about their necks and they shall be drowned in the sea with Satan."
The pity of it is that we Americans are just beginning to grasp a faint glimmer of the meaning of Prussia's forty years of preparation by debauching the soul of Germany for world conquest and the destruction of all the cherished ideals toward which
p.7  (continuing story from p.6)
we have been gradually approaching during the centuries of advancing civilization. Nor yet do we fully appreciate the staring fact that if the Germans were to land on American shores there are thousands of our simpering hyphenates who would welcome them as did their brothers in Belgium and France, lead them to our prettiest girls, our fairest women and point out the easiest and richest loot.
Herod, Ghengis Khan, Attila, "Butcher" Weyler, Villa, these were saints in comparison with the Kaiser and his trained assassins of both life and virtue.
Some men fight to keep out of the service, and even get their friends to fight for them. Only a  few fight tooth and nail to get into the service. The first class we pass over—each one probably knows some specimens.
Of the second class we have one in Camp Dix, and we believe his picture deserves a place in these pages—James P. McGovern, erstwhile Camp Dix Secretary of the Knights of Columbus. His local board passed him up, turned him down, classed him with the goats because his feet were—no, not  cloven—but "flat."
After his rejection the Knights drafted him and sent him to Dix as their Secretary, and the many friends he has made in Camp are delighted to learn that he has succeeded in breaking his way into exclusive circles and now wears the regulation O. D.
Knowing Mac pretty well, we consulted a seeress, one who has predicted with fair accuracy everything except when the war will end.
We gave her the evidence about our buck private hero—shure and we told her he had red hair, might be taken for an Irishman from Jersey City, had kissed the Blarney stone, has Bill O'Bryan frazzled on the silvery tongue stuff, is one who gets things done. Seeress mumbled something about "Gott help Kaiser Bill," reached for her military deck, shuffled the cards, and laid them down as follows:
AT THE ARMY THEATRE, MAY 19 TO 21 INCLUSIVE
Public Ledger Photo Studio - CAMP DIX BOYS MARCHING DOWN BROAD STREET, APRIL 27, 1918
Photo by White Studio, New York. - BOXING BOUTS AT THE K. OF C. BUILDING.
P. 8-9
HEADQUARTERS TROOP, 78TH DIVISION
SHELTER TENT INSPECTION, 3RD BATALLION INFANTRY
OFFICERS AND MEN OF THE FIRST TRAINING SCHOOL FOR OFFICERS AT CAMP DIX – These men have finished a three and a half month's intensive course.
Above three photos by Calkins & Mather, New Egypt, NJ and New York
COLONEL  A. V. P. ANDERSON AND OFFICERS OF THE 312TH INFANTRY. Photo by P. Figary, 808 Chesnut St., Philadelphia
P10
CALISTHENICS AND SETTING-UP EXERCISES UNDER A MAY SUN.
OFFICERS OF 303RD MOTOR SUPPLY TRAIN.
Photo by White Studio, New York.
THE NEW RECRUIT AT THE REMOUNT DEPOT. 
HORSEBACK,COWBOY AND ROPE SPINNING STUNTS AT THE REMOUNT STATION.
Photo by Santcross, Pointville, N. J.
BIRD'S-EYE VIEW OF R. R. STATION AND REMOUNT STATION FROM STEEL WATER TOWER. THE WHITE CANVAS COVERS PILES OF BALED HAY.
MASSED BANDS PLAYING AT DIVISION HEADQUARTERS ON LIBERTY LOAN DAY.
P. 11
NOW THAT WE HAVE TENTS SPREAD ALL OVER CAMP TO COVER THE SURPLUS POPULATION, THOSE POST CARDS SHOWING CAMP DIX AS A TENTED CITY WILL APPEAR MORE LIFE-LIKE.
The recent arrival of more than 9,000 additional men in Camp Dix made it necessary to put up hundreds of tents in addition to the barracks. These were pitched as near to the barracks as possible so that the men can mess in the barracks. In this case the tents are used only for sleeping, as the neighboring mess halls, recreation rooms and latrines supply all other needed accommodations.
Formerly Camp Dix was a very muddy place to pitch tents, but the new culverts and drainage ditches recently added draw off all rain water as soon as it reaches the "glue soil" of this section of New Jersey.
DECORATIVE AND ORNAMENTAL LANDSCAPE CAMOUFLAGE, CO. A, 303RD FIELD SIGNAL BATTALION.
A SQUAD OF THE 308TH MACHINE GUN BATTALION.
COMIC STRIP: Listening to a guy give the Top Sergt. a gas attack for a pass
P 12, 13, 14 and 15 – Advertisements
p.16
SCENES IN THE DIX TRAINING TRENCHES.
COWBOYS RACE AT THE DIX CIRCUS.   
SADDLING AN UNBROKEN MULE AT THE DIX CIRCUS.
PRACTICE IN PITCHING SHELTER TENTS AND PACKING EQUIPMENT.   
CO. D, 303RD ENGINEERS, LEAVING WRIGHTSTOWN.