Navy Boot Camp Book 1956 Company 193 The Compass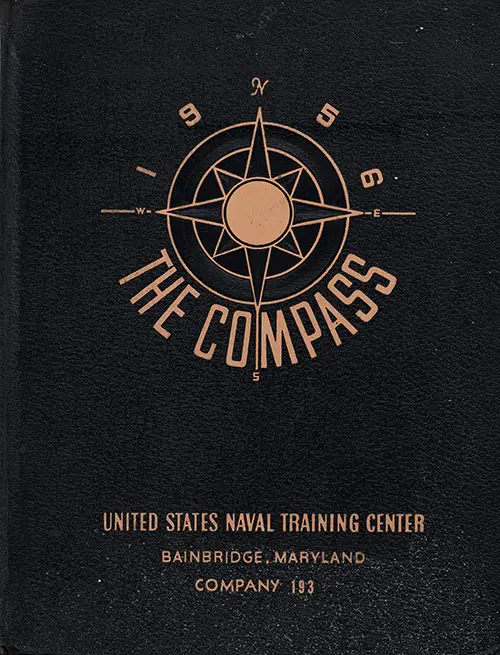 Front Cover, Great Lakes USNTC "The Compass" 1956 Company 193. GGA Image ID # 169488c29c
Roster and Photos for Recruit Company 193 for 1956, United States Naval Training Center, Bainbridge, Maryland. Company Commanders: J. A. Barchus, QMC and F. J. Twiss, QMC. 72 Men Graduated. Training Completed 8 February 1957.
Company 56-193 Honors
Company 56-193 Organization and Schedule
Organization: 1st Regiment, 12th Battalion
Commenced Training: 4 December 1956
Completed Training: 8 February 1957
Company 56-193 Leadership
Company Commander: J. A. Barchus, QMC
Company Commander: F. J. Twiss, QMC
Company 56-193 Recruit Roster
Stanley F. Balch
J. T. Battaglia, Jr.
J. T. Beatty, Jr.
D. R. Beckman
Lance A. Bendit
E. B. Benedict
J. S. Blaskiewicz
Edwin F. Cox
A. M. Demmerle
James Dennison
P. L. Desmarais
J. M. Diez, Jr.
J. T. Donovan
B. D. Dootson R
. T. Downing
Robert E. Fryer
D. L. Garbrandt
J. D. Gardner
Warren R. Gold
A. J. Granato
C. E. Grissler
J. E. Hagaman
Ara Hagopian
Charles A. Haie
James E. Hopkins
R. E. Hornberger
Robert N. Howard
W. E. Hungerford
E. T. Kone, Jr.
John W. Kuhnle
Donald P. Lodew
Paul D. Lindsey
J. C. Lombardi
J. 0. Marshall
Dennis E. Myers
W. J. O'Brien, Jr.
J. E. Oldenburg
James Pietri
John E. Price
H. F. Richards
J. H. Richardson
W. T. Rohr, Jr.
Robert L. Rowe
C. A. Runyan
Ronald H. Schatz
R. W. Shuster
W. H. Scott, Jr.
C. M. Shields
John E. Simms
Thomas L. Smith
Marlis H. Stacy
K. E. Stamm
Robert L. Stimis
C. J. Stinson
Victor J. Stott
J. 0. Sutliff
P. F. Thomas
D. R. Tinney
James J. Walker
 W. L. Wheeler
C. C. Wigelsworth
H. S. Williams
A. J. Zangla
C. W. Brooks
J. J. Manners, Jr.
J. C. McCabe
J. A. Taggart
James Brown
Alex Leonovs
Milton D. Bartlett
William G. Christian
John G. Jakob
Navy Boot Camp Recruit Photos - Company 56-193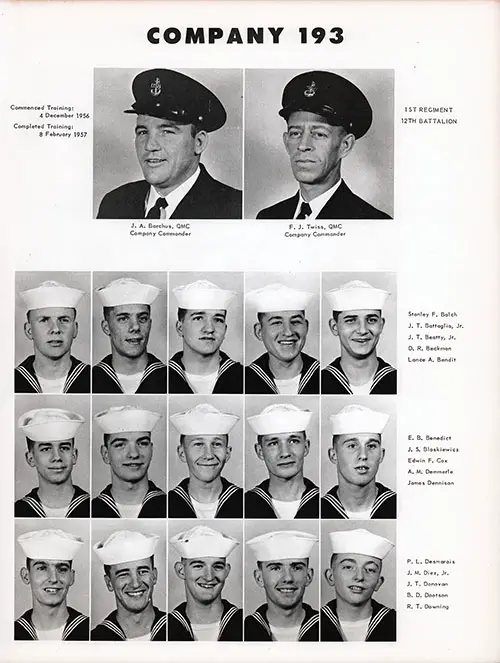 Company 56-069 Bainbridge NTC Recruits, Page 1. GGA Image ID # 1694bb1f17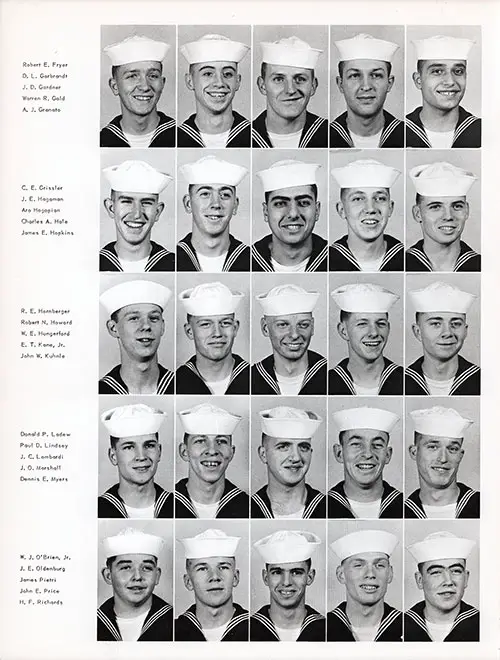 Company 56-069 Bainbridge NTC Recruits, Page 2. GGA Image ID # 1694f1b89e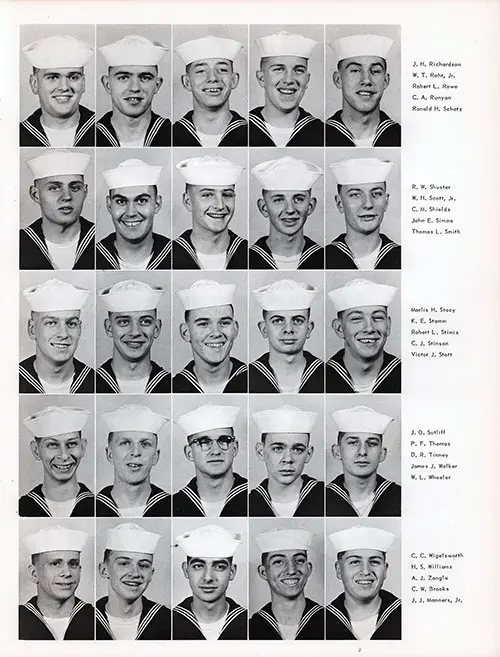 Company 56-069 Bainbridge NTC Recruits, Page 3. GGA Image ID # 16951f8ae8
Company 56-069 Bainbridge NTC Recruits, Page 4. GGA Image ID # 1695207dd1
Company 56-069 Bainbridge NTC Recruits, Open Letter from Captain W. Catlett Jr., Page 5. GGA Image ID # 1695906e5e
PROUD POSSESSOR OF THE COMPASS
As you have read through this book, I am sure you have captured some pride in the accomplishment of a fine young American.
He is now in the second phase of his naval career, a graduate of basic recruit training.
While under my command many fine ideals and traditions of the Naval Service have been made a part of his training. The purpose of this training can best be expressed in one word "GROWTH":
Growth in knowledge and understanding of the Naval Service; growth in faith and belief in the moral and spiritual values of life; growth in confidence and capacity to serve God, Country and Self.
By successfully completing his basic training, he has demonstrated the fact that the opportunity for individual achievement is a fundamental right and responsibility of citizenship.
I sincerely hope that he will continue to grow and to believe in the value of individual improvement and thereby take advantage of the many opportunities available in the Naval Service.
Faithfully yours,
W. J. CATLETT, JR.
Captain, U. S. Navy Commanding
RECRUIT TRAINING COMMAND
BAINBRIDGE, MARYLAND