Navy Boot Camp Book 1952 Company 011 The Compass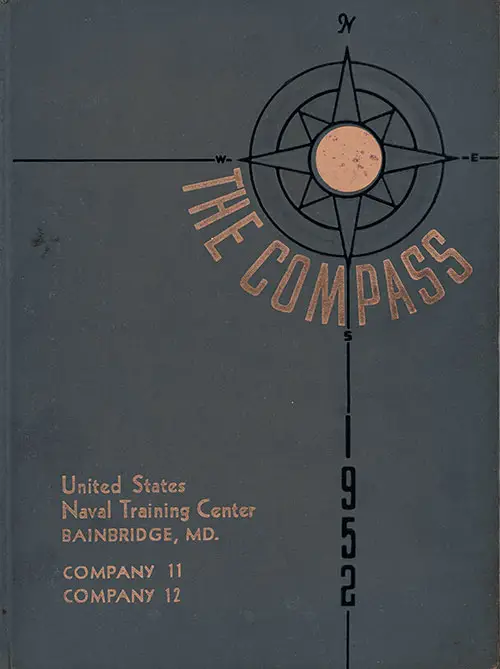 Front Cover, Great Lakes USNTC "The Compass" 1952 Company 011. GGA Image ID # 16ec80db5f
Roster and Photos for Recruit Company 011 for 1952, United States Naval Training Center, Bainbridge, Maryland. Company Commander: W. H. Clark, BMGC. 60 Men Graduated. Training Completed 26 September 1952.
Company 52-011 Organization and Schedule
Organization: 25th Battalion 2nd Regiment
Commenced Training: 10 July 1952
Completed Training: 26 September 1952
Company 52-011 Leadership
Company Commander: W. H. Clark, BMGC
Company 52-011 Recruit Roster
Robert T. Abrams, Jr.
Austin L. Barrows
Robert F. Bennett
Franklin R. Bolus
Robert C. Boyer
Robert F. Broce
Richard D. Camillo
Thomas J. Convery, Jr.
Raymond T. Coons, Jr.
John M. Dearmon, II
Richard P. Delany
Bradford C. Deveny
Richard E. Dickey
Harry B. Ensell, Jr.
James E. Ferree
Jimmie D. Ferguson
Kenneth B. Franklin
Benjamin J. Garnett
Paul F. Genung
C. E. Hammer, Jr.
Richard Hart
Hollie R. Hodges
Ronald R. Hook
Robert V. Hughes
Donald G. Jones
Carmen Jones
James R. Martin
F. W. McCarty, Jr.
Gerald D. McMurchy
Gerard M. Merschen
Frederick W. Moulder
James L. Mulhollen
Harry M. Nuskey
Donald J. Nutter
Richard R. Peffly
Ralph L. Robinson, Jr.
Robert M. Schaumburg
Wallace H. Sedgwick
Franklin D. Sheppard
Andrew C. Sikso
Wesley L. Smith
William B. Sowers, Jr.
Dale W. Stewart
George E. Taylor, Jr.
Jerry L. Tellis
Tipton J. Tolbert
Robert Wadsworth, Jr.
Oakley D. Walker
John H. Wayland
 Alvin L. Wellington
Donald F. Wolfe
John A. Wolfe
Robert L. Woolard
Thomas E. Woughter
Gibbs
McAlevey
Hummel
Walsh
Van Winkle
T. F. Headley
Navy Boot Camp Recruit Photos - Company 52-011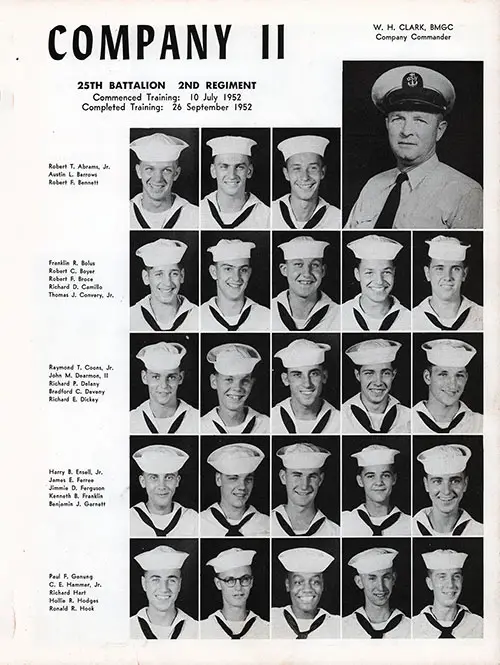 Company 52-011 Bainbridge NTC Recruits, Page 1. GGA Image ID # 16ec9f0add
Company 52-011 Bainbridge NTC Recruits, Page 2. GGA Image ID # 16ece5e0db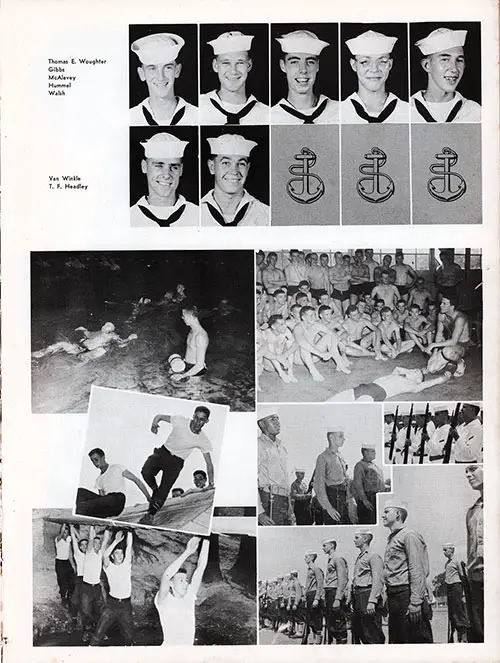 Company 52-011 Bainbridge NTC Recruits, Page 3. GGA Image ID # 16ed1fd059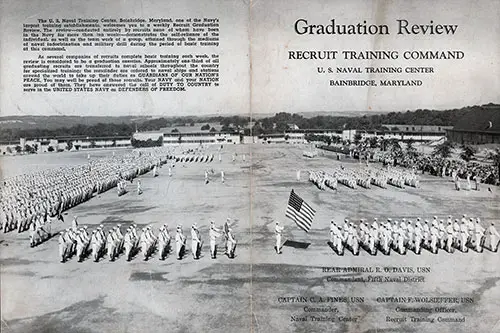 Company 52-011 Bainbridge NTC Recruits, Graduation Review, Page 4. GGA Image ID # 16ed878b2d
RECRUIT TRAINING COMMAND
U. S. NAVAL TRAINING CENTER
BAINBRIDGE, MARYLAND
REAR ADMIRAL R. O. DAVIS, USN - Commandant, Fifth Naval District
CAPTAIN C. A. FINES, USN - Commander, Naval Training Center
CAPTAIN F. WOLSIEFFER, USN - Commanding Officer, Recruit Training Command
The U. S. Naval Training Center, Bainbridge, Maryland, one of the Navy's largest training establishments, welcomes you to a weekly Recruit Graduation Review. The review—conducted entirely by recruits none of whom have been in the Navy for more than ten weeks—demonstrates the self-reliance of the individual, as well as the team work of a group, attained through the mediums of naval indoctrination and military drill during the period of basic training at this command.
As several companies of recruits complete basic training each week, the review is considered to be a graduation exercise. Approximately one-third of all graduating recruits are transferred to naval schools throughout the country for specialized training; the remainder are ordered to naval ships and stations around the world to take up their duties as GUARDIANS OF OUR NATION'S PEACE.
You may well be proud of these recruits. Your NAVY and your NATION are proud of them. They have answered the call of DUTY TO COUNTRY to serve in the UNITED STATES NAVY as DEFENDERS OF FREEDOM.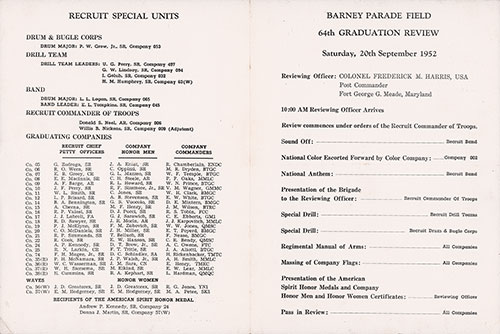 Company 52-011 Bainbridge NTC Recruits, Graduation Review Program, Page 5. GGA Image ID # 16ee0647df
RECRUIT SPECIAL UNITS
DRUM & BUGLE CORPS
DRUM MAJOR:
P. W. Grow, Jr., SR, Company 053
DRILL TEAM
DRILL TEAM LEADERS:
U. G. Perry, SR, Company 497
G. W. Lindsay, SR, Company 094
I. Golub, SR, Company 032
H. M. Humphrey, SR, Company 63 (W)
BAND
DRUM MAJOR:
L. L. Logan, SR, Company 065
BAND LEADER:
E. L. Tompkins, SR, Company 045
RECRUIT COMMANDER OF TROOPS
Donald S. Neel, AR, Company 006
Willis B. Nickens, SR, Company 009 (Adjutant)
GRADUATING COMPANIES
RECRUIT CHIEF PETTY OFFICERS
Co. 05 - G. Zadroga, SR
Co. 06 - R. O. Wern, SR
Co. 07 - E. B. Greey, CR
Co. 08 - E. E. Macinnis, SR
Co. 09 - A. F. Barge, AR
Co. 10 - J. F. Ferry, SR
Co. 11 - W. L. Smith, SR
Co. 12 - L. P. Brisard, SR
Co. 14 - B. A. Bennington, SR
Co. 15 - A. Cherna, SR
Co. 16 - R. P. Valesi, SR
Co. 17 - J. J. Labroli, FA
Co. 18 - R. D. Sawyer, SR
Co. 19 - P. J. McElynn, SR
Co. 20 - C. O. McDaniels, SR
Co. 21 - R. P. Simmonds, SR
Co. 22 - R. Cook, SR
Co. 24 - A. P. Kennedy, SR
Co. 25 -R. N. Larkin, CR
Co. 74 - F. H. Magee, Jr., SR
Co. 35(R) - P. H. McNamara, SR
Co. 36(R) - W. C. Wasserman, SR
Co. 37(R) - W. H. Siersema, SR
Co. 38(R) - H. Cummins, SR
COMPANY HONOR MEN
Co. 05 - J. A. Erlist, SR
Co. 06 - C. Oppizzi, SR
Co. 07 - G. L. Mazzeo, SR
Co. 08 - C. H. Steele, AR
Co. 09 - R. L. Howard, SR
Co. 10 - R. F. Sizemore, Jr., SR
Co. 11 - C. Jones, SR
Co. 12 - A. B. Stevenson, SR
Co. 14 - G. S. Vuocolo, SR
Co. 15 - M. F. Henry, SR
Co. 16 - D. J. Pucci, SR
Co. 17 - G. J. Sarawich, SR
Co. 18 - J. R. Morin, AR
Co. 19 - F. M. Zubovich, SR
Co. 20 - J. H. Miller, SR
Co. 21 - T. Belluch, SR
Co. 22 - E. W. Hanson, SR
Co. 24 - D. T. Brew, Jr., SR
Co. 25 - F. T. Tritle, SR
Co. 74 - D. C. Schindler, SA
Co. 35(R) - J. P. Walsh, Jr., SR
Co. 36(R) - J. M. Sara, CN
Co. 37(R) - M. Elkind, SR
Co. 38(R) - B. A. Kephart, SR
COMPANY COMMANDERS
Co. 05 - R. Chamberlain, ENDC
Co. 06 - M. R. Dryden, BTGC
Co. 07 - W. F. Temple, BTGC
Co. 08 - P. F. Oaks, MMLC
Co. 09 - W. N. Prince, BTGC
Co. 10 - M. Wagner, GMMC
Co. 11 - W. H. Clark, BMGC
Co. 12 - E. W. White, BTGC
Co. 14 - D. E. Mintern, BMGC
Co. 15 - J. M. Wilson, BTRC
Co. 16 - R. S. Tobin, FCC
Co. 17 - C. E. Ebberts, GM1
Co. 18 - J. J. Karpovitch, MMLC
Co. 19 - W. W. Jones, QMSC
Co. 20 - E. T. Poyerd, BMGC
Co. 21 - F. Nease, BMGC
Co. 22 - C. R. Bendy, QMSC
Co. 24 - A. C. Owens, FTC
Co. 25 - J. A. Aliotti, BTGC
Co. 74 - H. Rickenbacker, TMTC
Co. 35(R) - A. H. Smith, MMLC
Co. 36(R) - E. Henry, TMEC
Co. 37(R) - E. W. Lear, MMLC
Co. 38(R) - L. Hardman, QMQC
WAVES          
Co. 56(W) - J. D. Greatorex, SR
Co. 57(W) - E. M. Hodgerney, SR
HONOR WOMEN
Co. 56(W) - J. D. Greatorex, SR
Co. 57(W) - E. M. Hodgerney, SR
Co. 56(W) - R. G. Jones, YN1
Co. 57(W) - M. A. Petee, SK1
RECIPIENTS OF THE AMERICAN SPIRIT HONOR MEDAL
Andrew P. Kennedy, SR, Company 24
Donna J. Martin, SR, Company 57(W)
BARNEY PARADE FIELD - 64th GRADUATION REVIEW
Saturday, 20th September 1952
Reviewing Officer: COLONEL FREDERICK M. HARRIS, USA - Post Commander - Fort George G. Meade, Maryland
10:00 AM Reviewing Officer Arrives
Review commences under orders of the Recruit Commander of Troops.
Sound Off : Recruit Band
National Color Escorted Forward by Color Company: Company 002
National Anthem : Recruit Band
Presentation of the Brigade to the Reviewing Officer: Recruit Commander Of Troops
Special Drill: Recruit Drill Teams
Special Drill: Recruit Drum & Bugle Corps
Regimental Manual of Arms: All Companies
Massing of Company Flags: All Companies
Presentation of the American Spirit Honor Medals and Company Honor Men and Honor Women Certificates:  Reviewing Officer
Pass in Review: All Companies