USS Ranger CVA-61: Western Pacific 1960
This was the Third Deployment for the USS Ranger CVA-61 Aircraft Carrier. Other deployments for this carrier were in 1958, 1959, 1962, 1963, 1963a, 1965, 1966, 1968, 1969, 1970, 1971, and 1974.
Front Cover, USS Ranger CVA 61 Cruise Book for their 1960 Deployment of their Wester Pacific Cruise. GGA Image ID # 19bc919a9f
The USS Ranger was a Forrestal Class, Attack Aircraft Carrier. The eighth ship to bear the name Ranger. This is the photographic record of the Western Pacific Cruise, the ship, men and officers. Cruise started 6 February to 30 August 1960.
The U.SS Ranger; first Forrestal class carrier to serve with the Pacific Fleet; a floating airfield designed and operated for the purpose of preserving world peace. Self sufficient and mobile, she is a sea-going city; a community of nearly 4,000 men. Ranger is equipped with every modern facility possible for the ultimate accomplishment of her assigned mission and for the comfort and safety of her crew. From her massive air-conditioning system to her four powerful steam catapults, Ranger is the last word in Naval Air Power.
Table of Contents
Preface
Introduction of Commanding Officers with brief biographies
Prelude - Getting ready to launch the ship
Turn To - Overview of various functions and opportunities aboard the Carrier
Muster
Administrative Department
Navigation Department
Operations Department
OA Division - Aerology
OE Division - Electronics Maintenance
OI Division - Air Ops, CIC, CCA
OP Division - Photographics and Imaging
OR Division - Radio Central
OS Division - Visual Communications
Air Department
V-1 Division - Flight Deck
V-2 Division - Flight Deck
V-3 Division - Hanger Bay
V-4 Division - Fuels and Lubricants
V-6 Division - Aircraft Maintenance
HU-1 Det Mike - Helos Crew
Gunnery Department
1st Division - Fighting First - Fo'c's'le
2nd Division - Quarterdeck
3rd Division - Deck House Number 3
4th Division - Refueling, Replenishing - Deck Division
Side Cleaners Division
5th Division - 5" / 54 Guns
G Division - General Ordnance
GM Division - Guided Missiles
FOX Division - Fire Control Technicians
W Division - Classified Ops
Marine Detachment - Security, Special Ops
Engineering Department
A Division - Auxiliaries
B Division - Boilers
E Division - Electrical Power
M Division - Engineering Plant
R Division - Repair and Fabrication
Supply Department
S-1 Division - Stores Division
S-2 Division - Commissary
S-2M Division - Mess men (Cleaning Crew)
S-3 Division - Laundry and Dry Cleaning
S-4 Division - Disbursing (Payroll)
S-5 Division - Wardroom Division
S-6 Division - Aviation Stores
Medical Department
Dental Department
Flag (Ship's Captain and Staff)
Air Group Nine
VF-91 - Fighter Squadron Ninety Nine - Red Lightning - Dictum Factum
VF-92 - Fighter Squadron Ninety-Two - Night and Extreme Weather
VA-93 - Attack Squadron Ninety-Three - Blue Blazers
VA-94 - Attack Squadron Ninety-Four - Shrikes
VA-95 - Attack Squadron Ninety-Five - Skynights
VAH-6 - All-Weather Striking Force - SkyWarriors
VAW-13 Det Mike - Detachment Mike of Carrier Airborne Early Warning Squadron Thirteen- Semper Fido
VCP-61 Det Mike - Heavy Photographic Reconnaissance Squadron Sixty One, Detachment Mike
Liberty
Hawaii - The much anticipated Polynesian playground offering picturesque glimpses of tropical beauty
Guam
Japan - A land of aesthetic perception ... it is difficult to imagine a place more interesting or more beautiful.
Okinawa
Hong Kong
Philippines
Return to San Francisco - Alameda
About the Cover: The Japanese Kanji style characters appearing in the cover design represent the months which Ranger spent deployed to the Western Pacific on her 1960 cruise. Literally, these characters signify the 5 flowers which Japanese tradition associates with the period from late Winter to early Autumn.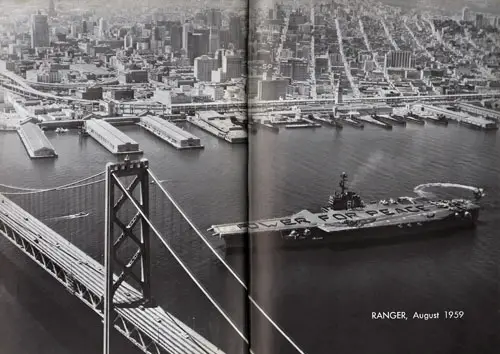 USS Ranger (CVA-61) Underway off Pearl Harbor, Hawaii, 19 July 1959. Official US Navy Photograph, from the Collections of the Naval Historical Center (# NH 97685). GGA Image ID # 19bcb9e135