USS Enterprise CVN-65: Mediterranean 1999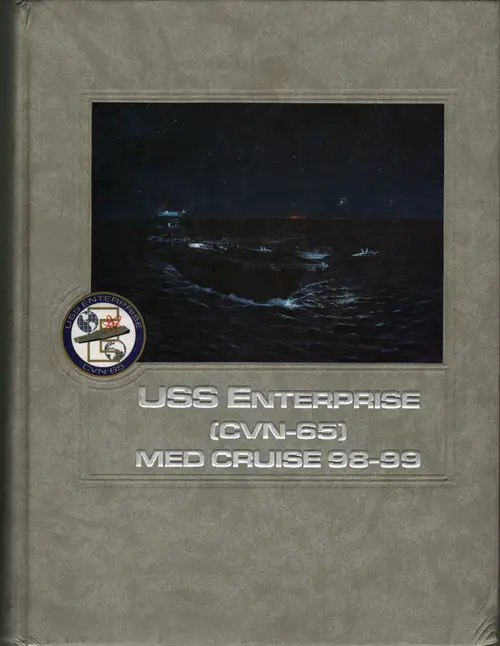 Front Cover, USS Enterprise Aircraft Carrier CVN 65 Cruise Book, Mediterranean Cruise 1998-1999. GGA Image ID # 19bdb2f399
DEPARTMENT OF THE NAVY
USS ENTERPRISE CVN-65
FLEET POST OFFICE
AE 09543-2810
Welcome aboard Team Enterprise!
No other carrier in the history of the United States Navy, or any other navy, evokes the emotion and imagery of USS Enterprise (CVN 65). Enterprise is the world's most famous combat-ready warship. Its reputation is based on a proud record encompassing world diplomacy, deterrence and engaging the enemy when required.
Our mission: Keep international waters free for all nations. In carrying out that mission, no other warship is as capable, flexible or powerful. By launching and recovering aircraft from the embarked air wing, an impressive array of weapons can be employed for defense, long and short range attack, anti-submarine warfare, reconnaissance, elecair and warfare and battle group projection. Enterprise dominates the sea and ainand can project its power far ashore.
Enterprise is the world's first nuclear-powered aircraft carrier. With eight reactors, the ship can steam in excess of 30 knots with unlimited endurance. Its reactors can generate enough to power to supply a small city the size of Minneapolis.
With the ship's company, air wing, and the embarked staff of the Enterprise Battle Group, nearly 5,000 men and women call Enterprise home. It's literally a floating city with an airport on the roof and all the facilities needed to support so many individuals. Enterprise has living quarters and numerous dining facilities for all the embarked personnel, complete with bake shop and kitchens and refrigerators.
There are evaporation plants for converting seawater to freshwater, a police force (Master-at-Arms), a laundry, a print shop, retail stores, medical/dental clinics, radio/television stations, two daily newspapers, machine/laboratory/calibration and maintenance shops, a fire department, banking (disbursing), barber shops, weather station, sewage plants, a post office and many other necessary support facilities. In addition, there are hundreds of shops, stations and work centers devoted to maintenance, damage control, navigation and the combat missions of Enterprise.
But it is more than metal, compartments, electronic equipment and aircraft. What makes Enterprise great, and is the real source of its power, are the men and women who live and work aboard the ship — Sailors from every state and a wide variety of backgrounds and experience.
Over 3,000 Sailors make up the 18 separate departments aboard Enterprise. Over 1,800 officers and airmen make up the squadrons of the air wing. Combined, they make the Enterprise/Air Wing team the most harmonious, effective and powerful force for peace and deterrence anywhere – people and ship and aircraft – ready to GO, FLY, FIGHT and WIN!
Contents
36 Deployment
38 Pre-JTFEX
52 JTFEX
62 St. Thomas, V.I.
80 Departure
98 Jebel Ali, U.A.E.
106 Operation Desert Fox
138 Souda Bay, Greece
148 Antalya, Turkey
158 Livorno, Italy
178 Cannes, France
190 Trieste, Italy
206 Jebel Ali, U.A.E.
221 Mayport, Florida
225 Tiger Cruise
232 Homecoming
240 Photo Contest
250 Navy Art
256 Battle Group
262 CCDG-12
268 EOD
269 SEAL
270 Ship's Company
276 AIMD
304 Air
340 Combat Systems
362 Deck
372 Dental
376 Engineering
416 Executive
430 Legal
434 Maintenance
438 Medical
444 Navigation
448 Operations
472 Reactor
494 Religious Ministries
498 Safety
502 Supply
530 Training
534 Weapons
554 Carrier Air Wing
562 CVW-3
564 VAW-126
576 VF-32
590 VFA-37
604 VFA-105
618 VMFA-312
634 VS-22
650 VAQ-130
664 VQ-6
670 HS-7
684 VRC-40
685 Last Call
692 Wrap-up
694 Memorium
696 Cruisebook Staff

The Ship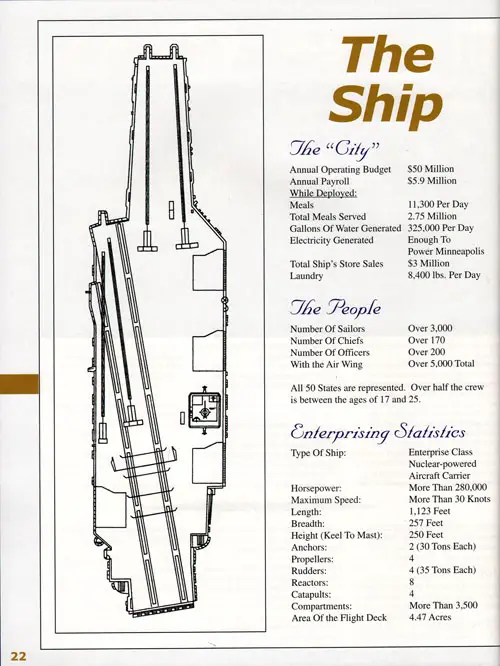 Diagram of the USS Enterprise CVN 65 with an Introduction to the City, The People, and Statistics. GGA Image ID # 19bddd0548
The City
Annual Operating Budget : $50 Million
Annual Payroll : $5.9 Million
While Deployed:
Meals : 11,300 Per Day
Total Meals Served : 2.75 Million
Gallons Of Water Generated : 325,000 Per Day
Electricity Generated : Enough To Power Minneapolis
Total Ship's Store Sales : $3 Million
Laundry : 8,400 lbs. Per Day

The People
Number Of Sailors : Over 3,000
Number Of Chiefs : Over 170
Number Of Officers : Over 200
With the Air Wing : Over 5,000 Total
All 50 States are represented. Over half the crew is between the ages of 17 and 25.
Enterprising Statistics
Type Of Ship : Enterprise Class Nuclear-powered Aircraft Carrier
Horsepower : More Than 280,000
Maximum Speed : More Than 30 Knots
Length : 1,123 Feet
Breadth : 257 Feet
Height (Keel To Mast) : 250 Feet
Anchors: 2 (30 Tons Each)
Propellers: 4
Rudders: 4 (35 Tons Each)
Reactors: 8
Catapults: 4
Compartments: More Than 3,500
Area Of the Flight Deck : 4.47 Acres
Enterprise CVN-65 Deployments : 1978, 1984-85, 1986, 1988, 1989-90, 1990, 1998-99, 2001, 2003