USS Enterprise CVN-65: Mediterranean-Gulf 1996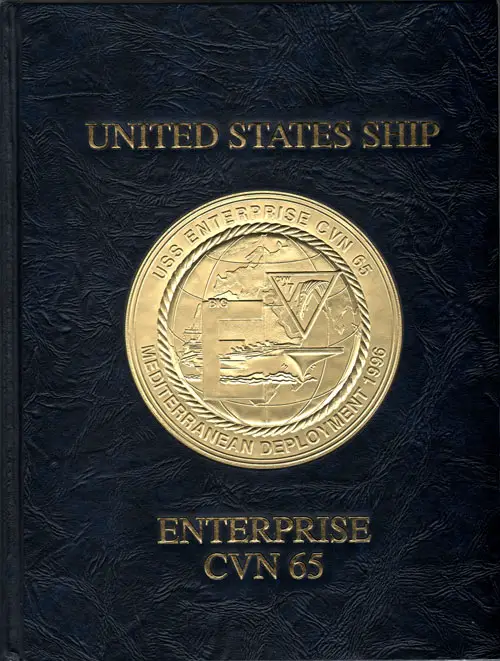 Mediterranean-Arabian Gulf Deployment 1996
USS Enterprise (CVN-65) Mediterranean/Arabian Gulf Deployment 1996
Table of Contents
Commander Cruiser-Destroyer Group TWELVE
Commanding Officer
Commander Carrier Air Wing Seventeen
Ship's History
Underway Preparations
Fly On
Palma, Spain
Cannes, France
Soudi Bay, Crete
Haifi, Israel
Rhodes, Greece
Suez Canal Transit
Bahrain
Jebel Ali
Naples, Italy
Tiger Cruise '96
Fly Off
Homecoming
Cruiser-Destroyer Group TWELVE
Executive Officer
CMC
Air Department
AIMD
Communications Department
Deck Department
Engineering Department
Executive Department
Information Systems Department
Legal Department
Maintenance Department
Navigation Department
Operations Department
Reactor Department
Religious Ministries Department
Safety Department
Supply Department
Training Department
Weapons Department
Mardet
CVW-17
VA-75
VF-103
VFA-81
VFA-83
VAW-125
VAQ-132
HS-15
VS-30
VQ-6
VRC-40
Acknowledgments
In Memorium
On June 28, 1996, Enterprise began it 15th overseas deployment. The Big E enforced no-fly zones in two of the world's most critical area, Bosnia-Herzegovina (Operation Joint Endeavor) and Iraq (Operation Southern Watch), flying nearly 5,000 missions.
Big E steamed more than 50,000 miles during 140 days at sea, and launched and recovered more than 13,000 aircraft which logged 25,000 flight hours.
During the deployment, the ship's F-14 squadron, VF103, became the first to use the Low Altitude Navigation and Targeting Infared System for Night (LANTIRN) Pod.
Big E also was the first nuclear-powered carrier to visit Souda Bay, Crete, and Bahrain. The deployment marked the end of an era when VA-75 retired the A-6E Intruder from the Navy.
Enterprise completed its deployment December 20, 1996.
Includes many photographs, location images, crew photos and special events. Exquisit imagry makes this an exception cruise book. 688 Pages