USS Nimitz CVN-68 Operation Iraqi Freedom 2003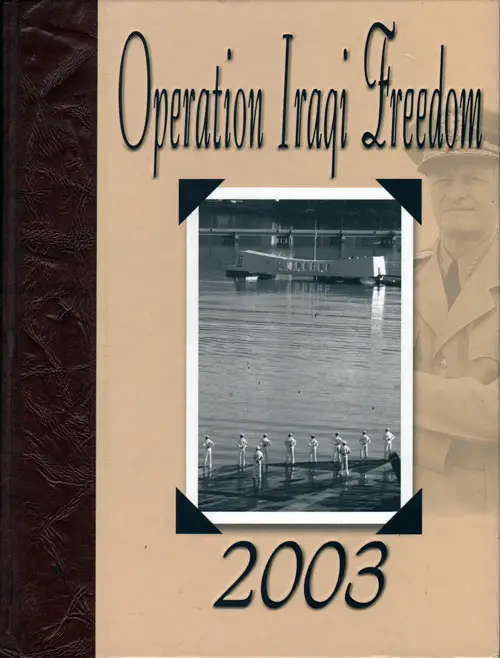 2003 USS Nimitz CVN-68 Aircraft Carrier Cruise - Ninth? Deployment for this vessel. Book documents their Operation Iraqi Freedom cruise from 2002 - 2003. A visual record of this deployment of this Nuclear-powered Aircraft Carrier. 496 Pages.
95,000 Tons of Diplomacy
Nimitz reaches more than 18 stories high from the keel to the top of the mast.
The Hangar Bay extends for most of the ship's length. It is used for major repair and shelters aircraft not needed for that day's flight schedule.
Four distilling units enable Nimitz engineers to make over 400,000 gallons of fresh water a day for use by the propulsion plant, catapults and crew.
Nimitz can stock as least 70 days of refrigerated and dry storage goods.
Tons of wash are done every day by Nimitz' laundry, dry cleaning and tailoring services personnel.
Nimitz' two barber shops trims over 1,500 heads per week.
Nimitz has a fully equipped Dental facility, staffed by five dentists.
The Medical Department is manned by six doctors, including a general surgeon, who provides everything from surgery, physical therapy and psychology. The ship also features a 53-bed hospital ward, and a 3 bed ICU and acts as the hospital ship for the entire battle group.
Nimitz' three Chaplains conduct daily religious services in an interdenominational chapel.
Nuclear power allows the ship to store 50 percent more ammunition and almost twice as much aviation fuel as the largest conventional aircraft carrier.
Propulsion System: Two Nuclear Power Plants
Main Engines : Four
Speed : Over 30 Knots
Propellers : Four
Blades on each Propeller : Five
Aircraft Elevators : Four
Catapults : Four
Arresting Gear Cables : Four
Overall Length : 1,092 Feet
Overall Width : 252 Feet
Beam at Waterline : 134 Feet
Area of Flight Deck 4.5 Acres
Full Load Displacement : 95,000 Tons
Keel Laid : 22 June 1968
Launched : 13 May 1972
Commissioned : 3 May 1975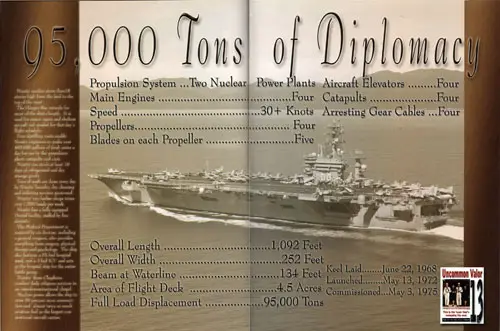 Contents
History 1
Statistics 12
Misc. Pages 14
Departure Day 35
CCDG-5 40
Admiral Locklear 42
Chief of Staff 44
CDMC Dearie 46
Flag Staff 48
Captain Gilman 52
Captain Cone 54
CDMC Turner 56
Departments 58
DESRON 23 306
Squadrons 312
Operation Iraqi Freedom 430
Port Calls 434
Steel Beach 450
USO Show 454
Crossing the Line 458
Tiger Cruise 460
New Arrivals 462
Welcome Home 468
Stork Express 476
Air warfare .480
Surface Warfare 482
Cruise Stats 484
Cruise Map 486
Air Plans Cartoon 488
Ombudsman 490
Cruise Book Staff 492
In Memory 494
Stats for the Cruise
navigation
208 days underway since March 3rd
63, 576 nautical miles traveled
35 underway replenishments conducted
18 special sea and anchor details
Combat Systems
271.086 record messages received
8.864 record messages transmitted
6.587.950 e-mails received
4.790,320 e-mails sent
184 Secure Video Teleconferences
18 Family Video Teleconferences
Personnel
Over 258 re-enlistment
100 new fathers (as of 13 October 2003)
479 Qualified (Enlisted Aviation Warfare Specialist)
555 Qualified (Enlisted Surface Warfare Specialist)
Air Operations
Fixed Wing Operations
Sorties: Day: 5706, Night: 4760
Over 2.900 total passengers transported via- carrier Onboard Delivery (COD) aircraft
Helicopter Operations
Sorties: (Day: 570, Night: 420
Air Department
11 ,000 catapult shots / arrested landings
42,000 aircraft moved on the flight deck
5162 aircraft moved on the hangar bay
2,592 elevator runs
16,000 aircraft fueled
23,200,000 gallons of JP-5 used
21,037,000 gallons JP-5 received
Food Service
3,400,000 meals served
1,800,000 eggs served
56,700 gallons of milk served
61,000 loaves of bread served
80,446 pounds of rice served
187,000 pounds of chicken served
106,345 pounds of ground beef served
Post Office
405,772 pounds of incoming mail processed
162,038 pounds of outgoing mail processed
Deck Department
35 Underway Refueling at Sea evolutions
31 Connected Underway Replenishments
Received 3,851 pallets of stores
Conducted 8 mooring and getting underway evolutions
Completed 1 anchorage
Training Department
Basic Indoctrination Graduates : 495
Advanced Indoctrination Graduates : 190
Total Indoctrination Graduates : 685
AIMD
Over 38,000 aircraft components repaired, adjusted, manufactured, and tested
43 aircraft engines rebuilt / repaired
Medical
Patient visits 34,400
Immunizations 34,300
Prescriptions filled 26,797
Lab tests 15,245
Hearing tests 3,966
Physical exams 3,342
X-Rays 1,301
Dental
Patient visits : 10,350
Dental cleanings : 3,150
Restorations placed: 2,750
Prosthetic units delivered: 92
Root canal treatments: 75
Extractions: 725
Biopsies performed: 10
Patient's treated from other strike group ships: 275
Operational Dental Readiness: 93
Ship's Store
3,854,235 total sales
1,050,000 cans of soda sold
720,000 minutes-worth of calling cards sold
Chaplain
738 total religious services with 18,676 attendees
473 library users on average per day