Service of Wines and Cordials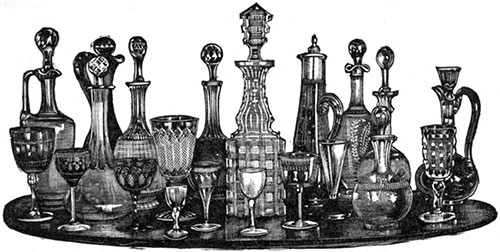 The steward must inform and specify to the butler the wine to be served at each separate course. However important the dinner may be, decanters of ordinary red and white wine must be placed on the table.  The selection of the finer wines is the host's duty; he made his choice when ordering the bill of fare.
The steward's duty is to see that the wines are served at a proper temperature.
All white wines must be served cold.
Sherry and Xeres cool.
Bordeaux between 55 and 60 degrees, Fahrenheit, according to its growth.
Burgundy between 50 and 55 degrees.
Champagnes, cold or iced, or in sherbets.
Dessert wines cool.
Russian Sideboards: Absinthe, Vermouth Bitters, Kümmel, Mineral Waters, including Apollinaris, Clysmic, St. Galmier, and Vichy.
FlRST SERVICE:
With Oysters : Sauternes, Barsac, Graves, Mont Rachet, Chablis.
After the Soup: Madeira, Sherry or Xeres.
With Fish: (Rhine wines) Johannisberger, Marcobrunner, Hochheimer, Laubenheimer, Liebfraumilch, Steinberger. (Moselle) Brauneberger, Zeltinger, Berncasteler.
With Removes : Côte St. Jacques, Moulin-à-vent, Macon, Clos de Vougeót, Beaune.
With Entrées : St. Émilion, Médoc du Bordelais, St. Julien. Dry champagnes for certain countries.
Iced Punches and Sherbets, Rum, Madeira.
SECOND SERVICE:
With Roasts: (Burgundies) Pommard, Nuits, Corton, Chambertin, Romanée Conti.
Cold Roasts : Vin de Paille, Steinberger.
With Hot Desserts : (Bordeaux) Château Margaux, Léoville, Laffitte, Château Larose, Pontet, Canet, St. Pierre, Côtes de Rhône, Hermitage and Côte-Rôtie. (Red Champagne) Bouzy, Verzenay, Porto Première.
THIRD SERVICE:
With Dessert.: (Burgundy) Wolnay, Mousseux, (Champagnes) Delmonico, Roederer, Rosé Mousseux, Pommery, Cliquot, Perrier-Jouët, Moët, Mumm.
Wine Liquors: Muscatel, Malaga, Alicante, Malvoisie of Madeira, Lacryma Christi, red and white Cape, Tokay, Constance, Schiraz.
Cordials : Curaçoa, "Kirsch, Cognac, Chartreuse, Maraschino, Prunelle, Anisette, Bénédictine.
Beers: Bass Ales, Porter, Tivoli, Milwaukee.
WINES AND LIQUORS USUALLY CALLED FOR:
A DINNER OF AMERICANS
RECEPTION-ROOM:  Sherry, Bitters, Cocktails.
DINNER WINES: Haut Sauternes, Amontillado, Sherry, Barsac, Pontet-Canet, Perrier-Jouet Brut, Liqueurs.
A DINNER OF FRENCHMEN
RECEPTION-ROOM: Sherry and Bitters, Vermouth, Absinthe.
DINNER WINES: Graves, Xeres, Lafaurie, St. Pierre, Yellow Cliquot, Beaujolais, Liquors.
A DINNER OF GERMANS
No wines or mineral-waters in the reception-room.
DINNER WINES: Niersteiner, Sherry, Hochheimer, St. Estèphe, Pommery Sec. Beaune, Liquors.
American service, like the Russian, must be served quickly and hot:
a dinner of ten-minute intervals can be served with fourteen courses in two hours and twenty minutes; 
and if at eight-minute intervals, in one hour and fifty-two minutes; 
the same as an eight-course dinner of ten-minute intervals will take one hour and twenty minutes;
so, at eight-minute intervals it will take one hour and four minutes.