Wine Cellars on Ocean Liners - 1907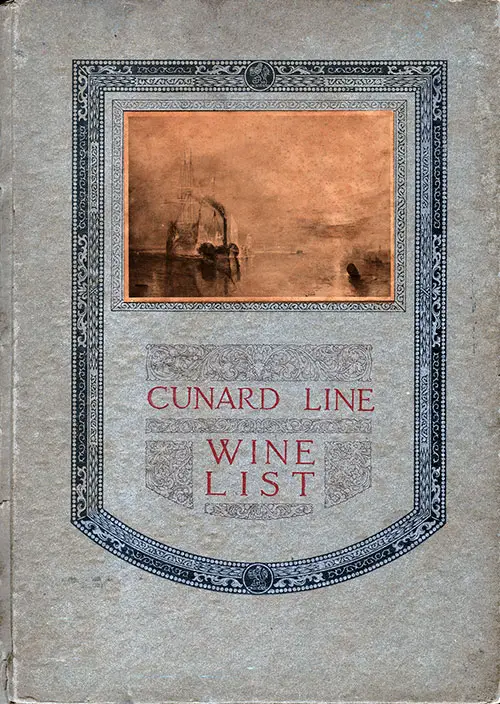 Front Cover of a Cunard Line Wine List from 1927
"Please do not shoot the steward, he is doing his best," might well be printed on the top of the average passenger steamer's wine list. It is, perhaps, not desirable to be too critical.
One does not travel by sea for the mere gratification of eating and drinking; but this applies equally to hotel residence, and it is difficult to understand why one need have one's digestion upset, or be compulsory teetotal, just because one happens to be afloat.
Aqua pura is doubtless an excellent beverage, but as a rule, it "is not tempting, for sea tank storage under the best of conditions is not calculated to improve its flavor." 
The strong salt-laden atmosphere plays a special part in thirst creation, yet the drink question seems to have received the least attention of all aids to comfort afloat. It is just as important for the reputation of a line that the wines should leave a pleasant impression as it is that the accommodation should be comfortable, the service punctual and polite, and the catering beyond reproach.
To secure that lasting popularity which ensures continued patronage and recommendation each is interdependent. Many passengers will accept with genial toleration flavorless soup, injudiciously thawed—and therefore flabby—fish or a steak cooked not wisely but too well, but will not wax eloquent over bilious sherry, sugary claret, vinegary Rhine wine or overripe Burgundy.
The most luxurious smoke-room lounge will not obscure the defects of questionable soda water, and no cabine de luxe will please the sufferer from the whiskey that "forges ahead "-ache.
The single word "best" which constitutes the specification of some lines may serve for china or silverware, but a careful selection is required for liquors. The shipowner is busy and delegates the matter to a promoted steward or a clerk, whose experience has not been conducive to successful selection.
The ex-steward or ex-purser type regards established custom as sacred.   "We have always done so," is his reply to criticism. The unfortunate clerk may have learned the gospel according to Gilbey at the local grocer 's; otherwise, he is a mere amateur. "We have few complaints " he imagines covers a multitude of sins, just as though that were any excuse for inefficiency.
In some lines, the buyer has his own particular "dear old pals," and trusts them to keep him right. In others, he thinks it a clever idea to import in bulk and bottle at his own store.
Even if he were an expert, which, as a rule, he is not, this is a risky proceeding. Often, when settling contracts, samples are never even called for: it is simply a question of tender price alone deciding the issue; the result is, of course, obvious. "Finest quality, specially bottled or selected for the Company," has so long been used as a cover for impossible liquids that travelers have lost faith in it.
Claret, even if it comes from Bordeaux under an unknown label, is often eyed with suspicion. In one case, an unduly inquisitive investigator discovered that the supplier was really a butcher who had a small vineyard, the produce of which he sold at a few pence a liter.
The wise man buys from a known firm of shippers who have been long established, and who have a reputation to lose. Then, if the consumer has any observations to make, the label of a first-class firm, established for 50 years, provides effective cover.
There is really no excuse for the remarkable liquids too often offered to the traveler aboard ship under the guise of wines. The shipowner is in a position to consume a large quantity in the aggregate. He pays no duty. Storage, either ashore or afloat, costs practically nothing.
The wages of the wine steward and the barman, together with breakage and deterioration, are very trifling matters. On account of the advertisement used on board his ships afford, leading firms of shippers will give him special terms.
1898 Alcoholic Beverages Menu and Price List from the Cunard Line
The selling prices charged at sea approximate closely to those on land; therefore, unless very remarkable profits are desired, the finest of everything ought to be available.  Instead of buying champagnes and other such wines a case or two at a time at retail prices from ship store dealers, it would be easy to buy stocks of the vintage years as they are available. They can be stored at Rheims, Bordeaux, Dijon, Mainz, or elsewhere, under the most favorable conditions and delivered as required.
Instead of all sorts of unheard-of kinds of champagne, two or three favorite brands of vintage years, such as Heidsieck Dry Monopole, G. H. Mumm or George Goulet, might reasonably be provided, with possibly a sweet variety—such as Moet and Chandon—for American and Continental passengers.
At least three red clarets are desirable—a wine such as Chateau la Rose, a full-bodied Medoc and a lighter St. Julien. Many people like Sauterne, but while only a reliable variety is really necessary, a white claret ought to be also provided for those who prefer a less sweetened white wine.
At least two varieties of sherry are advisable, Pale Dry and Amontillado or old East Indian, being usually preferred. At least one port of a vintage class is essential. One Burgundy may be enough, but at least a favorite variety — Beaune, Pommard or Volney, and not a bottle with the mere word "Burgundy" on the label—is due.
Rhine wines—good and otherwise—differ as chalk and cheese, so special care is necessary in selecting them. Brauneberger or Niersteiner of repute may suffice. A brand of Moselle Muscatel and one of Madeira are often welcomed.
Of whiskeys the name is legion, but no steamer's cellar can be complete without Buchanan's Black and White, Dewar's White Label and Canadian Club, or a Rye whiskey of repute. At least one well-known brand of liqueur brandy, such as Gautier or Otard, is de rigueur.
As to beers, Bass, Allsopp, and Guinness will always be called for. There is no better tonic or antidote for seasickness than Apollinaris Water, and most connoisseurs demand it to impart a sparkle to spirits. Of course, Schweppe's Soda is always in request.
There is an ominous suggestion conveyed by quoting aperient water on a wine list, which one could well dispense with.  Experience has shown that quarter bottles of any liquor are never so satisfactory as the larger sizes. It is better to have a pint of liquid in good condition, even at the cost of a few pence more, than have a split that is "off."
It is important that rum and gin, if not in great demand, should at least be of the best quality. The making of cocktails, now so familiar a feature at sea, requires expert treatment if they are to be more than mere insipid mixtures.
Another point often lost sight of is the temperature at which liquors are served. Warm champagne is as much an abomination as iced Burgundy or claret, and no amount of lump ice will compensate for un-iced Apollinaris in warm weather.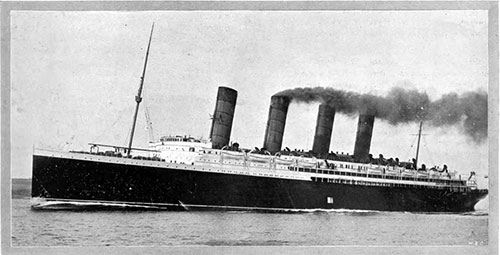 The New Cunard Line Steamship, RMS Lusitania at Sea in 1907
"The Cellar Afloat," in The Syren and Shipping Illustrated, London: Vol. XLIV, No. 566 + 14 August 1907, p. 190.