The O'Day 30 Sailboat: Keel and Centerboard Wanderers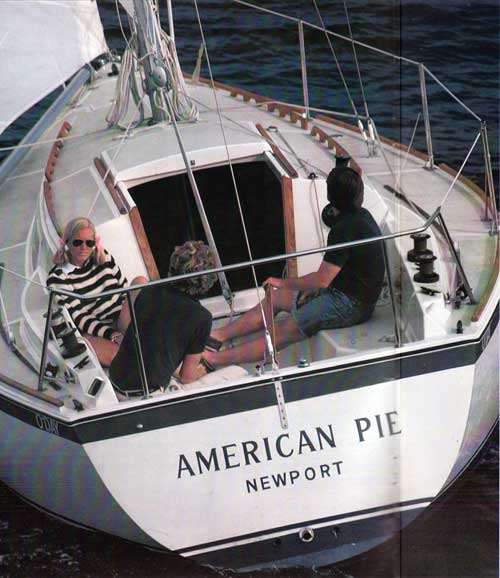 The O'Day 30 is about to make a bunch of sailors very happy, and a bunch of builders a little nervous. As the largest 30 footer around, it's a very ambitious boat, reaching right into the heart of the fine quality 30 foot market.
It can sail with the high-priced race boats (Hull #1, a keel version, proved that fresh-out-of-the-box by putting two-thirds of the fleet astern in one or another race at the '77 Block Island Week).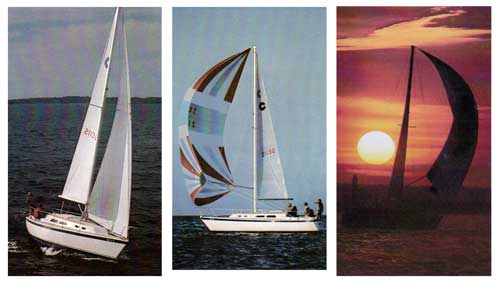 And, it's appointed like the pedigreed cruisers. Yet it's priced like an O'Day –11,000 pounds of uncommonly high value.
Oh, yes, the 30 has another traditional O'Day characteristic. It balances beautifully, sailing and handling in the most re-assuring way, instilling confidence into sailors who are used to much smaller craft.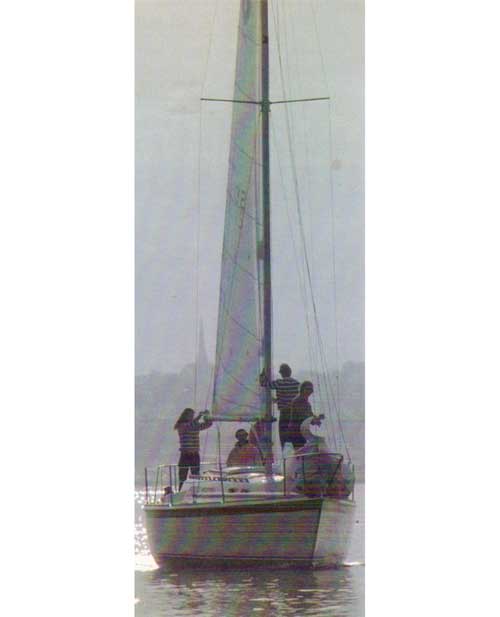 Power to the sailors. The Hunt Associate designers, John Deknatel and his colleagues, created an easily driven hull with 10'9" beam and quite classically handsome looks. This became a platform for a high aspect ratio rig, with 441 square feet of working sail area.
The tall mast (stepped securely on the keel) develops long leading edges of sail for knifing to windward and a skyhook for spreading a cloud of spinnaker downhill.
The keel version draws 4'11" with 4200 pounds of lead ballast. The centerboarder draws only 3'6" with the board up, but gets down to 7'2" fully extended, and is commissioned with 4700 pounds of lead.
Combine these features with a 10'9" beam, and it's little wonder the 30 plants its feet firmly in a breeze.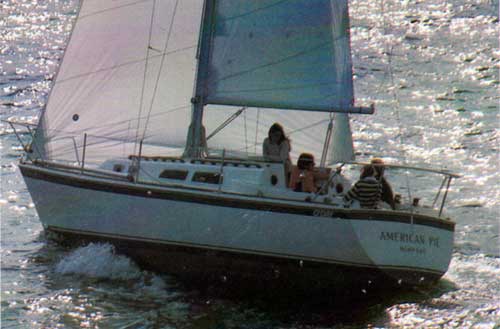 The foredeck, a special anchor locker keeps the anchor water and debris from being dragged through the cockpit, and stores the anchor where it can be heaved in a hurry. Another wet locker in the cockpit is a handy place to store dock lines, blocks and winch handles.
What's up down below. Plenty. And not much at all. Which is to say that there's a place for everything and everything's in its place, leaving the main salon free and clear for just messing around.
The main bulkhead and trim are teak. Tinted windows (two are opening ports) reduce heat and glare, and improve privacy. Scotchguard finishing protects the soft, spun synthetic fabrics.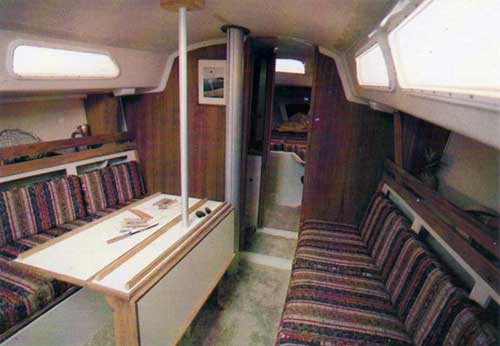 The table is permanently mounted on the centerline with plenty of room to walk around it.
At mealtimes, it flips its leaves up to serve diners on both settees. An L-shaped galley, aft near the open companionway, is built for heavy duty cooking– two-burner alcohol stove with optional oven, sink, icebox, pressurized water (an option), storage for a starving crew, and counter space and more counter space.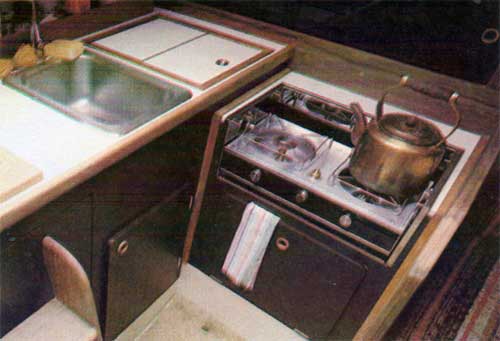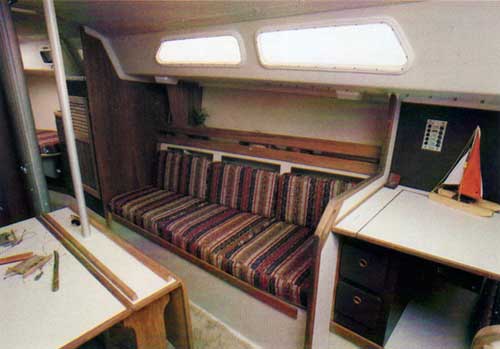 Across from the galley is an almost forgotten luxury – a real nav station where the skipper can work in peace and privacy.
The head area encloses a vanity, sink, and a hanging locker and has an arrangement for the optional shower.
Sound sleepers rejoice, for you will be treated to a double V berth forward, another double on the extended port settee, a bunk-anda-half quarter berth aft, and a decent sized single on the starboard settee.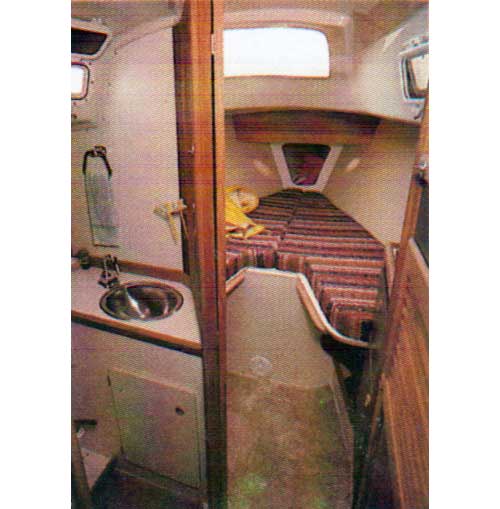 As with all O'Day boats, necessities aren't options. A few standards worth noting are working sails, Barient winches, bow pulpit, life lines, interior and running lights, and a diesel engine.
The 30 is a boat that invites you to stretch for that seductive next horizon, and has the legs to get you there. And it's nice to know that if you get bitten by the racing bug, you've got all the boat you'll ever need.
See and perhaps sail a 30 with your O'Day dealer. You'll gain a friend, and lose your heart.
O'Day
A Bangor Punta Company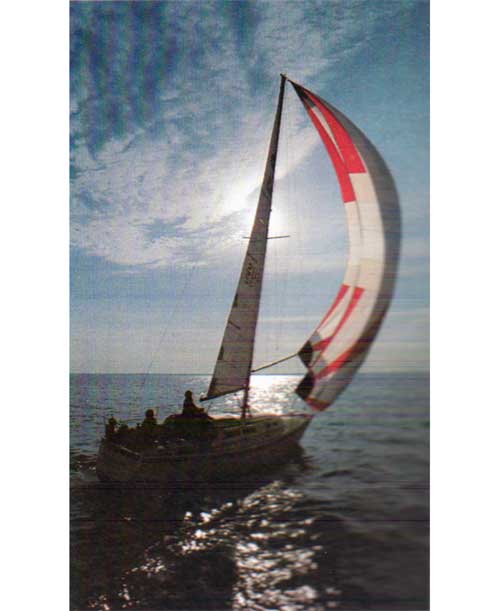 GG Archives REF: BPODY-027-1977-C-CAT