O'Day Seven/Eleven (7/11) Sailboat Sales Information and Specifications (1966)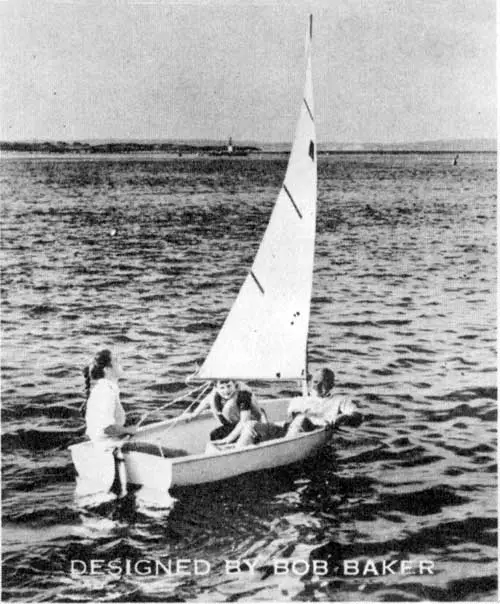 O'Day Seven/Eleven Sailboat Designed by Bob Baker
The Seven/Eleven is a yacht tender, a dinghy and a sailboat.
The perfect beginners boat … light to handle … extremely safe. Rows with little effort.
The youngsters love her and yet she's always ready for utility work around the beach, lakes or shore.
When used as a rowboat, can seat four adults.
Two-piece mast goes on in a jiffy, but the whole outfit can be easily stored in the basement, garage or attic of your home. Designed by Bob Baker.
SPECIFICATIONS:
Length: 7' 11" Sail Area: 34 sq. ft.
Beam: 4' 2" Weight Complete: Approx. 89 lbs.
Draft: daggerboard up 4"; down 2' 4"
Optional Propulsion: Rec. up to 3 hp 0/B motor
*Dacron Sail
CONSTRUCTION:
Fiberglass hull and deck, alum. mast and boom, vinyl gunwale guards, dacron lines, bow eye, drain plug, oars & oar locks, molded in colors, bright hardware, Styrofoam flotation.
Sales Information and Price List:
Sail 7' 11" white hull, blue deck.
Complete boat including sail $ 395.00
Lifting ring $ 6.50
Crating charge (if necessary) $ 20.00
Source: 1966 O'Day Fleet Catalog and Price List Flyer.
GG Archives REF: BPODY-001-1966-C-CAT