O'Day Widgeon Sailboat for Adults and Youngsters (1973)
Widgeon… the smallest sailboat that's really practical for adults and is easily handled by youngsters. The excellent stability and good sailing characteristics of this Gold Medal fleet favorite is the reason she is so popular with yacht clubs for their junior sailing and frostbite programs.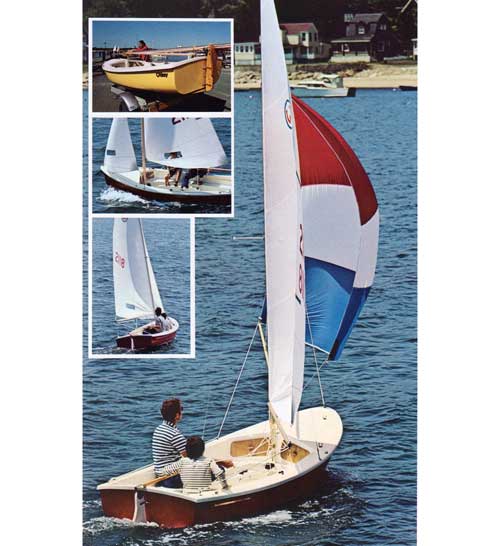 As optional equipment you can obtain teak hatch covers that fit the foredeck storage area.
Safety features of the Widgeon include self-rescuing, non-skid decks and cockpit floor, and positive foam flotation under the seats that will keep the boat afloat even if the hull is holed.
Beneath the foredeck is a large storage area that provides loads of dry space for sails, picnic baskets, extra clothes, and cold beverages.
There are over 2,650 O'Day Gold Medal Widgeons providing sailing experience and fun today. She can be easily trailered and a snap to launch and rig single-handed… a delight for every member of the family to sail wherever and whenever you wish. Widgeon can be sailed cat or sloop rigged, or with an optional spinnaker… more reasons why she's so popular as a training boat.
And best of all, check that mini price… $795. Constant attention to developing quality boats and new efficiencies at O'Day's modern plant have resulted in a price reduction of almost 15% ($925 in 1972… $795 in 1973) on the smallest member of the Gold Medal fleet.
And that low price includes a host of "extras" such as a mooring and trailing bow eye. An added feature: Widgeon's transom is reinforced for solid mounting of an outboard motor… a quality bonus from O'Day that makes the Widgeon such a fine investment for any family.
Length: 12'4"
Beam: 5'
Draft: Centerboard up 5" down 3'6"
Sail area: 90 sq. ft.
A great buy at the new low price… a great boat with a host of O'Day features. Safe and easy to sail and great fun for the entire family… the O'Day Widgeon.
STANDARD BOAT
$795. Main & Jib $85.
The Standard Price
includes as STANDARD EQUIPMENT
$202. worth of features and equipment as follows:
PLEASURE GROUP $26. Value
Cockpit drain plug (6). All hardware non-corrosive or stainless steel. 2 year warranty. Transom designed for outboard. Kick up rudder (15). Mooring and trailing bow eye (5).
ACCENT GROUP $87. Value
Fiberglass centerboard trunk cap (30) Molded in waterline stripe (20). Two-tone cockpit color (20). Gold anodized mast and boom (7). All colors molded in. Gold racing stripe (10).
SAFETY GROUP $34. Value
Positive foam flotation (20). Foam filled spars (6). Stainless steel rigging with swaged terminals (8). Self rescuing. Non-skid decks.
HIGH PERFORMANCE GROUP $55. Value
Quick release cam cleats for main and jib sheets (35). Stainless steel turnbuckles (20). Best dacron running rigging.
O'Day builds valuable necessary equipment into each boat as "standard"… for your safety and enjoyment. Compare O'Day's equipment and construction with any other boat for total value and quality.
Prices shown are Suggested Retail. F.O.B. factory.
Source: O'Day 1973 Catalog: O'Day GOld Medal Fleet, P. 16-17.
GGA REF: BPODY-010-1972-C-CAT