O'Day Flying Saucer High-Speed Planing Sailboat (1967)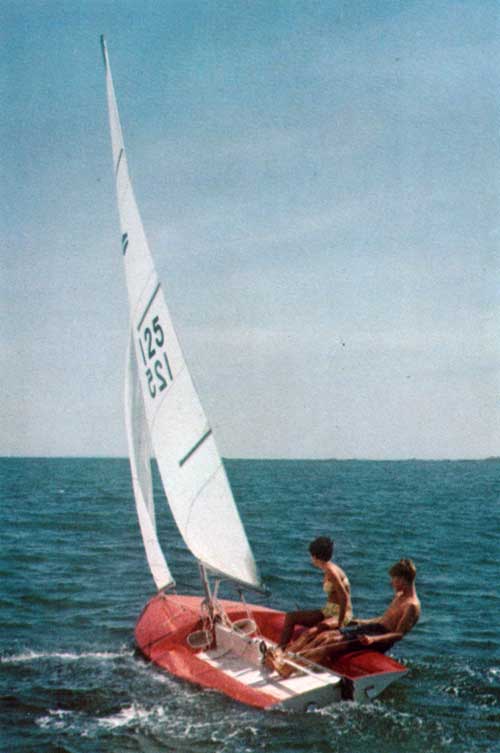 This high-speed planing sailboat has a self-tending jib and a bendy rig that automatically adjusts the molded sail shape — no matter what the weather.
She was designed by Andy Kostanecki of Finn Class fame, and she's unquestionably one of the fastest things going. Her new dynamic gull wing design fiberglass hull has an unusually low wetted surface that allows her to plane in twelve knot winds and exhibit exceptional performance in light breezes with two people.
The self-tending jib mentioned above is unique in a boat her size. On any point of sail, you can set the jib and tack back and forth — without having to adjust it further.
She has a centerboard, not a daggerboard, to improve handling. And she features positive flotation — can be righted and drained if capsized. Perfect for young and old . . . sail her right off the beach!
Put It in "Sail" and Go!
That's it. . . that's all there is to do in a Flying Saucer. Here's a true, high speed planing boat with a self-tending jib and bendy rig that automatically adjusts the molded sail shape under all wind conditions. Set the jib once and leave it that way.
At any point of sail, it tacks back and forth on a single setting ... all by itself. All you do is tend the mainsail and settle down to fun and all the speed you could ask for. That's what Andy Kostanecki of Finn Class had in mind when he designed her.
The Flying Saucer's fiberglass gull-winged hull and unusually low wetted surface is designed to let you plane easily . . . fast and dry in 12 knot winds. The Flying Saucer features foam-packed positive flotation—can be righted—and its self-draining cockpit empties fast.
The Flying Saucer is ready to go with minimum preparation—can be car-topped, then sailed right off the beach. She's the ideal fun boat for young and old . . . yet fast and versatile enough to satisfy the most experienced sailor.

The 15' Fiberglass "Flying Saucer," designed by Andrew Kostanecki, has a flared hull and high-aspect bendy rig to plane in 8- 10-knot breeze. Beam is 5'2", draft is 3'3" with board down, 6" with board up.
Cockpit is self-draining; weight is 195 lbs. with positive flotation. Flying Saucer sail area is 108 sq. ft. $795 FOB O'Day Corp.
SPECIFICATIONS:
Length: 15';
Beam: 5'2";
Draft: Centerboard up 6"; down 3'3";
Sail area: 115 sq. ft.
STANDARD FEATURES: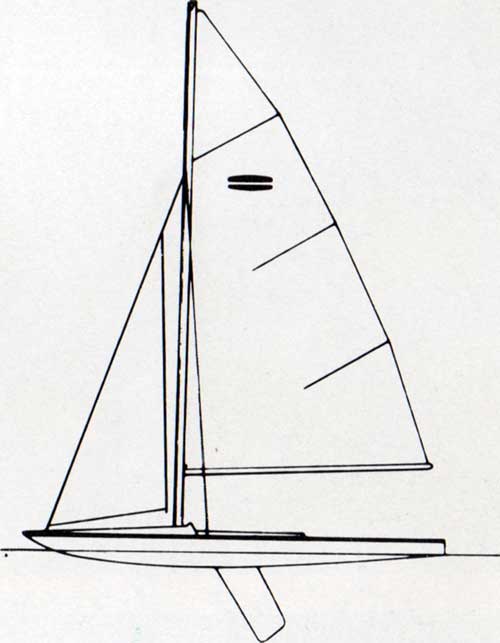 Turnbuckle on headstay
Stay adjustor on side stays
Rolled in side decks for seating comfort
Foam filled-anodized aluminum mast and boom
Adjustable kick-up, shaped, anodized aluminum centerboard
Mainsheet cam action jam cleat
Positive foam flotation in hull
Bow handle
Fiberglass hull and deck
All colors molded in
Hiking strap for helmsman
Dacron running rigging
Self-draining cockpit through twin transom scuppers
Swivel type tiller extension
Stainless steel standing rigging
Self-tending jib
Standard colors: White hull, red deck, white cockpit
Six-month warranty.
About those reported sightings of Flying Saucers in your area . . . they're true. Your O'Day dealer has the details.
More Specifications | More Information on the Construction and O'Day Sailboats
GG Archives REF: BPODY-002-1967-C-CAT