O'Day Rhodes 19 Sailboat: Flexible for Racing or Family Sailing (1973)
The wind is brisk as you race for the windward mark… or you're heading for a leisurely sail to a favorite picnic spot with four adults and several children aboard… both scenes dramatize the flexibility of the Gold Medal Rhodes 19. We named her after her designer… Philip Rhodes.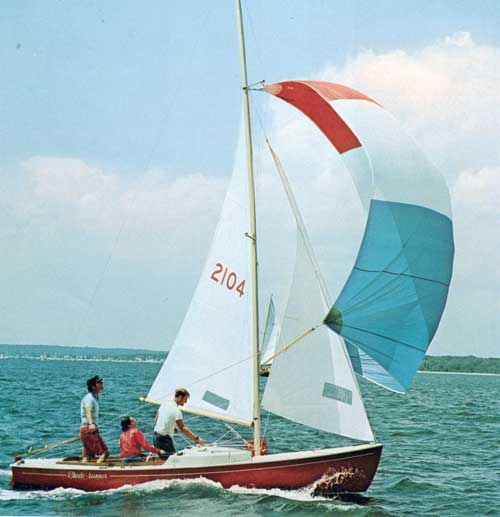 Racing or cruising, the Rhodes 19 offers plenty of gear and comfort. Her deep cockpit seats 6 on wide, comfortable seats with solid flotation inside.
There's a generous shelter cabin forward with shelves for sheets and small gear, and two large dry lockers for sails, lunch or sleeping bags.
Aft, there's additional stowage for an outboard up to 7 h.p. or other gear.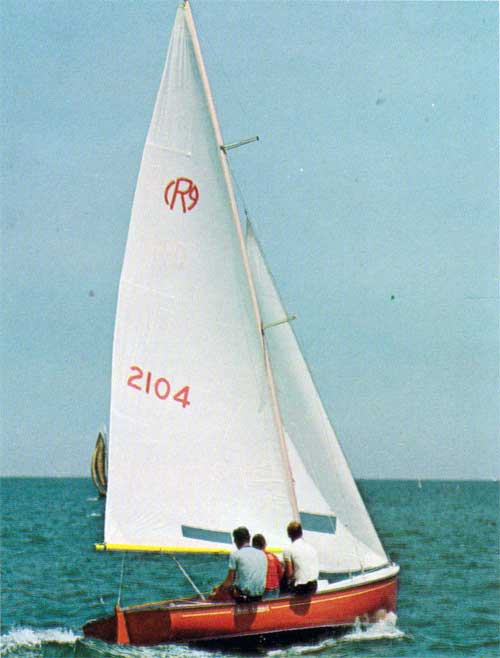 There's an outboard well on the transom that serves as an icebox, too. Rich mahogany coaming trim and mahogany floorboards warm the entire cockpit.
The cockpit on the Rhodes 19 is where the action is. All lines are easily handled from there with cabin top serving as a "control console for halyards, sheets and optional pole lift and boom vang… plus acting as a spray shield.
Well-matched to the rugged, displacement hull, the rig is strong, simple and powerful. Strong enough to withstand the screaming winds of San Francisco Bay in 1967's Heavy Weather One-of-aKind Regatta without a breakdown, and powerful enough to win it overall.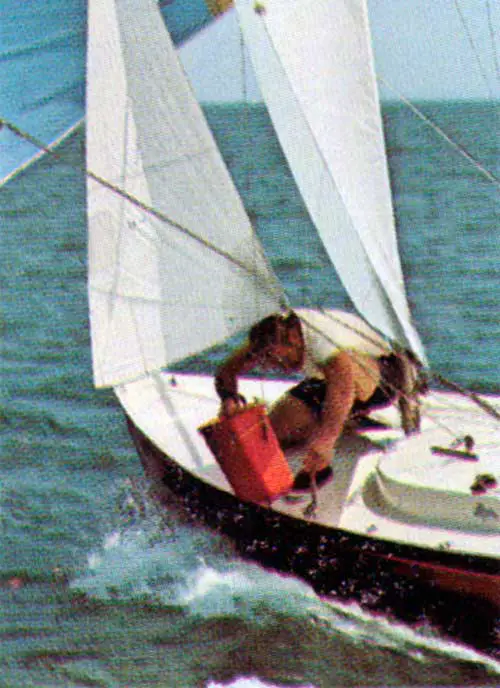 The fore-triangle is 3/4 rig, with adjustable block-fitted sheet leads for more efficient venturi slot effect sailing on the wind. This moderately-sized headsail also helps keep crew requirements to a minimum. In all but heavy winds, the Gold Medal Rhodes can be sailed single-handed.
The optional spinnaker is large enough to offer excellent performance off the wind, and yet is still small enough to be handled by the skipper and one crew.
The keel model was selected by the North American Yacht Racing Union for the 1971 Senior Men's Championships. Yet, for all of the experts who've sailed her, Rhodes 19 remains a favorite beginner's boat.
The Rhodes 19 Class Association is one of the country's best. National Championships are sailed annually, and frequent Regional Regattas are held. In all, over 2,300 keel and centerboard models have been built, making this one of the most active classes in North America. And the largest fleet on Long Island Sound. For class information, contact: James McCray, Tiburon, California
Length: 19'2"
Beam: 7'
Draft: Centerboard up 10" down 4'11" Keel model 3'3"
Sail area: 175 sq. ft.
STANDARD BOAT
$2495 - Main & Jib $220.
The Standard Price
includes as STANDARD EQUIPMENT
$664. worth of features and equipment as follows:
PLEASURE GROUP $268. Value
Storage shelves 1501. Bow storage locker (201. Boom crutch (151. Cockpit drain plug (8). Varnished Philippine mahogany floorboards 1401. 2 year warranty. Outboard motor well. All hardware non-corrosive or stainless steel. Vinyl gunwale guard (35). Rear storage rack (35). Kick up rudder (C/13 model) 155). Mooring and trailing bow eye (10).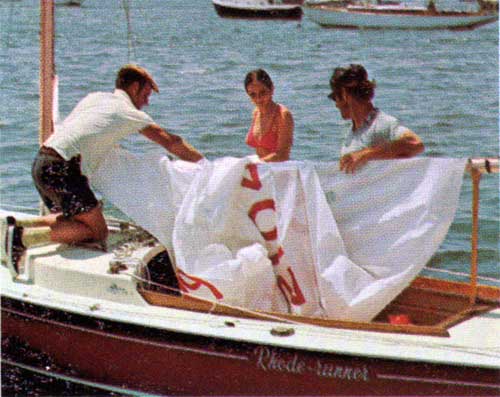 ACCENT GROUP $112. Value
Fiberglass centerboard trunk cap (C/B model) 135). Molded in waterline stripe (20). Varnished Philippine mahogany trim (351. Gold anodized mast and boom (12). All colors molded in. Gold racing stripe 110).
SAFETY GROUP $92. Value
Positive foam flotation (40). Roller reefing 112). Stainless steel rigging with swaged terminals (18). Non-skid decks and seats. Thru bolted mooring and stern cleats 122).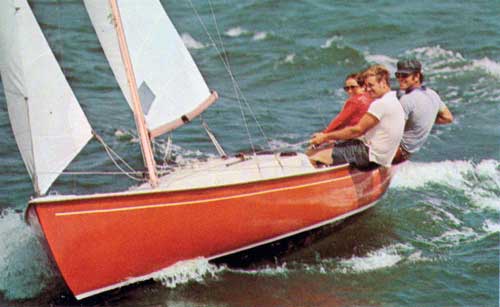 HIGH PERFORMANCE GROUP $192. Value
Quick release cam cleats for main and jib sheets (40). Adjustable jib sheet leads (10). Stainless steel wire halyards with dacron tail (12). Stainless steel turnbuckles (45). Internal mast halyards 125). Tapered mast (60). Best dacron running rigging.
O'Day builds valuable necessary equipment into each boat as "standard"… for your safety and enjoyment. Compare O'Day's equipment and construction with any other boat for total value and quality.
Prices shown are Suggested Retail. F.O.B. factory.
Source: O'Day 1973 Catalog: O'Day GOld Medal Fleet, P. 10-11
GG Archives REF: BPODY-010-1972-C-CAT