The O'Day Gold Medal Fleet is in! (1973)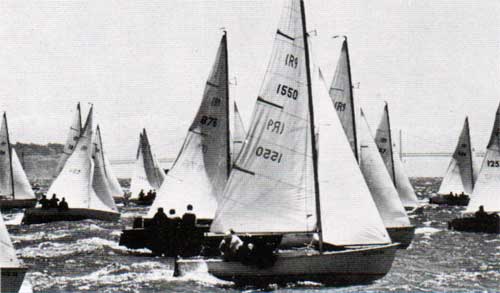 O'Day Fleet of Sailboats

O'Day Performance Group of Racers - the International Tempest, Yngling, and the O'Day 15.
Since launching its first boat in 1958, O'Day has become the world's largest producer of small sailboats.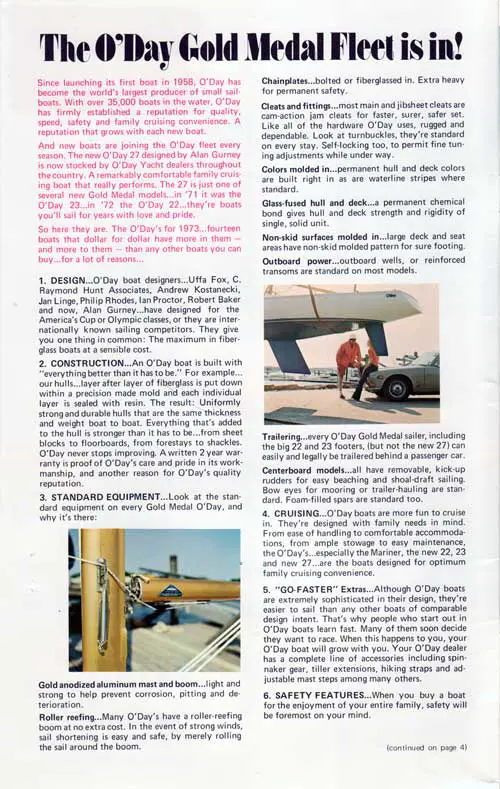 With over 35,000 boats in the water, O'Day has firmly established a reputation for quality, speed, safety and family cruising convenience. A reputation that grows with each new boat.
And new boats are joining the O'Day fleet every season. The new O'Day 27 designed by Alan Gurney is now stocked by O'Day Yacht dealers throughout the country.
A remarkably comfortable family cruising boat that really performs.
The 27 is just one of several new Gold Medal models… in '71 it was the O'Day 23… in '72 the O'Day 22… they're boats you'll sail for years with love and pride.
So here they are. The O'Day's for 1973… fourteen boats that dollar for dollar have more in them -- and more to them -- than any other boats you can buy… for a lot of reasons…
DESIGN… O'Day boat designers… Uffa Fox, C. Raymond Hunt Associates, Andrew Kostanecki, Jan Linge, Philip Rhodes, Ian Proctor, Robert Baker and now, Alan Gurney… have designed for the America's Cup or Olympic classes, or they are internationally known sailing competitors. They give you one thing in common: The maximum in fiberglass boats at a sensible cost.
CONSTRUCTION… An O'Day boat is built with "everything better than it has to be." For example… our hulls… layer after layer of fiberglass is put down within a precision made mold and each individual layer is sealed with resin. The result: Uniformly strong and durable hulls that are the same thickness and weight boat to boat.

Everything that's added to the hull is stronger than it has to be… from sheet blocks to floorboards, from forestays to shackles. O'Day never stops improving.

A written 2 year warranty is proof of O'Day's care and pride in its workmanship, and another reason for O'Day's quality reputation.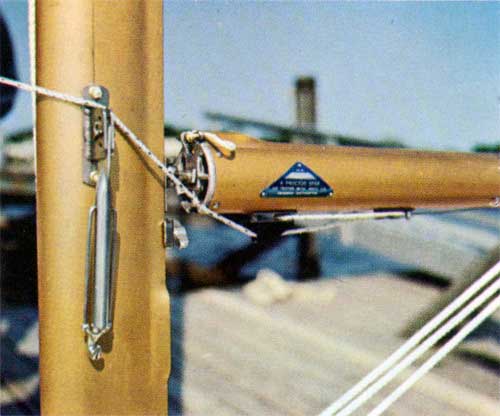 STANDARD EQUIPMENT… Look at the standard equipment on every Gold Medal O'Day, and why it's there:

Gold anodized aluminum mast and boom… light and strong to help prevent corrosion, pitting and deterioration.
Roller reefing… Many O'Day's have a roller-reefing boom at no extra cost. In the event of strong winds, sail shortening is easy and safe, by merely rolling the sail around the boom.
Chainplates… bolted or fiberglassed in. Extra heavy for permanent safety.
Cleats and fittings… most main and jibsheet cleats are cam-action jam cleats for faster, surer, safer set. Like all of the hardware O'Day uses, rugged and dependable. Look at turnbuckles, they're standard on every stay. Self-locking too, to permit fine tuning adjustments while under way.
Colors molded in… permanent hull and deck colors are built right in as are waterline stripes where standard.
Glass-fused hull and deck… a permanent chemical bond gives hull and deck strength and rigidity of single, solid unit.
Non-skid surfaces molded in… large deck and seat areas have non-skid molded pattern for sure footing.
Outboard power… outboard wells, or reinforced transoms are standard on most models.
Trailering… every O'Day Gold Medal sailer, including the big 22 and 23 footers, (but not the new 27) can easily and legally be trailered behind a passenger car.
Centerboard models… all have removable, kick-up rudders for easy beaching and shoal-draft sailing. Bow eyes for mooring or trailer-hauling are standard. Foam-filled spars are standard too.
CRUISING… O'Day boats are more fun to cruise in. They're designed with family needs in mind. From ease of handling to comfortable accommodations, from ample stowage to easy maintenance, the O'Day's… especially the Mariner, the new 22, 23 and new 27… are the boats designed for optimum family cruising convenience.
"GO-FASTER" Extras… Although O'Day boats are extremely sophisticated in their design, they're easier to sail than any other boats of comparable design intent. That's why people who start out in O'Day boats learn fast. Many of them soon decide they want to race. When this happens to you, your O'Day boat will grow with you.

Your O'Day dealer has a complete line of accessories including spinnaker gear, tiller extensions, hiking straps and adjustable mast steps among many others.
SAFETY FEATURES… When you buy a boat for the enjoyment of your entire family, safety will be foremost on your mind.

Positive foam flotation is now standard equipment on all boats except the O'Day 23 and O'Day 27 and even these boats offer positive foam flotation upon special request. Postitve foam flotation keeps a boat from sinking even if it's completely with water, and even if the hull is damaged.

You'll note that most of the centerboard models are self-rescuing. This means that in the event of a capsize the boat will float so high on the water that the cockpit will stay almost dry and the boat can be righted simply by normal crew standing on the centerboard. By the same token, many of the keel boats are self-righting which means in the event of a knock-down, the boat will right itself with its own weight.

Self-bailing cockpits are featured in seven of the models enabling you to sail away immediately even though you may have taken water in the cockpit.
POPULARITY… Every O'Day Gold Medal boat has built a national class association with the exception of Yngling which is a world class, and the O'Day 23 and O'Day 27 which are eligible for MORC and Jr. CCA competitions.

Fleets number in the hundreds, and there are over 400 O'Day dealers in a network which covers every major sailing center in the U.S., Canada and many foreign countries.

What all this means is that when you buy an O'Day… good company, good competition and expert service is close at hand wherever you go. Plus the very important fact that you're assured of excellent resale value.
YOUR O'DAY DEALER… The man who can make you part of the new O'Day is your local O'Day dealer. After you've compared O'Day to other boats he's the man you'll return to for more boat for your money. If you have questions along the way, he'll be happy to answer them.

And his answers are on the mark, because he has probably attended an O'Day Qualified Dealer Clinic… factory work sessions devoted to rigging/accessories/and discussions to better equip the O'Day dealer to better serve you. Half the fun of boat-owning is adding to your boat as you go along. He can help you there, too, with good advice and quality accessories.

Ask your O'Day dealer to show you a suit of our sails. Note the particular care taken at the main stress points; the three corners of the sail. You'll also see that windows are standard on sails where necessary for better vision (where permitted by class rules). Sails are your power. Get the finest from the people who know your boat best. Naturally.
FLEETS
(See Photo Below) Because O'Day has such a wide dealer network, because O'Day has built so huge a following, and because' O'Day offers such good performance at attractive prices, more fleets have been started with O'Day boats than any others.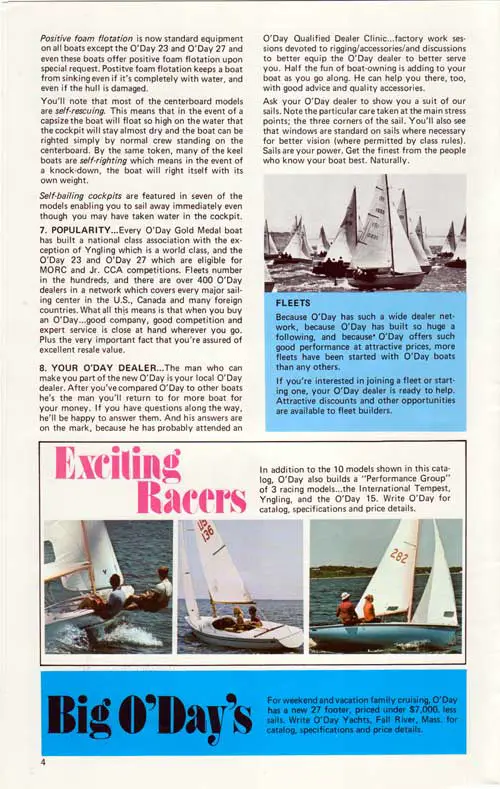 Exciting Racers
If you're interested in joining a fleet or starting one, your O'Day dealer is ready to help. Attractive discounts and other opportunities are available to fleet builders.
In addition to the 10 models shown in this catalog, O'Day also builds a "Performance Group" (See Photo on top of page) of 3 racing models… the International Tempest, Exciting Yngling, and the O'Day 15. Write O'Day for Racers catalog, specifications and price details.
Big O'Day's
For weekend and vacation family cruising, O'Day has a new 27 footer, priced under $7,000. less sails. Write O'Day Yachts, Fall River, Mass. for catalog, specifications and price details.
Source: O'Day 1973 Catalog: O'Day GOld Medal Fleet, Inside Front Cover and P. 4
GGA REF: BPODY-010-1972-C-CAT