The New 1971 O'Day International Tempest Sailaboat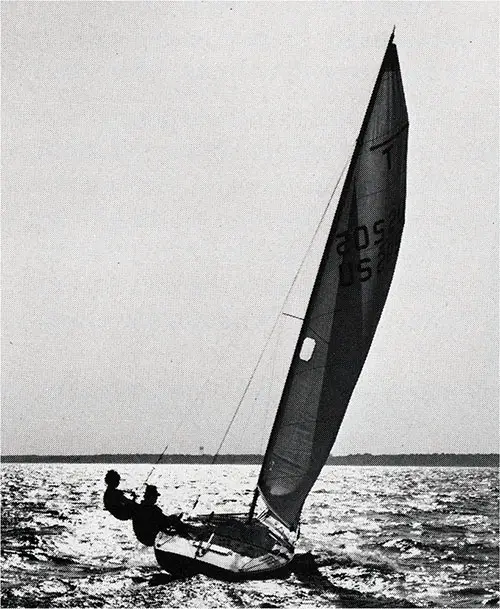 Racing or Not, the New 1971 O'Day International Tempest is a Great Sailing Experience. GGA Image ID # 15e0a1c8eb
As the 1972 Olympics at Kiel draw closer, interest in the International Tempest is sure to increase. O'Day has built more I.T.'s — and won more races — than any other North American builder. O'Day is sanctioned by Lloyd's of London as an approved builder.
Ian Proctor has designed a large open keel- boat with many of the sailing characteristics of competition dinghies. Careful attention to overall weight and the selection and proper placement of gear is essential to being competitive. O'Day builds to minimum weight allowances, with structural strength and quality finish as well.
Gear and equipment selection is constantly up-dated to keep abreast of the latest developments. Every piece of equipment selected for use on the O'Day-built International Tempest is chosen for its strength, low weight and functional dependability. All gear is extensively tested on the water before being finally approved.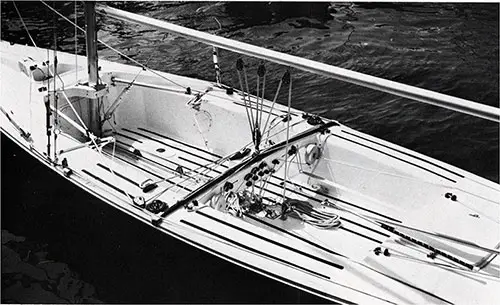 Close-Up View of the Hull on a New 1971 O'Day International Tempest Sailboat. GGA Image ID # 15e0c1026c
Each boat is ordered individually from the factory and can be built with any combination of hull, boot top and deck colors. As construction progresses, periodic weights and dimensions are recorded. The boat comes with a validated Class Measurement Certificate.
INTERNATIONAL TEMPEST SPECIFICATIONS
Length: 22'
Beam: 6' 4"
Draft: 3' 7"
Sail area: 247 sq. ft.
STANDARD FEATURES AND EQUIPMENT
Proctor mast and boom (anodized aluminum) • Stainless steel rigging • Dacron running rigging • Complete set light weight blocks • Complete spinnaker gear • Spinnaker bucket (molded in deck) • Two Elvstrom type cockpit bailers • Detachable keel • Detachable rudder • Hiking straps • Boom vang • Class reg. number and certificate • Keel boat stability • Cantilevered jib sheet leads • Self-bailing cockpit • Full-width adjustable traveler • Roller furling jib • Cam action jam cleats for all sheets and lines • Rolled-in side decks • Stowage compartment in stern • Swivel type tiller extension • Inboard rudder • Trapeze gear.
Major O'Day International Tempest Wins
World Championship - 1968, 1970
National Championship — 1968, 1969, 1970
Atlantic Coast Championship — 1969, 1970
New England Championship — 1968,1969,1970