O'Day Day Sailer II Sailboat (1973)
The most popular sailboat in the country for the past eleven years… the Day Sailer… has been made even better and safer.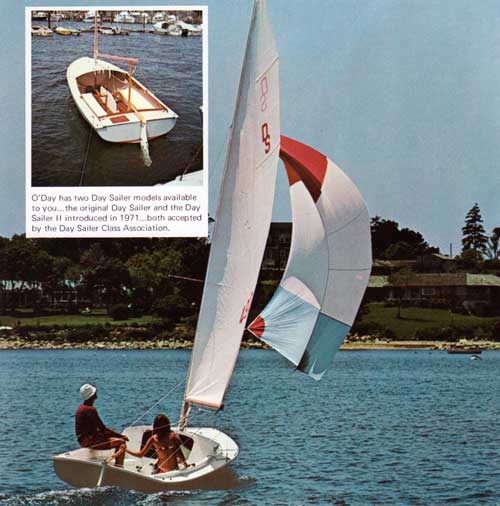 The entire cockpit area of the restyled Day Sailer II is now self-bailing. Heavy spray, rain or other water are literally pulled out of the boat by a suction-bailing system… a new safety feature that makes this Gold Medal beauty an even better boat without affecting her weight or performance.
Inset Text: O'Day has two Day Sailer models available to you… the original Day Sailer and the Day Sailer II introduced in 1971… both accepted by the Day Sailer Class Association.
Deck and cockpit in the Day Sailer II models are designed to keep buoyancy high, and make the boat self-rescuing. Positive foam flotation is located at gunwale level.
The seats in the cockpit are contour molded for comfort, and have a nonskid pattern for sure footing even when wet. Under the forward seat on the port side is a generous insulated icebox.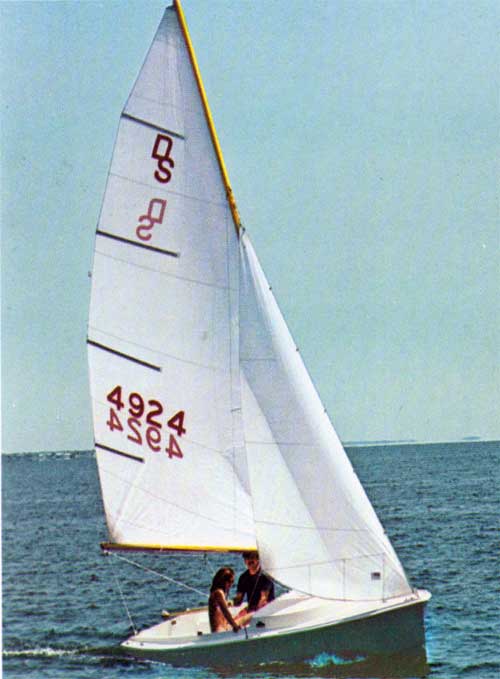 The deck or "sole" of the cockpit is a contrasting color to the standard white deck.
Special provisions have been made on the cockpit sole for secure placement of a fuel tank if you use an outboard motor. The transom is reinforced to accommodate an engine up to 7 h.p.
Forward of the cockpit is the cuddy cabin area. With the inclusion of the new safety features, this area has been restyled… an accessory vinyl lockable cuddy enclosure is now available. The cuddy provides adequate room for two to camp out overnight.
Length: 16'9"
Beam: 6'3"
Day Sailer II Draft: Centerboard up 7" down 3'9"
Sail area: 145 sq. ft.
The O'Day Day Sailer II is a great performer. All sheets and halyards are easily handled from inside the cockpit. Cam-action cleats are standard for all sheets, and jib-sheet leads are adjustable.
The rig is easily managed by two people, even with the optional spinnaker except under more severe conditions. Then, the standard roller reefing is appreciated.
Day Sailers now number over 6,300 with one of the largest and most active class associations in North America. In all, over 79 fleets actively meet and compete for regional and National Championships. Family cruises are scheduled in many areas.
Day Sailer II … a best buy for family sailing.
For class information, contact: Dolores Bayer, Cincinnati, Ohio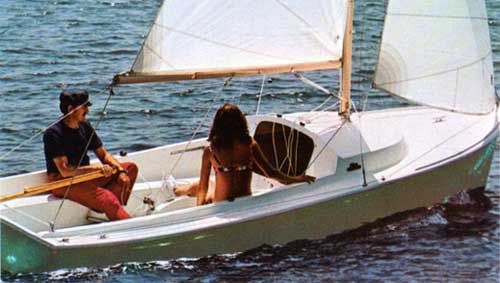 STANDARD BOAT
$1895 - Main & Jib $175.
The Standard Price
includes as STANDARD EQUIPMENT
$316. worth of features and equipment as follows: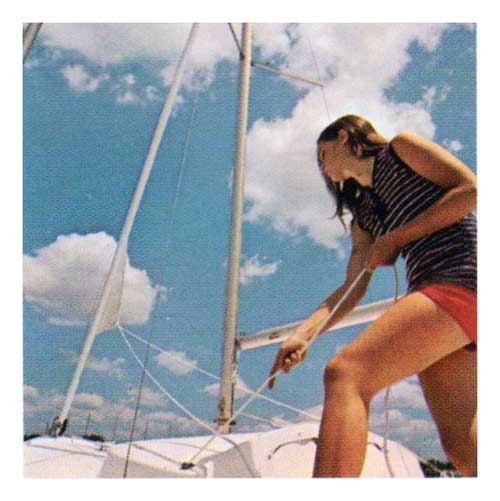 PLEASURE GROUP $85. Value
Built-in insulated ice box* 145). Boom crutch (15). All hardware non-corrosive or stainless steel. 2 year warranty. Transom designed for outboard. Kick up rudder (20). Mooring and trailing bow eye (5)
ACCENT GROUP $60. Value
Molded in waterline stripe (20). Two-tone Lock-pit color* (20). Gold anodized mast and boom (10). All colors molded in. Gold racing stripe (10).
SAFETY GROUP $96. Value
Positive foam flotation (30). Foam filled mast and boom (8). Roller reefing 112). Automatic cockpit drain* (10) 2 cockpit inspection/bailing ports* (10). Stainless steel rigging with swaged terminals (8). Thru bolted mooring and stern cleats (18). Self rescuing. Self bailing cockpit* Non-skid decks and seats.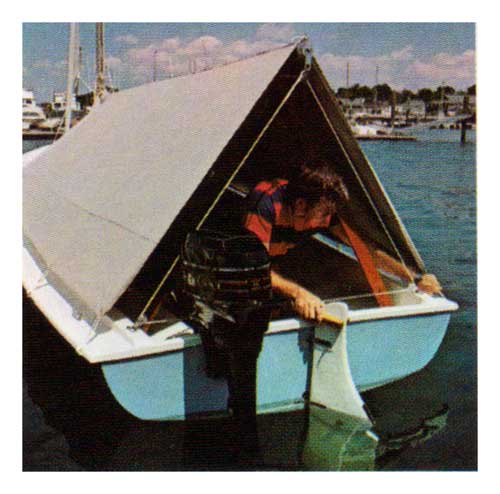 HIGH PERFORMANCE GROUP $75. Value
Quick release cam cleats for main and jib sheets (35). Adjustable jib sheet leads (10). Stainless steel wire halyards with dacron tail (10). Stainless steel turnbuckles (20). Best dacron running rigging.
O'Day builds valuable necessary equipment into each boat as "standard"… for your safety and enjoyment. Compare O'Day's equipment and construction with any other boat for total value and quality.
Prices shown are Suggested Retail. F.O.B. factory.
*available on Day Sailer II only
Source: O'Day 1973 Catalog: O'Day GOld Medal Fleet, P. 12-13.
GG Archives REF: BPODY-010-1972-C-CAT