The New 1971 O'Day 15 Sailboat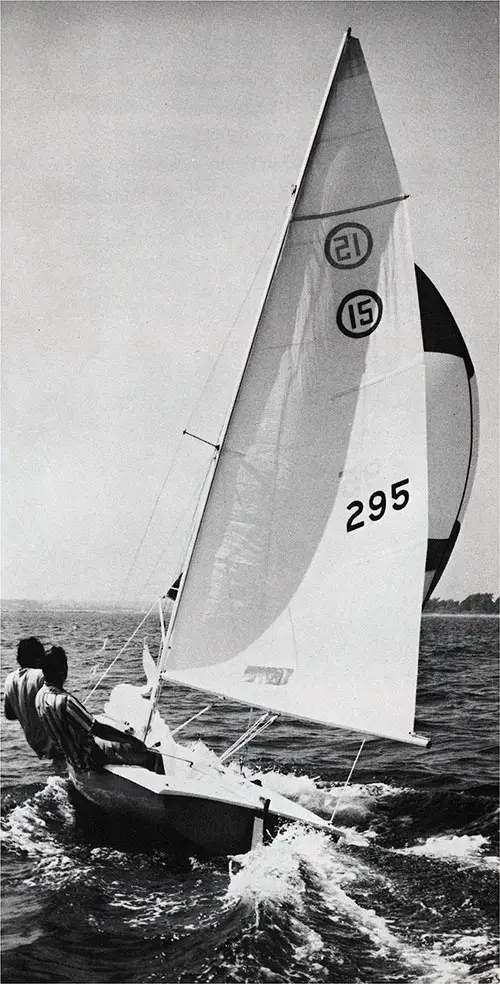 Leaning Into the Wind in the New 1971 O'Day 15 Sailboat. GGA Image ID # 15dee27ba2
If your sailing style is speed, performance and competition plus challenging day sailing, the O'Day 15 is your kind of boat. We saw the need for a planing centerboarder which could be used for training the advancing sailor and sailed competitively with a wide range of crew weights without unduly affecting performance. The end result is an extremely powerful package of acceleration and agility coupled with the most modern safety features known.
The broad hull and deck of the O'Day 15 form an almost solid, airtight unit of great stability and maximum buoyancy. In the event of a capsize, the hull floats so high as to almost always prevent water from entering the cockpit.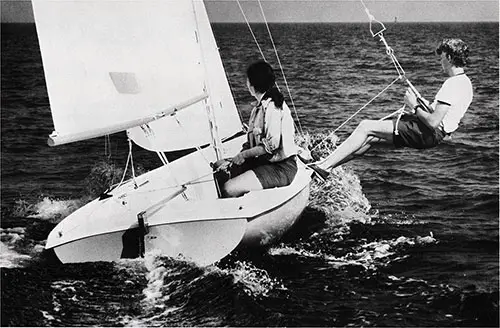 Hanging Out for a Great Ride on a New 1971 O'Day 15 Sailboat. GGA Image ID # 15df234d3b
If, after the crew has righted her, water is aboard, the O'Day 15's two self-bailers rapidly do their job. Foam flotation adds positive buoyancy and safety if the hull is holed.
The rig also reflects the latest thinking in performance design. The mainsail is trimmed to a midship traveler for precise sheeting and trim, and allows boom bend adjustments for optimum sail shape and draft.
Adjustable jibsheet leads can be moved forward for low-angle slot effect going to windward, and eased aft for maximum projected sail area while reaching. Jib-sheéts are trimmed to non-fouling clam- cleats located on side decks amidships within easy reach of both helmsman and crew.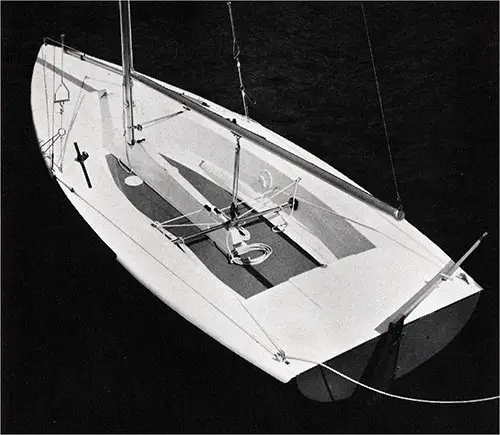 Close-Up View of the Hull on a New 1971 O'Day 15 Sailboat. GGA Image ID # 15df6dfdee

When optional spinnaker is ordered, you'll probably want trapeze gear, too. With both, the O'Day 15 is a flying tiger. Spinnaker sheet and guy also lead amidships so both skipper and crew can readily reach them.
The centerboard is enclosed in a trunk integral with the cockpit and is fitted with two pennants for positive raising and lowering. The self-bailing cockpit extends forward of the mast, so that crew can go forward to rig the spinnaker, etc.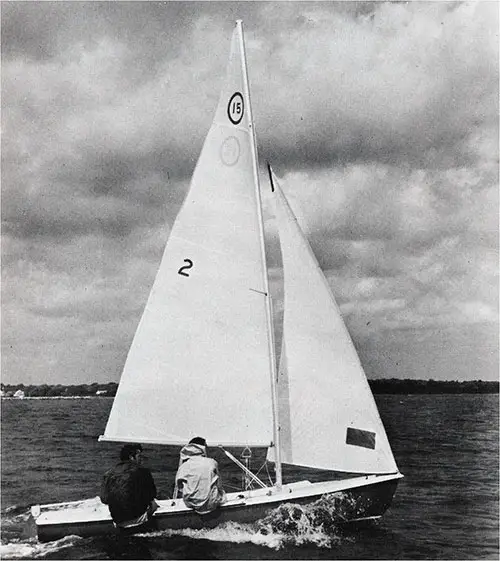 A Lovely Day for Sailing on a New 1971 O'Day 15 Sailboat. GGA Image ID # 15dfbbd8d8
Further evidence of the "15's" extreme stability is shown in that she can be left on a mooring without danger of capsizing under normal conditions.
Sails, life jackets and personal belongings are safe and dry in the locker aft of the cockpit.
If you list all of the features of the O'Day 15, you'll find that she offers more than any other boat of her type. Your dealer can arrange a demonstration and quote fleet prices to interested clubs.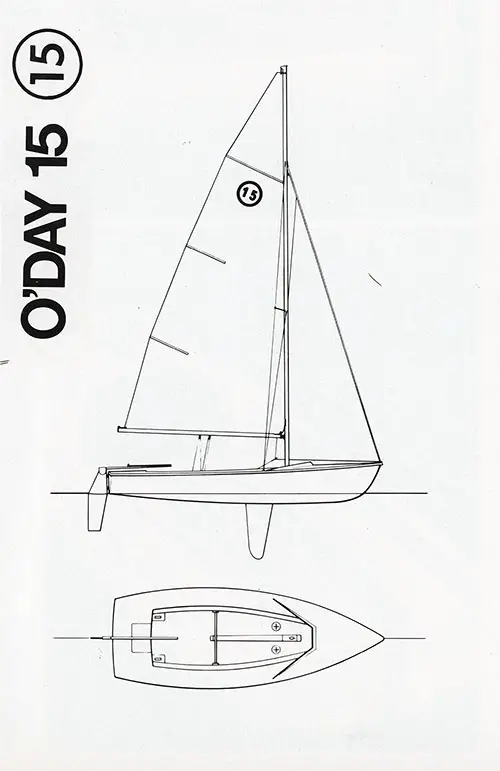 Basic Schematics for the New 1971 O'Day 15 Sailboat. GGA Image ID # 15dfdc22c9
O'DAY 15 SPECIFICATIONS
Length: 14' 11"
Beam: 5' 10"
Draft: Centerboard up 7" down 3' 9"
Sail area: 135 sq. ft.
STANDARD FEATURES
Self-bailing cockpit with twin draining plugs • Positive foam flotation • Self-rescuing • Lockable storage locker aft • 2 cockpit inspection/bailing ports • Two-tone cockpit • Cam action main and jib sheet cleats • Adjustable jib sheet leads • Adjustable full-width midship traveler • Turnbucklcs on all stays • Wire halyards • Anodized mast and boom • Adjustable kick-up center- board with raising and lowering pennants • 2-year warranty.