O'Day International Tempest Sailboat (1967)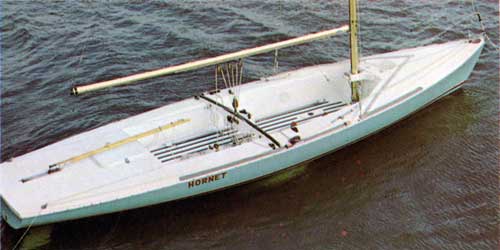 Young in years but an old-timer in the award category, International Tempest has established for herself an enviable reputation in a very short time.
This 22', two-man keelboat won every race she entered in the Holland Trials during the year of her birth, after which she was approved for fiberglass production by the International Yacht Racing Union.
Designed by Britain's Ian Proctor, the International Tempest has, in the words of those who have raced her, "terrific speed", "remarkably high maneuverability" and is "a top-performing planing keel boat."
O'Day was first to test International Tempest's prototype in this country, and is approved by Lloyd's of London to build her in the United States and Canada.
In the first national championship held for her class, 26 out of 35 International Tempests entered were built by O'Day, and O'Day boats won eight out of nine first places. Another recent win for O'Day was first, second and third places in the Long Island Sound Championships.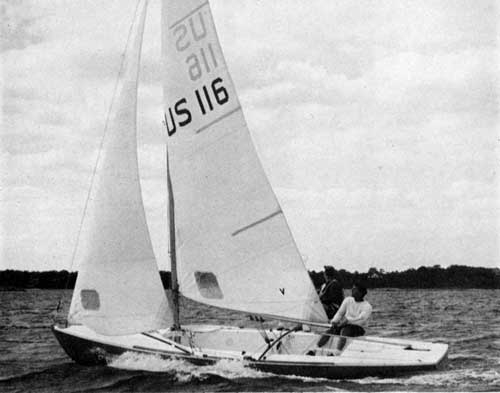 International Tempest has a 500-lb. retractable fin keel and a unique bendy rig with 247 square feet of sail plus spinnaker. Special high strength extrusions for the mast and boom bend to a large degree under sail.
Theoretically, says designer Proctor, this should destroy the airfoil shape of the sail and reduce efficiency, but in the case of International Tempest, this "broken rule of sail design has resulted in really outstanding performance.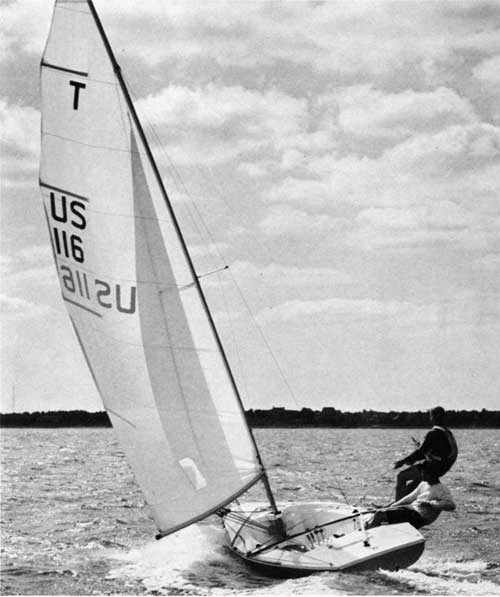 SPECIFICATIONS:
Length: 22";
Beam: 6'4";
Draft: 3'7";
Sail area: 247 sq. ft.
STANDARD FEATURES AND EQUIPMENT: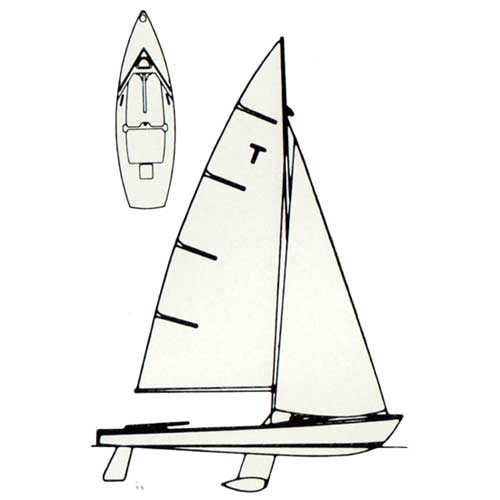 Proctor mast and boom (anodized aluminum)
Stainless steel rigging
Dacron running rigging
Complete set light weight blocks
Complete Spinnaker gear
Spinnaker bucket (molded in deck)
Two Elvstom type cockpit bailers
Detachable keel
Detachable rudder
Hiking straps
Boom Vang
Class reg. number
Twin exhaust sailing tubes that extend from cockpit to transom
Keel boat stability
Self-bailing cockpit
Full width adjustable traveller
Roller furling jib
Cam action jam cleats for all sheets and lines
Rolled-in side decks
Stowage compartment in stern
Swivel type tiller extension
Inboard rudder
Trapeze wires
Lifting sling.
More Specifications | More Information on the Construction and O'Day Sailboats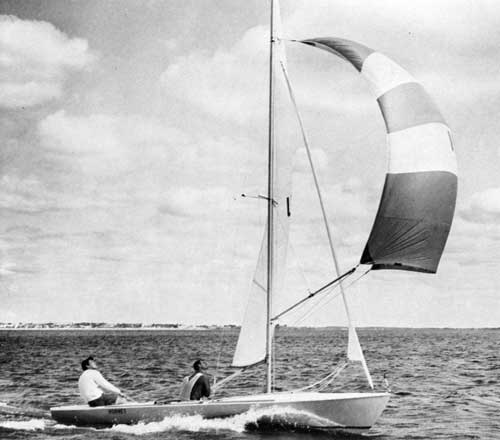 GG Archives REF: BPODY-002-1967-C-CAT