O'Day Ospray Sailboat Sales Information and Specifications (1966)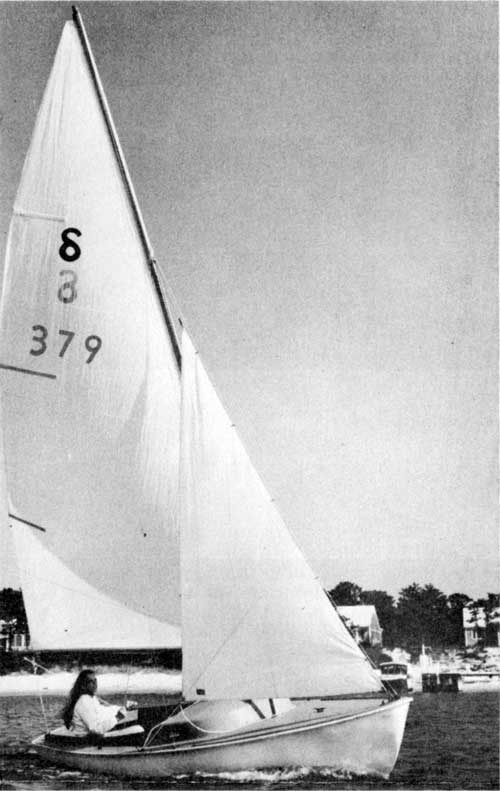 O'Day Ospray All-Purpose Sailboat LOA 15'6", Beam 6', Sail Area 125.7 sq. ft. Fiberglass boat is designed for extra safety and ease of handling. Room enough for two to sleep overnight. Spacious cockpit will accommodate six.
The O'Day/Ospray has been especially designed to fill the need for an all-purpose sailboat that will be a lively sailer and step up from Junior Trainers.
Yet the Ospray is able to double nicely as the family craft for day sailing, picnicking and general fun on the water.
Perfectly balanced for easy sailing, she will give safe and dry performance in all weather with room-a-plenty for a boisterous family of six.
Ample storage space for camping out equipment is provided.
A snug cuddy shelter cabin offers protection from bad weather. Ideal for the whole family or easily sailed by one.
SPECIFICATIONS:
Length: 15' 8"
Beam: 5' 11"
Draft: centerboard up 6"; down 3' 8"
*Dacron Sails
Sail Area: 125 sq. ft. Rigged for Spinnaker
Weight Complete: Approx. 480 lbs.
Optional Propulsion: Rec. up to 5 hp O/B motor
CONSTRUCTION:
Fiberglass hull and deck, SS stays, alum. mast and boom with roller reefing, built-in O/B motor well, mahogany floorboards, pivoting fiberglass rudder and centerboard, vinyl gunwale guards, molded in colors, boom crutch, drain plug. styrofoam flotation, bright hardware, ash tiller, bow eye, molded in waterline stripe, dacron lines.
Sales Information:
Length: 15' 8"
Color of Hull: White
Optional Deck Colors: Light Blue, Turquoise or Beige
Price List:
Complete Boat less Sails: $ 1,445.00
Dacron Main and Jib (Including Sail #): $ 175.00
Nylon Spinnaker: $ 115.00
Spinnaker Gear: $ 50.00
Waterproof Canvas Cockpit Cover (Installed): $ 65.00
Crating Charge (If Necessary): $ 50.00
Source: 1966 O'Day Fleet Catalog and Price List Flyer.
GG Archives REF: BPODY-001-1966-C-CAT