What To Look For In A Yacht
O'Day has built daysailers and cruising boats for two decades – over 43,000 of them. It's easy to speculate that more O'Days have sailed more miles than any other boats from one manufacturer in the world.
We know boats and we know the boating market. Our satisfied customers are the reason we have grown, continuously and rapidly.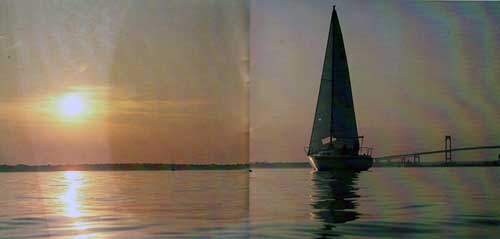 Unfortunately, there are still some who think of O'Day as a manufacturer of daysailers, only. But we've built over 10,000 family cruising boats, and supply our 32 and 37 footers to one of the largest charter fleets in the Caribbean.
(Our boats, by the way, sailed there on their own bottoms!)
Big boats have been over half our business for many years.
1) Insist On a Boat That Performs
It may seem obvious, but every sailboat that's fun is a sailboat that really sails. It should handle easily, deliver reasonable speed on every point of sail and provide an enjoyable experience in light, moderate and even heavy breezes. As your sailing ability improves, so will scorn for a clumsy boat, and your appreciation for a good performer.
O'Day yachts are, first and foremost, sailboats which are both forgiving and docile in the hands of a new sailor, as well as lively and challenging to one who's accomplished.
2) Demand attention to safety.
No one respects open water more than the experienced seaman, who has seen all its moods and sudden whims. It would be foolish to trust your family to a boat that is not designed to cope with foul weather.
Look carefully at each boat you are seriously considering, and trust your judgment.
Are the stemhead and chainplate fittings custom stainless steel components, substantially constructed and properly attached?
Are the topsides smooth and is the sheerline an even, fair curve?
Are the ship's systems (electrical, plumbing, fuel and the like) well thought-out and well installed?
Are the rigging, spars and deck hardware non-corrosive stainless steel and aluminum alloy, and do they look strong enough to handle an unexpected problem?
O'Day boats are designed and built by people whose whole life is sailing, and who enjoy the boats with their families just as you do with yours. All the loyalty in the world wouldn't get them to buy an O'Day if they didn't believe in its safety.
3) Look For a Boat That's Built To Last
Sailboats have to be tough because lakes and oceans are tough on sailboats. The rig must stand in heavy air. The hull must endure the punishment of sharp, choppy waves. The fittings must withstand the corrosion of salt water.
Our theory of building calls for boats to be made a little stronger than they have to be. We lay up the fiberglass decks and hulls by hand –instead of spraying them with chopped fibers.
Each component used is considered for its ruggedness and durability. All colors are molded into the fiberglass. And the Quality Control Inspector's signed report accompanies every 1978 O'Day out the door. If the boat isn't right, his name won't go on it.
O'Day boats are built to last. And because they do last, they command unusually high resale prices.
4) Look For an Honest Sail-Away Price
If cars were sold the way sailboats are, they'd come without tires or engines. Sails, running rigging and other important details are "optional': Buy an O'Day, and you'll sail it away pretty much the way you'll sail it for the next five years.
5) Buy From a Respected Company
There are hundreds of firms making sailboats Many are decent products. Many others are not_ And, as in most hobbyist businesses, sane of the least satisfactory products are sold by the sincerest people.
Before you place an order, ask yourself if the company will still be around when you need warranty help or replacement parts.
And, O'Day is a Bangor Punta Company, with the resources and technical assistance of one of America's largest corporations.
6) Choose a Boat That Fits Your Needs
Don't make an investment in a boat that's too cramped for your family or not suited for the waters you intend to sail.
Where will you moor the boat? What boats are raced near you? Is your area known for light or heavy air? Is the water deep or shoal? How often will you use the boat, and how far will you usually sail?
If you're not sure how to judge those requirements, your local O'Day dealer is a good place to look for help. We choose each dealer for his knowledge and sincerity. And he'll stock the kind of boats that are most likely to fit his area and please his customers.
7) Even If You're a Cruiser, Don't Completely Discount Racing
Racing puts many cruising sailors off. To some, the anxiety and pressure seem unnecessary. To others, the rules and skills seem complicated and difficult.
It's pleasing for us to see that some O'Day owners race the very same boats in which they and their families cruise. And many do very well.
John Deknatel, Winn Willard and Peter Boyce of Hunt Associates design each new O'Day yacht to be a good performer. Where rating rule advantages conflict with cruising advantages, the latter always takes precedence. But you'd be surprised how often the two are quite compatible.
We're not saying that O'Day yachts will win against flat-out racers. But we are saying that you can expect to do well, and, with good judgment and boat handling, perhaps even win.
Race winners will tell you that there's no faster way to gain sailing proficiency than in competition. And even persistent race losers will tell you there's no better way to have fun.
8) Read the Warranty
Most boat owners get around to reading the warranty just after they've had their first problem. We suggest that you read it before you buy the boat.
Each is different. Some are written to protect the manufacturer. The good ones are written to protect you.
And remember, a written warranty isn't much better than the intention of the company that created it. Enforcing an insincere warranty can cost more in time and money than the problem is worth.
We mention all of this because the O'Day Warranty is one of the strongest in the business. And because O'Day is here to stay.
Features worth Special Attention
All main bulkheads are teak. Not vinyl or formica. Teak.
All interior components are tied together in such a way as to contribute to the integrity of the boat.
The hull integrity is never penetrated. The centerboard arrangements are molded in one sealed component. Keel ballast is totally enveloped by the fiberglass hull, not bolted to it.
On the larger boats (the O'Day 30, 32 and 37) the mast is stepped on the keel.
Every O'Day Yacht has a self-bailing cockpit, and in the event of a knockdown, is completely self-righting.
All fabrics are soft spun synthetics, treated with Scotchguard for stain and mildew resistance.
All ports are made with tinted glass – reducing glare and cabin heat and improving privacy.
All forward hatches close flush to the deck. No leaks, and nothing on which to trip or catch a line.
GG Archives REF: BPODY-027-1977-C-CAT