The New 1971 O'Day Yngling Sailboat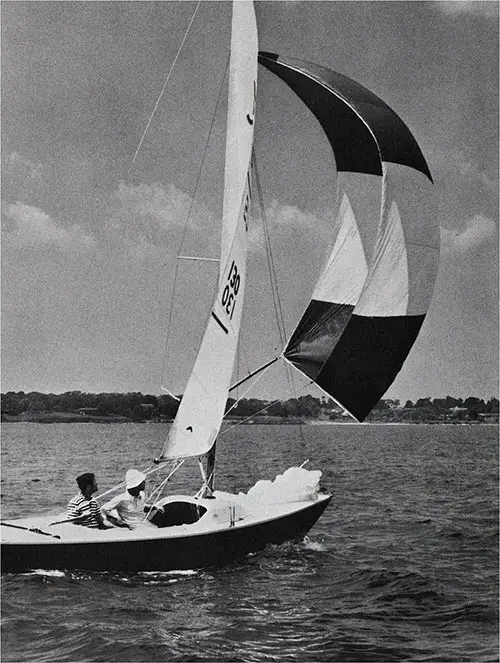 Catching the Wind in the New 1971 O'Day Yngling Sailboat, Manufactured in the USA by O'Day, A Bangor Punta Company. GGA Image ID # 15d7c3a482
Yngling (pronounced ing-ling) means youthful in Norway, where her design originated. Her lines reflect youth, speed and agility, and so does her performance.
Her designer, Jan Linge, who also designed the Olympic Soling, has built her as a World Class and kept her one-design all the way. There's no dollar race before you get to the starting line, because all necessary equipment is standard or available in O'Day's accessory catalog.
Standard equipment includes adjustable mast step, bendy Proctor mast and boom with internal halyards and internal clew outhaul for maximum adjustment of sail shape and trim. The backstay is also adjustable for mast bend changes while underway.
The mainsheet is lead to a roller- bearing traveler on the after-deck, with the bitter end secured to a cam-action cleat mounted in the cockpit. Jibsheet leads are adjustable, with snubbing winches and cam-cleats also standard. Headstay and sidestays are fitted with stainless steel turnbuckles for additional adjustments to the rig.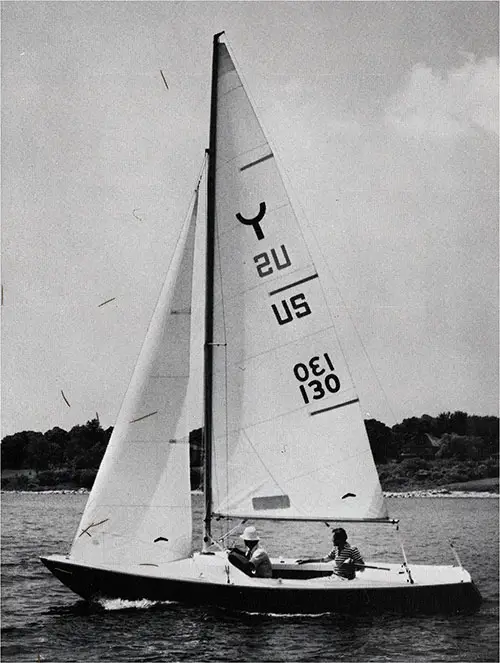 Couple Sailing Near the Shoreline in Their New 1971 O'Day Yngling. GGA Image ID # 15d7fa867a
The deck has a special non-skid pattern molded in from stem to stern for secure footing and seating overall. The cockpit is protected from spray by a cuddy cabin, and wide decks amidship keep her from taking water when heeled.
Her ballast to weight ratio makes her self-righting. The cockpit is trimmed in mahogany, with adjustable or removable mahogany seats for optimum hull trim and balance. Floorboards are also mahogany.
For crew comfort and dry stowage of sails and gear, the cuddy cabin offers ample protection. Beneath the afterdeck is an additional locker for still more stowage. Shelves are located forward and in the cockpit for small gear, charts, etc.
The Yngling's sailing performance is assured by modern design: Fin keel and spade rudder for maximum control on all points of sail and minimum wetted surface.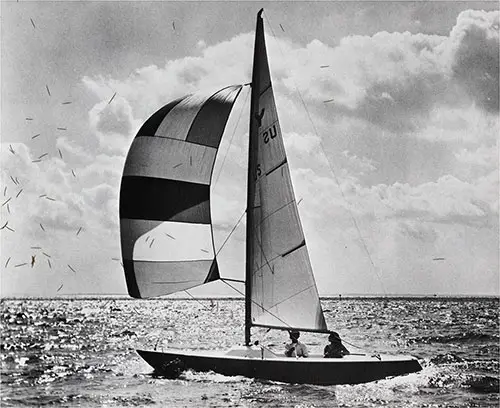 The New 1971 O'Day Yngling Sailing on the Open Waters. GGA Image ID # 15d80f7a0b
Her hull design allows for downwind planing in moderate air. The reverse transom extends waterline length without adding weight aft. Yngling is so responsive to the helm that she's been described as a "baby Twelve meter". She will turn in her own length, and has good light-air performance.
Hersailplan is as modem as her hull, with a high aspect ratio main, and % rig to the jib. Total sail area is large enough for top-notch performance without demanding great strength from the crew. The optional spinnaker is easily handled by two persons, and gives exciting performance downwind.
With her World Class expanding rapidly, and fleets forming across the U.S., her trail- ability is an additional advantage. The mast can be stepped by two people without using a crane.
Technical and racing sophistication are her strong suits, but even the novice sailor will appreciate the basic simplicity Yngling offers.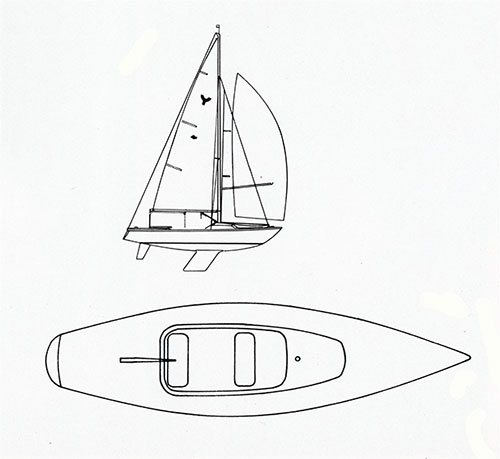 Basic Schematics of the New 1971 O'Day Yngling Sailboat. GGA Image ID # 15d7f386c9
Length: 20' 11"
Beam: 5' 8"
Draff: 3' 6"
Sail area: 150 sq. ft.
STANDARD FEATURES: Fin keel • Spade rudder • Positive foam flotation • Anodized Proctor mast and boom — tapered and stepped on deck • Hull and deck glass fused • Philippine mahogany trim • Storage shelves and locker • Cam action main and jib sheet cleats • 2 snubbing winches • Adjustable jib sheet leads • Adjustable backstay • Full- width mainsheet traveler • Wire halyards • Internal clew outhaul • 2-year warranty.