Features of the New 1971 O'Day Sailboats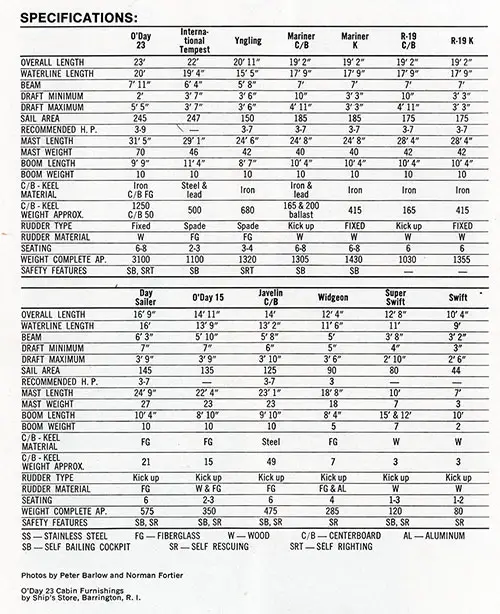 Specifications for the New 1971 O'Day Sailboats, Manufactured by O'Day -- A Bangor Punta Company. GGA Image ID # 15d7143cc8
Announcing the dawning of a new O'Day.
The O'Day Company launched its first boat in 1958. Since then we've launched over 25,000 more. Today we're the largest producer of small sailboats in the world. And yet here we are starting over. Why?
Because it just so happens that all the experience we've gained over the years has put us in the position where today we feel ready to introduce the most complete and diversified line of under-23 foot sailboats ever assembled.
And that's what this book is all about. It's also your invitation to join us on our adventure. We think that somewhere on the following pages is the boat you'll sail for years with love and pride.
And so we introduce to you eleven O'Day designs. The facts are all here. You'll discover everything about these boats except the sheer fun and excitement of sailing them.
That will come later — when you visit your O'Day dealer. He's the man who can put you at the tiller of a boat that dollar-for- dollar has more in it, and more to it than any other bpat you can buy.
This is true for a lot of reasons.
1. Design
When you start talking design, you have to start by talking designers. Uffa Fox, C. Raymond Hunt Associates, Andrew Kostanecki, Jan Linge, Philip Rhodes and Ian Proctor are some of the contributors to the new O'Day.
They've either designed for Olympic classes, or for the America's Cup, or they're internationally famed sailing competitors. Their designs share one thing in common: they offer the maximum in boats which can be produced in fiberglass at sensible cost.
2. Construction
Starting with fine design, O'Day goes on to build boats right. For example, fiberglass construction is strongest when done in the "hand lay-up" method. Every O'Day hull is formed this way.
Painstakingly, layer after layer is put down within a precision made mold, and each layer is sealed with resin applied by hand. The build up is uniformly strong and hulls are of uniform thickness and weight boat to boat.
It's O'Day's policy that everything that's added to the hull be stronger than it has to be — from sheet blocks to floorboards, from forestays to shackles. We know this is so from our 25,000 man testing corps in the field — the people who sail O'Day boats.
They've been responsible for the hundreds of design refinements we've made over the years, and it's their advice and interest that have inspired the new designs introduced this year. A written, lasting warranty is proof of O'Day's care and pride in its workmanship.
3. Standard equipment
Look at the standard equipment on every O'Day, and why it's there:
Anodized aluminum mast and boom — light and strong. Anodizing prevents corrosion, pitting and general deterioration. Necessary, but not available on many other boats... even at extra cost.
Stainless wire halyards with dacron tails — wire is far stronger and longer lasting.
No stretch means better sail set. Dacron tails don't rot and are easy on hands. Used wherever necessary.
Stainless steel standing rigging — light and strong, won't rust or corrode. We use only the best quality available for long, safe life.
Roller reefing — many O'Day models have a roller-reefing boom at no extra cost. In the event of strong winds, sail shortening is easy and safe, by merely rolling the sail around the boom.
Chainplates — bolted or fiberglassed in. Extra heavy for permanent safety.
Cleats and fittings — all main and jibsheet cleats are cam-action jam cleats for faster, surer, safer set. Like all of the hardware O'Day uses, they're the best available.
Take a look at turnbuckles. They're standard on every stay. They're self-locking, too, to permit fine tuning adjustments while under way. We could use less expensive hardware, or less of it; but then the boat you got wouldn't deserve the O'Day name.
Colors molded in — permanent hull and deck colors are built right in, as are waterline stripes where standard. Little maintenance with no masking or painting.
Glass-fused hull and deck — a permanent chemical bond gives hull and deck strength and rigidity of single, solid unit.
Non-skid surfaces molded in — large deck and seat areas have non-skid molded pattern for sure footing and added safety.
Outboard power — outboard wells, or reinforced transoms are standard on most models. Yngling has optional bracket mount.
Trailering — every O'Day, including the giant 23 footer can easily and legally be trailed behind a passenger car. Most can be completely rigged without a crane or special tools.
Centerboard models — all have removable, kick-up rudders for easy beaching and shoal-draft sailing. Bow eyes for mooring or trailer-hauling are standard. Foam-filled spars are standard, too, keeping them from becoming dead weight in a capsize.
4. "Go-faster" extras
Many people will tell you this about O'Day boats: though they're extremely sophisticated in their design, they're easier to sail than any other boats of comparable design intent.
That's why people who start out in O'Day boats learn fast. Many of them soon decide they want to race. When this happens to you, your O'Day boat will grow with you.
Your O'Day dealer has a complete catalog of these accessories including spinnaker gear, barber haulers, midship travelers, tiller extensions, hiking straps and adjustable mast steps among many others.
All of this equipment has been selected by O'Day's full time staff of internationally-known sailing experts.
5. Safety features
Sailing is one of the world's great family activities. Kids can start learning to sail as soon as they're old enough to talk, and they'll keep on learning all their lives. If you're buying a boat for the enjoyment of your entire family no doubt safety will be foremost on your mind. The new O'Day line brings safety standards to a new high.
Positive foam flotation is now standard equipment on all boats except our new cruiser, the O'Day 23, and even this boat offers positive foam flotation upon special request. Positive foam flotation keeps a boat from sinking even if it's completely filled with water, and even if the hull is damaged.
You'll note in the descriptions of the boats that most of the centerboard models are self-rescuing. This means that in the event of a capsize the boat will float so high on the water that the cockpit will stay almost dry
and the boat can be righted simply by normal crew standing on the centerboard.
By the same token, many of the keel boats are self-righting which means in the event of a knock-down the boat will right itself with its own weight.
Self-bailing cockpits are featured in seven of the models enabling you to sail away immediately even though you may have taken water in the cockpit.
Of course, the O'Day safety features have to include the excellence of the hull construction, the rigging and the gear as discussed above.
6. Popularity
In harbors, lakes and sailing competitions, literally around the world, O'Day boats have gained an unprecedented following.
Every O'Day boat has built a national class association with the exception of Yngling which is a world class, and the O'Day 23 which is eligible for MORC and Jr. CCA competitions.
Fleets number in the hundreds, and there are over 400 O'Day dealers in a network which covers every major sailing center in the U.S., Canada and many foreign countries.
What all this means is that when you buy an O'Day boat, good company, good competition and expert service is close at hand wherever you are or wherever you go. Plus the very important fact that you're assured of excellent re-sale value at any future time.
7. Fleets
Because O'Day has such a wide dealer network, because O'Day has built so huge a following, and because O'Day offers such good performance at attractive prices, more fleets have been started with O'Day boats than any other name. This year new fleets will be starting all over the country. O'Day actively encourages fleet building, because good fleets make for great sailing.
A fleet is any group of 3 boats or more of the same design. Though usually it's a fleet's purpose to promote racing under class association rules and regulations, there is growing interest in the idea of the daysailing fleet or club.
If you're interested in joining a fleet or starting one, your O'Day dealer is standing by ready to help. Very attractive discounts and other opportunities are available to fleet builders, including free spinnakers — a saving of up to 60% on your complete O'Day spinnaker outfit.
8. Your O'Day dealer
The man who can make you part of the new O'Day is your local O'Day dealer. After you've compared O'Day to all the other boats in the field, he's the man you'll probably return to because he's the man who can give you more boat for your money.
If you have questions along the way, he'll be happy to answer them. Half the fun of boat-owning is adding to your boat as you go along. He can help you there, too, with good advice and the best accessories for all your boating needs.
The boats he sells await you on the following pages and in his showroom. Wait till you see them. Wait till you sail them. Twenty-five thousand hulls later, O'Day is starting fresh. We'd love to have you come along.
After you decide on your O'Day boat, you'll have to decide on your sailmaker. And who could know more about the best sails for an O'Day boat than O'Day's own sailmaker?
Because we spend more time sailing O'Day boats than anyone else, we spend more time trying to make them better. All O'Day sails are cut and built to our own specifications.
We use Howe & Bainbridge Dacron® sailcloth for mains, jibs and genoas, and their Ripstop® Nylon® for our colorful red, white and blue spinnakers. We start with the finest materials and finish with the best workmanship. Stitch for stitch and dollar for dollar you won't find a better made sail anywhere.
Ask your O'Day dealer to show you a suit of our sails. Note the particular care taken at the main stress points: the three corners of the sail. You'll also see that windows are standard on sails where necessary for better vision (where permitted by class rules).
Sails are your power. Get the best from the people who know your boat best. Naturally.