O'Day Outlaw 26 Sailboat with Specifications and Standard Features (1967)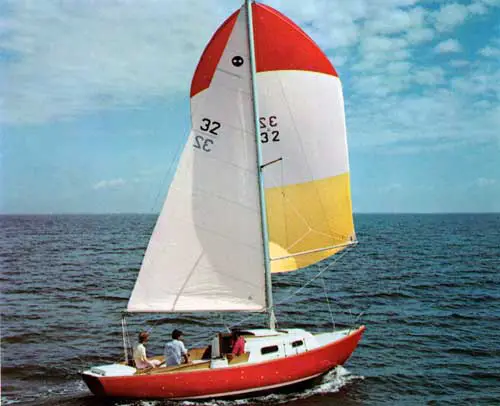 If getting away from it all has meant leaving all of the comforts behind, you owe yourself a look at the Outlaw. This largest O'Day boat is spaciousness personified -- with an 8' long self-bailing cockpit and four roomy, very sleepable berths. There's a molded insulated ice box, teakwood exterior trim and plenty of other nice touches to remind you of home.
When you're racing -- or just in a hurry --you'll find Outlaw an extremely eager boat. Her hull was designed with far less wetted surface, following the trend to narrower keels to improve speed and maneuverability. She'll respond to the lightest breezes, and she handles admirably even under heavy weather conditions.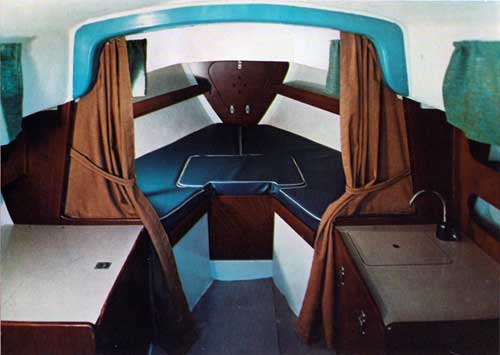 If live-aboard boating is the life for you, Outlaw's your kind of boat. And if racing is your cup of tea, Outlaw has a truly outstanding M.O.R.C. record.
The roomy, accommodating Outlaw makes you a 'round-the-clock sailor, offering all the versatility you'll need for racing, day sailing, and overnight cruising. This is a boat that can serve as a "home away from home" 24 hours a day—with four berths and plenty of room for galley, head and stowage.
The self-bailing cockpit has been designed around the fact that you spend 95% of your time there—and its deep 8' length is bigger than you'll find on many much larger boats.
For improved racing performance, this Rhodes-designed boat has a shorter keel—therefore, far less wetted surface—to assure faster response to light breezes and remarkably secure handling under heavy weather conditions.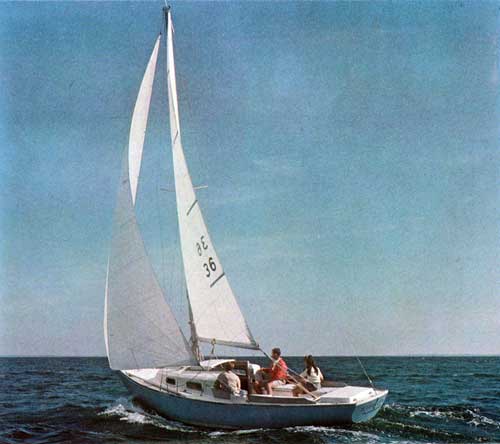 SPECIFICATIONS:
Length: 26';
Beam: 8'0";
Draft: 4'3";
Sail area: (working sails) 291 sq. ft.;
Auxiliary power: outboard in well;
C.C.A. rating approx.: 22.5;
M.O.R.C. rating approx.: 22.5.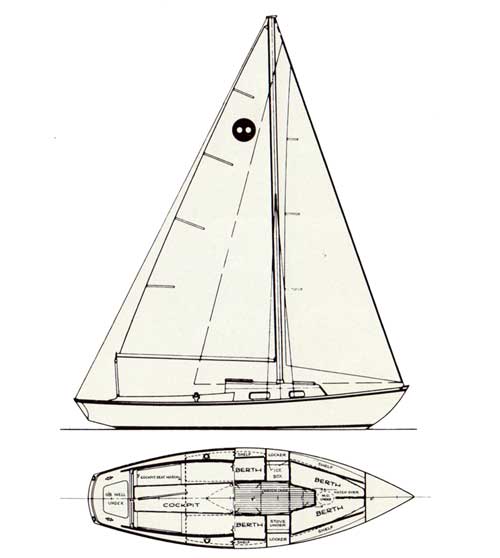 STANDARD FEATURES:
Outboard motor well
Outboard well plug
Wire halyards
Winch pads
Two top action jib and/or genoa winches
Hardware: chrome plated bronze, stainless steel or special marine alloy
Dacron running rigging
Self-bailing cockpit
Mast stepped on deck
Four berths
Anodized mast and boom
Bottom painted with anti-fouling paint
Exterior woodwork teak
Storage shelves above all berths
Full width mainsheet traveler
Cam action mainsheet cleat
Galley-Unit--formica top (less sink, tank and pump, but including locker and shelf)
Roller reefing
Stern flag socket
Cabin ports -- 4 -- fixed
Translucent hatches
Molded insulated ice box.
More Specifications | More Information on the Construction and O'Day Sailboats
GG Archives REF: BPODY-002-1967-C-CAT