O'Day Mariner Sailboat with Specifications and Standard Features (1967)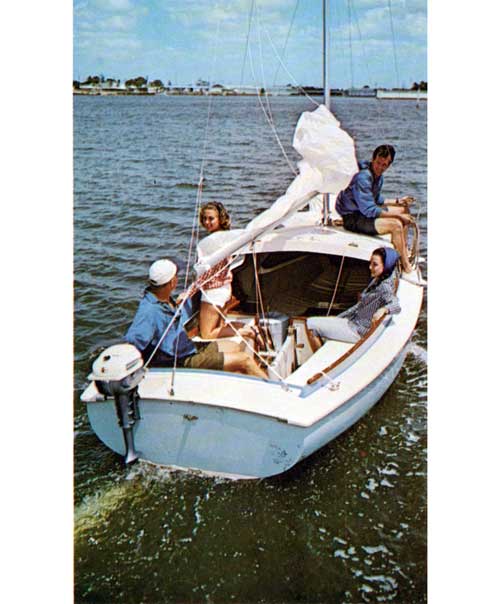 Mariner might be the roomiest 19-footer afloat … a happy combination of day sailer, racer and overnight cruiser.
The perfect balance between her proven hull design and seven-eighths sail plan provide maneuverability, speed and ease of handling seldom found in a boat that's comfortable for six by day and equipped to cruise four.
All lines and headsails are handled from the cockpit -- an advantage for the novice maneuvering in small areas. A simple boom tent converts the cockpit to sleep two, and there are two full-sized berths below.
Mariner is available with 415-lb. keel or centerboard with 200 lbs. of inside lead ballast. Both models are easily trailed; one person can launch her and step the mast.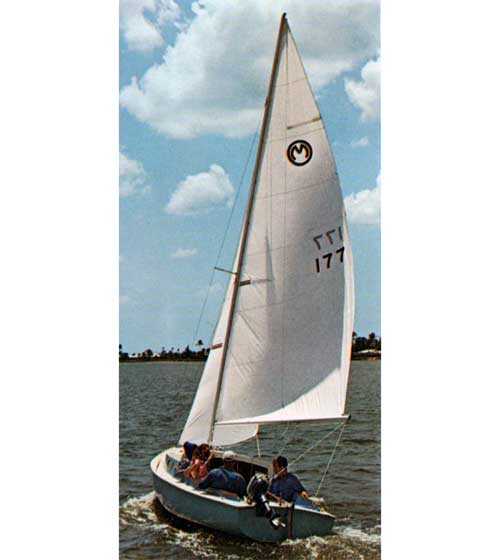 SPECIFICATIONS:
Length: 19' 2";
Beam: 7';
Draft: Centerboard model up 10"; down 4'11";
Keel model 3'3";
Sail area: 185 sq. ft.
STANDARD FEATURES: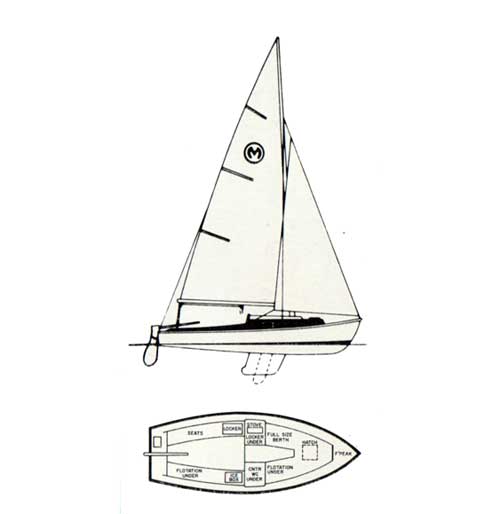 Outboard well
Positive foam flotation
Foam filled spars
Roller reefiing
Bow storage locker
Separate head enclosure
Separate galley counter w/storage
Molded-in insulated ice box
Removable canvas cabin enclosure (lockable)
Anodized aluminum spars
Mast stepped on deck
Wire halyards
Proven hull design
Forward ventilating hatch
Mast tabernacle
Full length berths
Storage in cockpit seats
Drain plug in cockpit
Bow eye (centerboard model)
Storage rack under rear deck
Translucent forward hatch for more cabin light
Formica galley and head tops
Cam action main and jib sheet cleats
Storage shelves over berths
Philippine mahogany floorboards in cocbpit
Vinyl gunwale guard
Adjustable jib sheet leads
2 year warranty.
More Specifications | More Information on the Construction and O'Day Sailboats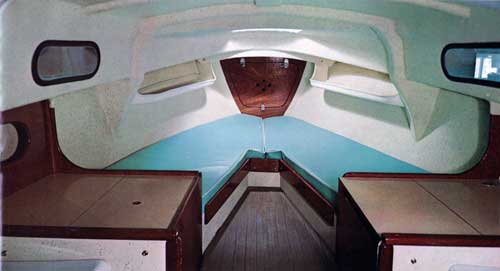 A vinyl cabin enclosure which can be shut off and locked is included as standard equipment.
GG Archives REF: BPODY-002-1967-C-CAT