O'Day Javelin Sailboat Sales Information and Specifications (1966)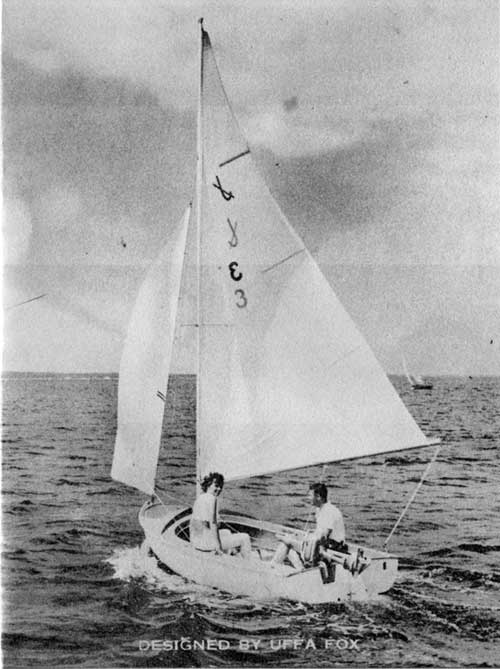 O'Day Javelin Designed by Uffa Fox
An exciting fourteen footer that will delight and please anyone with a flair for sailing a small boat.
Its unique design is truly a break from convention which puts special emphasis on stability, versatility, and roominess of cockpit.
Her generous beam (4' 6" at the waterline) is unusual for a 14' boat yet adds initial stability without harming performance.
The boat is so stable that a person can easily walk around without any fear. The cockpit is self bailing both at the mooring and underway and is roomy enough to hold 5 to 6 people.
Non-skid patterns are molded right into the cockpit floor and deck. Positive flotation (styrofoam) is placed between the cockpit floor and hull and gives safety buoyancy for both boat and crew.
SPECIFICATIONS:
Length: 14' Beam: 5' 8"
Draft: centerboard up 6"; down 3' 10"
Sail Area: 125 sq. ft. *Dacron Sails Rigged for Spinnaker
Weight Complete: Approx. 450 lbs.
Optional Propulsion: Rec. up to 5 hp 0/B motor
CONSTRUCTION:
Fiberglass hull and deck, alum. mast and boom with roller reefing, SS stays, self bailing cockpit, vinyl gunwale guards, boom crutch, styrofoam flotation, molded in colors, bright hardware, mahogany seats, pivoting fiberglass rudder, ash tiller, molded in waterline stripe, dacron lines.
Sales Information:
Length: 14'
Color of Hull: white
Deck Color Options: Light Blue, Turquoise, or Beige
Price List:
Complete Boat less Sails: $ 1,295.00
Dacron Main and Jib (Including Sail#): $ 175.00
Nylon Spinnaker: $ 115.00
Spinnaker Gear: $ 50.00
Cockpit Cover (Installed): $ 65.00
Boom Vang (Installed): $ 20.00
Tiller Extension (Installed): $ 10.00
Crating Charge (If Necessary): $ 50
Source: 1966 O'Day Fleet Catalog and Price List Flyer.
GG Archives REF: BPODY-001-1966-C-CAT