O'Day Sailboat Brochure - General Information (1967)
You've just witnessed, through the pages of this brochure, a peek at one of the finest sailboat lines in the world. Of course, we're the first to agree that even full-color photography can't simulate the excitement, the enjoyment, the carefree fun and thrills of day sailing, racing or cruising aboard an O'Day . . . and if capturing that feeling is important to you, your next step is to see your O'Day dealer. He'll go into greater detail—and take you for a demonstration sail.
When you take that test ride, there'll be certain things not immediately visible, things you might tend to overlook, constructional details that are a part of each boat and understandably don't show. So, allow us to point them out to you:
Quality in construction means safety, durability, dependability . . . insuring you many years of maintenance-free, enjoyable sailing, low depreciation, high resale value. Things you can't afford to overlook. Here's how it happens: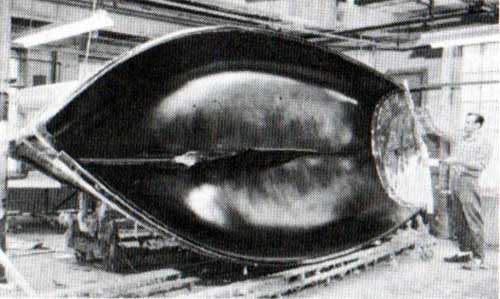 The sleek and shiny hull mold is the starting point for another O'Day sailboat. Skilled craftsmen place layers of tough, durable fiberglass and resin, by hand, inside the entire mold.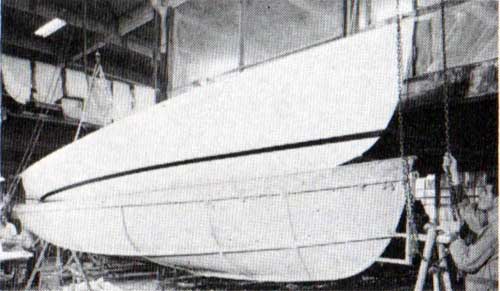 When dry, it's one strong piece, with no seams, or joints to leak. Decks, too, are molded in one piece from a separate mold. New hull and deck molds are made from a master as often as required — result, each class boat exactly the same.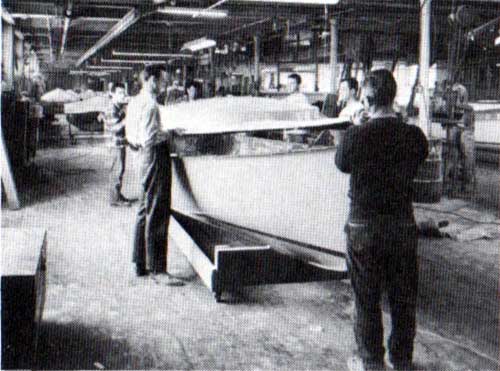 Deck complete, it's lifted in place to be carefully and securely fastened.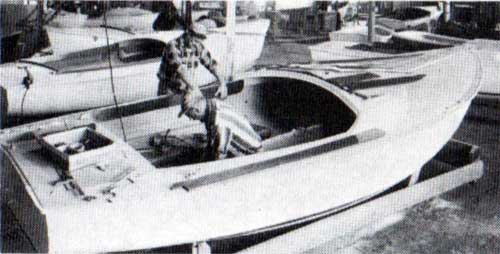 Now, experienced joiners carefully join wood coaming and other wood trim to give a rich, finished appearance to the boat. This O'Day characteristic adds little to the cost . . . a great deal to pride of ownership. Hardware, fittings and rub rail are added next. Soon the boat will be ready for you.
Weeks of careful craftsmanship have gone into this finished boat. Quality checks have been made at every stage of construction. Only the finest of materials have been used. This is what has earned O'Day boats their unsurpassed reputation.
There are other reasons why O'Day has the kind of satisfied customers and reputation that other boat-builders eye enviously. Some of them follow--just a few of many major features (there are, you understand, many more waiting to be shown at your nearest O'Day dealer) that you'll find built-in on every O'Day boat: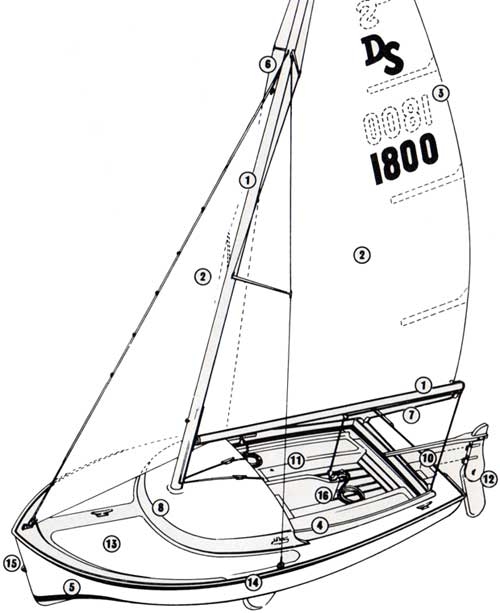 Anodized aluminum mast and boom — light, corrosion resistant, high strength, low maintenance.
Dacron sails — finest material, will not rot or mildew, light but strong, long wearing.
Model insignia and class numbers — provide positive identification for registration and racing.
Philippine mahogany trim —with finest joining work for that traditional rich, finished yachting look.
All hull colors molded in, including "boot-top" waterline stripe — no repainting required other than anti-fouling bottom paint.
Stainless steel standing rigging — will not rust or corrode, light but strong.
Dacron running rigging —soft, pliable but strong, easy on the hands, long wearing, will not rot.
Hull and deck of molded fiberglass — multi-layer construction for superior strength, light yet durable fiberglass means little seasonal maintenance.
Individually designed by leading naval architects — Philip L. Rhodes, Sparkman & Stevens, Uffa Fox, Bob Baker, Ian Proctor, names you can trust for efficient hull and balanced rig design.
Auxiliary outboard power on every model is a standard design feature, supplied as a reinforced transom, outboard well, or 0/B bracket.
Positive foam flotation built-in throughout on most models, will support boat, crew and normal gear.
Centerboard models — all equipped with "kick-up" rudder for easy beaching, launching and trailing.
Non-skid surfaces — on all models with large deck and seat area — assured safety through surer, better footing.
Heavy duty vinyl gunwale guards — make docking easier, prevents marring topsides through accidental bumps.
Built-in bow eye — on all centerboard models for easy-haulout on to trailers.
Drain plug — acts as a complete drain system for trailing and storage.
Impressive? There's a secret: the men who design and build O'Day boats are men who sail boats—and have for years.
When these men put their heads together, they won't take them apart without achieving the best possible result—a boat that'll outperform almost any other—day sailers that handle superbly, easily; racers that bring home trophies, cruisers so carefully planned that every overnight stay afloat is all fun, no inconvenience . . . or boats that do all of these things equally.
Further information on any boat may be obtained by seeing your nearest O'Day dealer or by writing The O'Day Company, Fall River, Mass. 02722.
O'DAY BOATS ARE ALSO BUILT IN CANADA, EUROPE, JAPAN AND AUSTRALIA
GG Archives REF: BPODY-002-1967-C-CAT