The O'Day Mariner 2-2 Sailboat and Cruising Boat (1973)
If you love to cruise, but hate being the last one home, then O'Day has a Gold Medal boat for you. With the proven hull design of the Rhodes 19 as the basis, O'Day has come up with a comfortable cruising boat that's fast and has named it... The Mariner.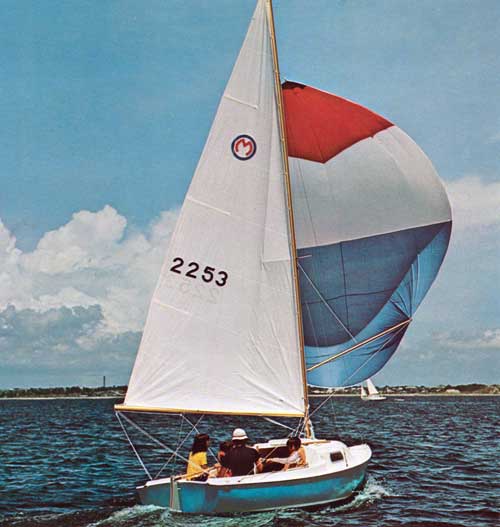 She's fast and able and the ladies like her comfort. Foremost in comfort is the 81/2' cockpit which easily seats six adults and has under seat stowage.
Below in the lockable cabin are full-size berths for four: Two forward and two quarter berths extending under the cockpit seats.
The galley area can be equipped with optional accessories...sink, water pump and tank unit, and offers space for stove and counter work.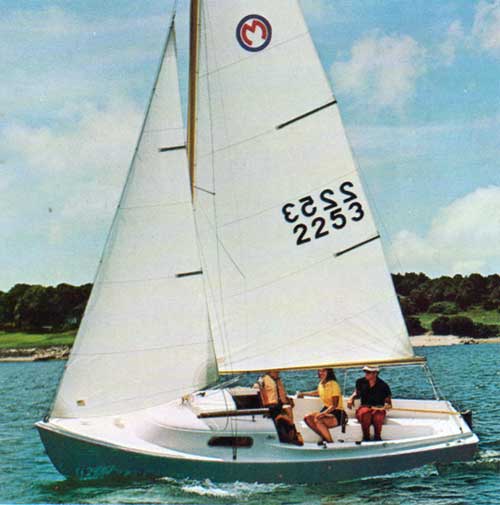 The Mariner 2 + 2 also comes with provisions for either a pump out or portable self-contained head.
The entire cabin area is well lighted with portlights. Stowage for small and large gear is ample.
With these comforts and the Mariner's performance, it's easy to see why more than 2,550 Mariners are in the water today.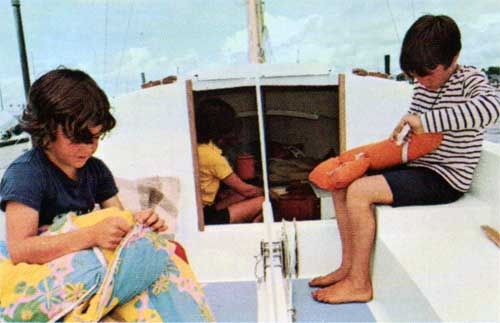 Sheets are easily tended without leaving the safety of the cockpit, and the halyards are cleated to the mast.
The centerboard is ideal for shoal-draft cruising and easy trailing, you'll find the rig is the same. Sails are flexible, however. You can order either a working jib or the larger genoa which gives improved performance on all points of sail.
Whichever way you choose, the Gold Medal Mariner's sails are small enough to be easily handled by members of your family. A spinnaker is an option you may want to consider, it makes downwind sailing more fun.
Length: 19'2"
Beam: 7'
Draft: Centerboard up 10"; down 4'11"
Sail area: 185 sq. ft.
Along with all of these other features, you will find positive foam flotation for safety, a vinyl guard strip running from bow to stern, and the Mariner exceeds MORC self-righting requirements when the centerboard is in the down position. And, the transom reinforced for secure mounting of a small outboard. No wonder Mariner owners get together to cruise and race as part of the National Association's activities. For class information, contact: Edward Rosenberg, Levittown, NY
STANDARD BOAT
$2595. Main & Jib $230.
The Standard Price
includes as STANDARD EQUIPMENT
$544. worth of features and equipment as follows: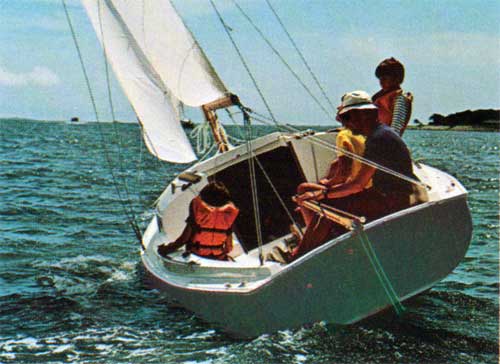 PLEASURE GROUP $190. Value
Built-in insulated ice box (45). Storage shelves (30). Tabernacle (mast hinge) (15). All hardware non-corrosive or stainless steel. 2 year warranty. Transom designed for outboard. Kick up rudder (55). Vinyl gunwale guard (351. Mooring and trailing bow eye (10).
ACCENT GROUP $122. Value
Molded in waterline stripe (201. Varnished Philippine mahogany trim (40). Gold anodized mast and boom (121. All colors molded in. Fiberglass - centerboard trunk cap (201. Two-tone cockpit color (20). Gold racing stripe (10).
SAFETY GROUP $125. Value
Positive foam flotation (40). Foam filled mast and boom (10). Roller reefing (12). Automatic cockpit drain 1251. Stainless steel rigging with swaged terminals (16). Thru bolted mooring and stern cleats (22). Self rescuing. Self bailing cockpit. Non-skid deck and seats.
HIGH PERFORMANCE GROUP $107. Value
Quick release cam cleats for main and jib sheets (40). Adjustable jib sheet leads (10). Stainless steel wire halyards with dacron tail (12). Stainless steel turnbuckles (45). Best dacron running rigging.
O'Day builds valuable necessary equipment into each boat as "standard"...for your safety and enjoyment. Compare O'Day's equipment and construction with any other boat for total value and quality.
Prices shown are Suggested Retail. F.O.B. factory.
Source: O'Day 1973 Catalog: O'Day GOld Medal Fleet, P. 8-9
GG Archives REF: BPODY-010-1972-C-CAT