The New 1971 O'Day Swift & Superswift Sailboats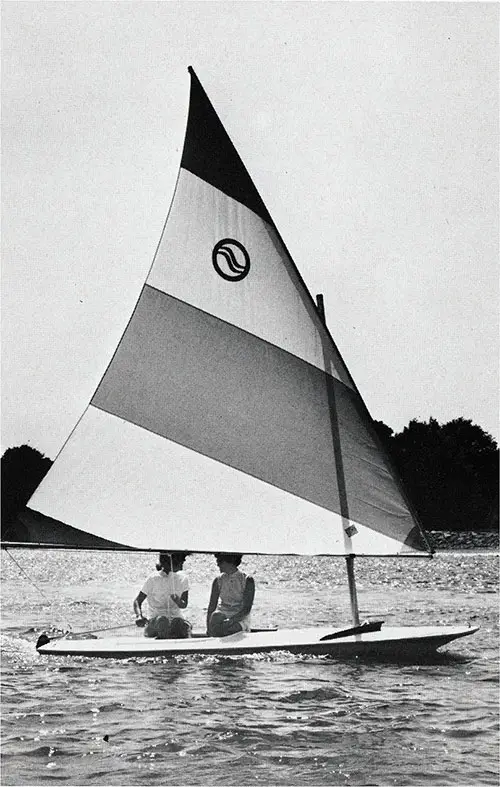 Learning to Sail is Fun on the New 1971 O'Day Super Swift Sailboat. GGA Image ID # 15d6a28fc0
The fun and thrills of sailing are available everywhere you go when you carry one of O'Day's sailboards on your car top or in your wagon. Lightweight, easy to load and launch, Swift and Super Swift combine all of the excitement of sailing with easy portability.
Every member of the family can enjoy O'Day sailboarding. You don't even need a lesson to make them go ... even first-timers learn the basics of sailing in just a few minutes. Both have kick-up rudders, so any beach is a potential launching and landing area.
The larger Super Swift can easily carry up to 500 lbs. of crew. The deep cockpit is self-bailing, and hiking straps are standard.
A colorful splash rail keeps waves and spray from the cockpit.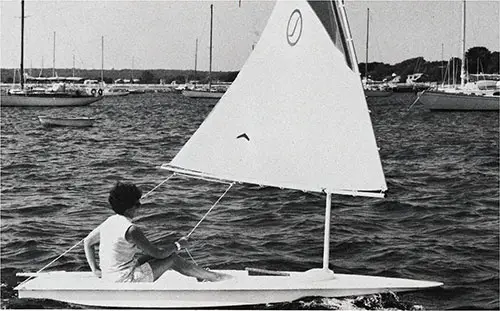 Perfect for Sailing Solo, the New 1971 O'Day Swift Sailboat Will Increase Your Pleasure in a Leisurely Afternoon. GGA Image ID # 15d6b59b6d
Swift, which is self-rescuing in seconds, like its larger sister, has a shallower cockpit, but also has a foam-packed hull for positive flotation. Hull drain plugs of noncorroding plastic are also standard.
Sails are of colorful synthetic fabrics, the same Nylon® and Dacron® used on larger O'Day's.
If you're ready to start sailing, or looking for a fun boat, you can't go wrong by starting here.
STANDARD EQUIPMENT
Kick-up rudder • Stainless steel fittings • Balanced lateen rigs • Anodized aluminum mast and boom • SAIL: Swift, nylon. Super Swift, Dacron (both red, white and blue) • All necessary lines and halyards, positive foam flotation • Molded fiberglass splash rail • 6-months warranty • SUPER SWIFT ONLY: self-bailing drain plug in cockpit • bow handle • hiking straps.

SWIFT SPECIFICATIONS
Length: 10' 4"
Beam: 3' 2"
Draft: Centerboard up 3" down 3' 2"
Sail area: 44 sq. ft.
SUPER SWIFT SPECIFICATIONS
Length: 12' 8"
Beam: 3'8"
Draft: Centerboard up 4" down 2' 10"
Sail area: 80 sq. ft.