O'Day 23 Sailboat: Fixed Top or Pop Top Racing and Family Cruising Models (1973)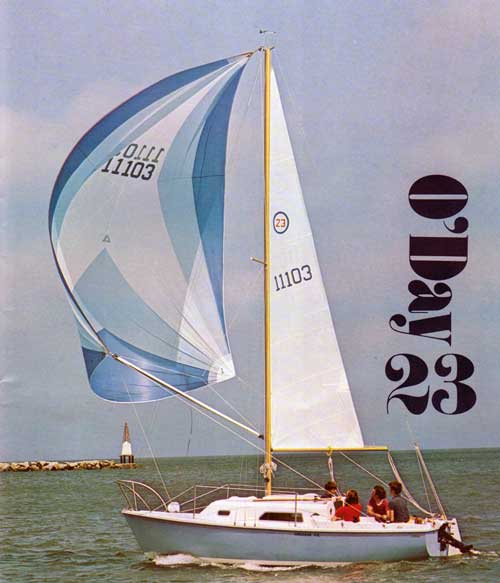 Gold Medal fleet twins… the O'Day 23 Fixed Top… and the O'Day 23 Pop Top… two racing and family cruising models in the O'Day tradition.
C. Raymond Hunt Associates designed the hull and rig, while Andrew T. Kostanecki, Inc. designed the accommodations and engineered the expanding 23 Pop Top cabin concept (design patent pending).
This team of specialists have designed a pair of 23 footers approaching the cruising comfort of many 30 footers… with the great sailing performance.
The Gold Medal Twins… the O'Day 23 Fixed Top and the O'Day 23 Pop Top.
The lockable cabin configuration on both models is just about the same with the emphasis on cruising comfort… berths for five adults… convertible dinette… a galley area… hanging locker… and head area for marine toilet or self-contained unit.
In the fixed top model there exists a full bulkhead with a sliding door to separate forward/head area from the main cabin. Secure stowage is provided beneath all bunks, the dinette and galley counter.
The cabin area is molded as a one-piece section extending from the bow to the cockpit. This adds strength to the hull and eliminates many seams and joints… making the 23's cabin easy to clean and maintain.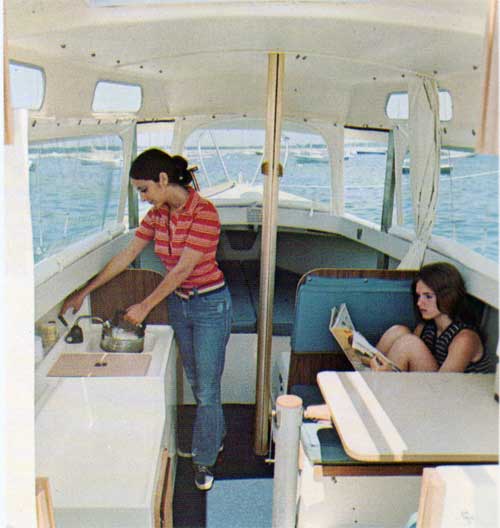 With the cabin top on the O'Day 23 Pop Top in the "down" position, headroom is 4'7". With a few turns of a single winch, the cabin top raises to yield 6'4" headroom and amazing comfort.
The lifting mechanism is adapted from the proven system built into thousands of camper trailers, and like the rest of the boat, is warranted for two full years.
With optional camper cabin curtain, the entire cabin area is screened, and with weather curtains zipped in place gives warm, dry protection from rain and dampness.
When the cabin is in the "down" position, a pressure-compacted gasket prevents leaks from finding a way in through the overlapping deck and cabin junctions.

Two years of use, under all conditions have proven this to be a problem-free answer to a dry, tight locking arrangement. Since the "23" can be transported on a car trailer, she can be lived aboard while on the road, too.
In the water and on the wind, the design work of Hunt Associates comes into play. Again, both models are identical in design.
The combination keel/centerboard gives excellent stability on all points of sail, while aiding windward performance with the board down, and reducing drag off-wind when it is raised.
The long narrow keel is 1,250 lbs. and makes both Gold Media! O'Day 23's self-righting. It effectively reduces sideslip so that you can sail close-hauled with the board up in shoal-draft cruising areas… a nice safety feature as well.
Her wide beam adds comfort below, while adding a shallow draft bottom for surfing performance downwind. Although not necessary, it can be removed for trailering.
In the deep cockpit, which easily seats six, and is self-bailing, you will find a large seat locker for stowing your outboard engine and sails.
A reinforced outboard motor mount is located on the transom. The cockpit floor, seat tops and deck areas are molded with a non-skid pattern.
The tall masthead rig affords generous sail area. When overlapping genoas are used, windward and reading performance is startling. With the addition of a spinnaker, the O'Day 23 becomes the boat to beat in cruising class races.
In her three seasons of racing, the O'Day 23 has beaten a host of larger, more racing-oriented competitors: both boat-for-boat and on corrected time. The Gold Medal O'Day 23 is truly a boat to beat.
Lenght: 23'
Beam: 7'11"
Draft: Centerboard up 2' down 5'5"
Sail area: 245 sq. ft.
STANDARD BOAT
$4195. Fixed Top | $4550 Pop Top
Main & Jib $325
The Standard Price
includes as STANDARD EQUIPMENT
$553. worth of features and equipment as follows: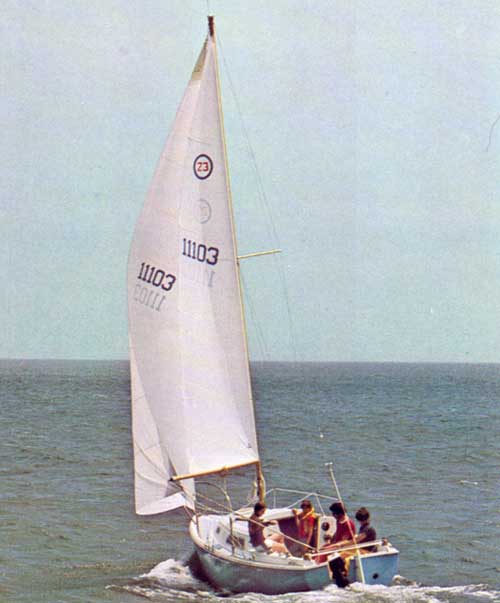 PLEASURE GROUP $195. Value
Storage locker (65). Dinette table (50). Galley door (25). All hardware non-corrosiveor stainless steel. 2 year warranty. Storage shelves. Vinyl gunwale guard (55).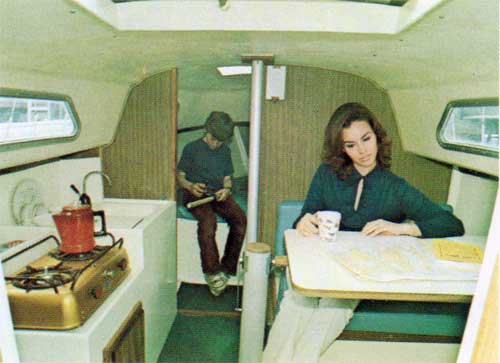 ACCENT GROUP $100. Value
Molded in waterline stripe (30). Gold anodized mast and boom (20). All colors molded in. Gold racing stripe (10) Two-tone deck color (20). Teak trim (20)
SAFETY GROUP $77. Value
Roller reefing (12). Stainless steel rigging with swaged terminals (25). Thru-bolted mooring and stern cleats (30). Self-righting. Self-bailing cockpit. Non-skid deck. Cockpit drain plug (10).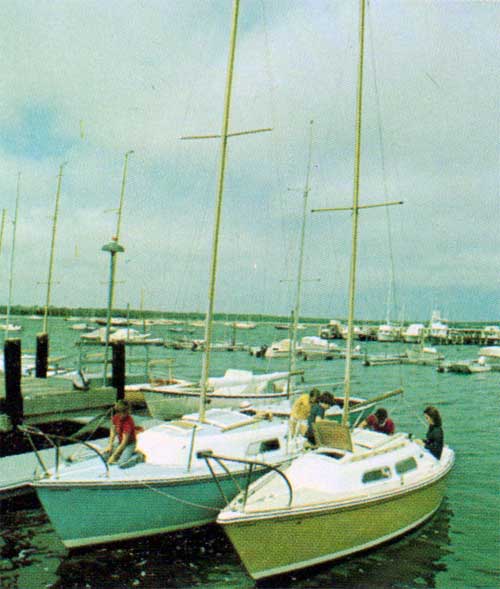 HIGH PERFORMANCE GROUP $93. Value
Stainless steel wire halyard with dacron tail (18). Stainless steel turnbuckles (75). Best dacron running rigging.
O'Day builds valuable necessary equipment into each boat as "standard"… for your safety and enjoyment. Compare O'Day's equipment and construction with any other boat for total value and quality.
Prices shown are Suggested Retail. F.O.B. Factory
Source: O'Day 1973 Catalog: O'Day GOld Medal Fleet, P. 1-3
GGA REF: BPODY-010-1972-C-CAT