The New 1971 O'Day Day Sailer Sailboat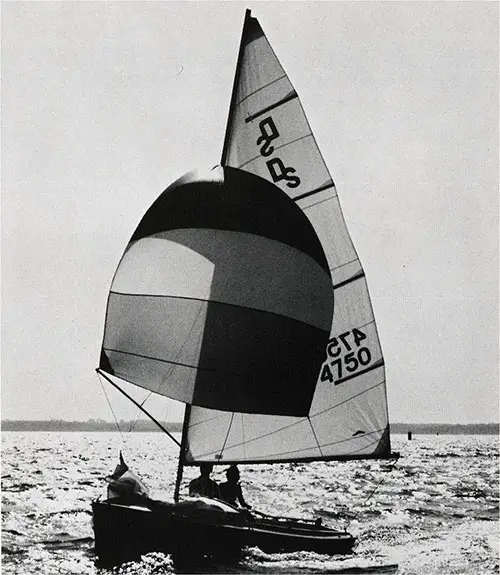 A Beautiful Day for Sailing on Your New 1971 O'Day Day Sailer Sailboat. GGA Image ID # 15dd9ae177
The most popular sailboat in the country for the past ten years has been made even better for 1971. Several important safety features have been added, making the new Day Sailer an even better boat than she was before, without changing her weight or performance a bit.
The entire cockpit area of the Day Sailer is now self-bailing. Heavy spray, rain or other water is literally pulled out of the boat by a suction-bailing system.
Deck and cockpit are designed to keep buoyancy high, and make the boat self- rescuing. Positive foam flotation is located at gunwale level.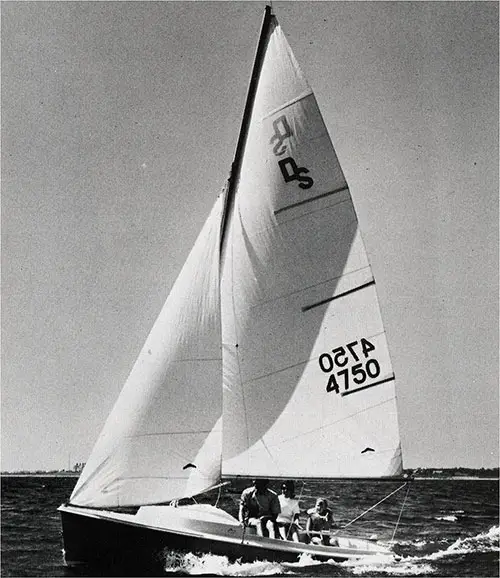 Relaxing with Friends on Sailing Day on a New 1971 O'Day Day Sailer Sailboat. GGA Image ID # 15ddd840a8
The seats in the cockpit are contour molded for comfort, and have a non-skid pattern for sure footing even when wet. Under the forward seat on the port side is a generous insulated ice box. The deck or "sole" of the cockpit is a contrasting color to the standard light grey deck.
Special provisions have been made on the cockpit sole for secure placement of a fuel tank if you use an outboard motor. The transom is reinforced to accommodate an engine up to 7 h.p.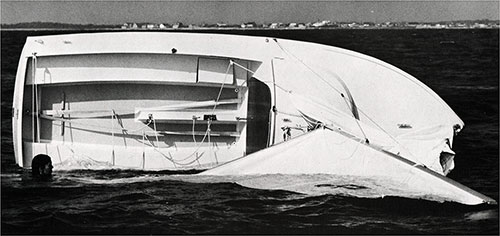 The New 1971 O'Day Day Sailer Sailboat is Perfect for Learning How to Sail. GGA Image ID # 15ddf88666
Forward of the cockpit is the cuddy cabin area. With the inclusion of the self-bailing and self-rescuing features, this area has been restyled, and now can be fully enclosed and locked. As on the earlier model, the cuddy provides adequate room for two to "camp out" overnight.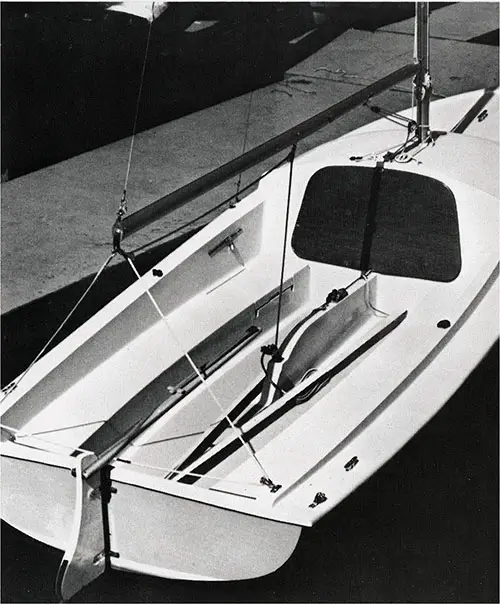 A Close-Up View of the New 1971 O'Day Daysailer Sailboat. GGA Image ID # 15de095b6f
Sailing characteristics of this improved Day Sailer remain virtually unchanged from earlier boats. The hull is identical, and the rig is unchanged. The overall weight, center of gravity or balance, and lateral resistance have not changed, so your new Day Sailer will be welcome competition for the older boats in your area.
All sheets and halyards are easily handled from inside the cockpit. Cam-action cleats are standard for all sheets, and jib-sheet leads are adjustable. The rig is easily managed by two people, even with the optional spinnaker except under more severe conditions. Then, the standard roller reefing is appreciated.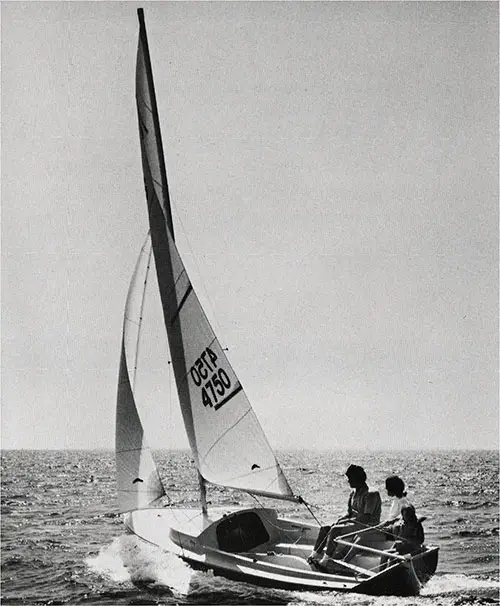 Experience Pays Off with Smooth Sailing on a New 1971 O'Day Daysailer Sailboat. GGA Image ID # 15de3e7eba
Day Sailers now number over 5,000 with one of the largest and most active class associations in North America. In all, over 70 fleets actively meet and compete for regional and National Championships. Family cruises are scheduled in many areas.
Day Sailer. It has always been the best buy for family sailing. Now, it's even better.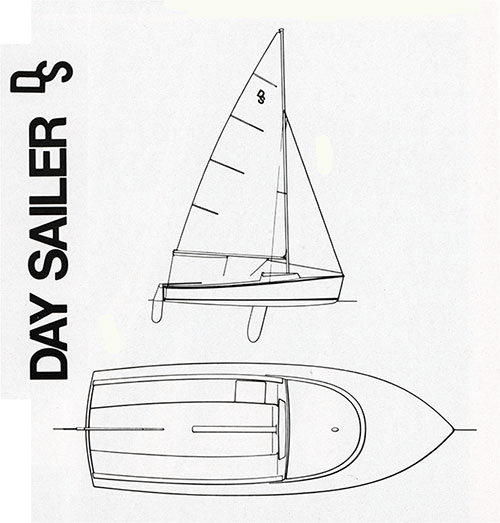 Basic Schematics for the New 1971 O'Day Day Sailer Sailboat. GGA Image ID # 15de8cb214
DAY SAILER SPECIFICATIONS
Length: 16'9"
Beam: 6'3"
Draft: Centerboard up 7" down 3' 9"
Sail area: 145 sq. ft.
STANDARD FEATURES
Roller reefing • Cam action main and jib sheet cleats • Anodized aluminum spars • Wire halyards • Foam filled spars • Bow eye • Boom crutch • Kick-up rudder and centerboard • Adjustable Jib sheet leads • Fully enclosed fiberglass centerboard trunk • Two-tone cockpit • Two cockpit inspection/bailing ports • Molded fiberglass seats • Insulated Ice box • Self-balling cockpit • Self-rescuing • Reinforced transom for outboard mounting • Lockable stowage forward • Positive foam flotation • 2-year warranty.