The New 1971 O'Day Javelin Sailboat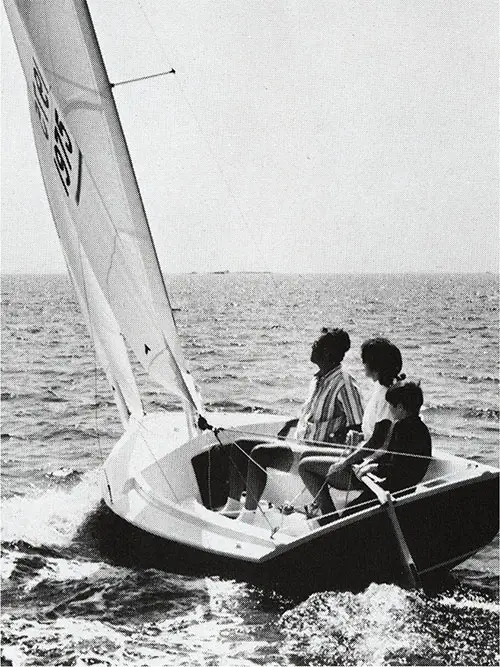 Easy Sailing for a Family of Three on a New 1971 O'Day Javelin Sailboat. GGA Image ID # 15dfe32708
Sailing for the entire family demands room in the cockpit, stowage and safety plus an easily handled rig. Javelin has all of this and more. She's a center-boarder that can be sailed right up to the beach, and easily trailered and launched by two people.
The cockpit is nearly 10' long, with contoured seats molded the full length. Up to eight can be carried comfortably. The cockpit is also self-bailing, a new feature for 1971.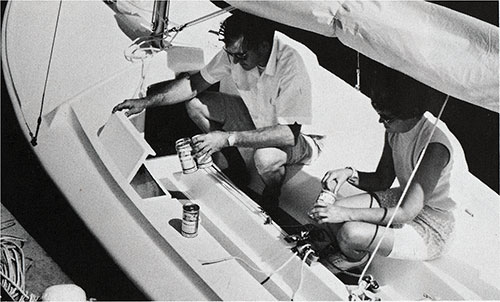 A Couple Enjoys Some Relaxing Moments on Their New 1971 O'Day Javelin Sailboat. GGA Image ID # 15dfff61c8
Beneath the foredeck, behind a locking hatch, is ample dry storage for sails, lunch and gear, and an insulated ice box is built into the cockpit seat as standard equipment. The cockpit floor has a non-skid surface molded in, and is a contrasting color.
The outboard-mounted rudder is easily removed for trailering and "kicks up" for beaching. The centerboard trunk is molded into the cockpit, and has both raising and lowering pennants.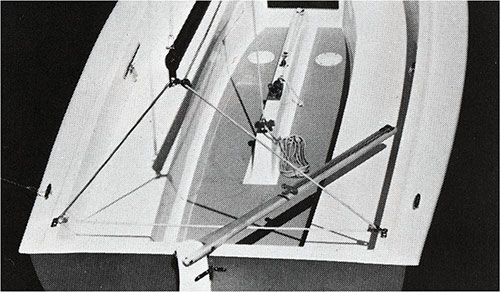 Close-Up View of the Hull from the Aft of a New 1971 O'Day Javelin Sailboat. GGA Image ID # 15e018402a
Positive foam flotation is secured between hull and cockpit sections. High buoyancy makes Javelin self-rescuing, another new feature for 1971.
Javelin's sails are easily handled from the cockpit. The mainsheet is led to the middle of the cockpit. Jibsheets are on adjustable leads. Cleats are cam action.
She sails well in light airs, and will plane downwind in moderate winds. Optional spinnaker gear is available. An added feature: Javelin's transom is reinforced for solid mounting of an outboard motor up to 7 h.p. Under sail it can easily be tilted up and out of the way.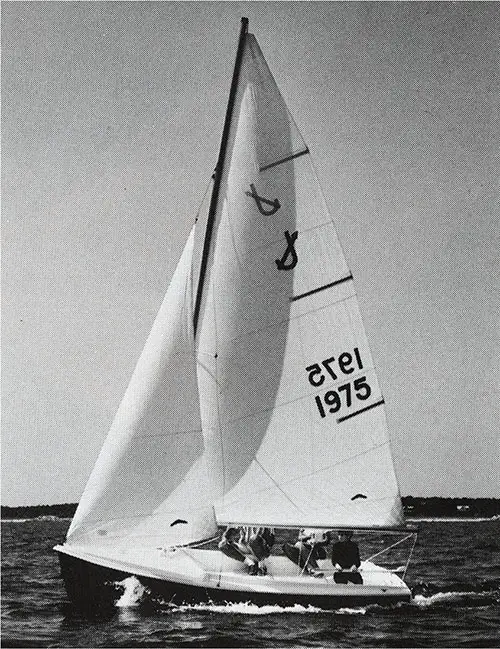 A Small Group of Friends Sailing Away on a New 1971 O'Day Javelin Sailboat. GGA Image ID # 15e03c3fe4
Over 2,000 Javelins have been built, and are actively sailed in fresh and salt water.
A National Class organization is being formed this year.
JAVELIN SPECIFICATIONS
Length: 14'
Beam: 5' 8"
Draft: Centerboard up 6" down 3'10"
Sail area: 125 sq. ft.
STANDARD FEATURES
Positive foam flotation • Foam filled spars • Anodized aluminum spars • Cam action main and jib cleats • Roller reefing • Combination paddle and boom crutch • Kick-up rudder and centerboard • Adjustable jib sheet leads • Bow eye • Wire Jib halyard • Fully enclosed fiberglass centerboard trunk • Two-tone cockpit • Two cockpit inspection/bailing ports • Molded fiberglass seats • Insulated ice box • Self-bailing cockpit • Self- rescuing • Reinforced transom for outboard mounting • Lockable stowage forward • 2-year warranty.