National Geographic Magazine - April 1939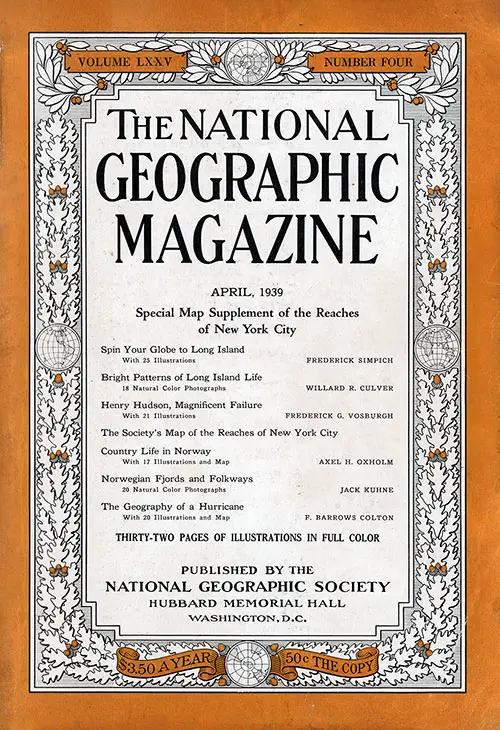 Front Cover, The National Geographic Magazine, Volume LXXV, Number Four, April 1939. GGA Image ID # 1a01f9a7a5
The April 1939 issue of the National Geographic features Long Island, New York, and Country Life in Norway, including the Fjords and Folkways with their trademark of superb photography and illustrations.
Contents
Special Map Supplement of the Reaches of New York City
Spin Your Globe to Long Island by Frederick Simpich with 25 Illustrations
Only Six States Have More People than the Insular Empire that Ranges from a Wolrd's Fair Through Potato Patches, Princely Estates, and Historic Shrines. With Illustrations from Photographs by Willard R. Culver
Bright Patterns of Long Island Life by Willard R. Culver with 18 Natural Color Photographs
Henry Hudson, Magnificent Failure by Frederick G. Vosburgh with 21 Illustrations
Just 330 Years Ago He and His Mutinous Crew Found Manhattan Covered with "Goodly Oakes" and Fought Indians in New York Harbor.
Country Life in Norway by Axel H. Oxholm with 17 Illustrations and Map
The Beneficent Gulf Stream Enables One-Third of the People in a Far-north, Mountainous Land to Prosper on Farms.
Norwegian Fjords and Folkways by Jack Kurne with 20 Natural Color Photographs
The Geography of a Hurricane by F. Barrows Colton with 20 Illustrations and Map
A Doughnut-shaped Storm Turned Back Time in New England to Candlelight Days, but Revealed Anew Yankee Courage and Ingenuity.
Thirty-Two Pages of Illustrations in Full Color
List of Advertisers (Partial)
Bell & Howell - Filmo 8 Color Movies
See Washington State - Heart of the Evergreen Empire (Full Color)
Canadian National - Jasper (Full Color)
Metropolitan Life Insurance Company
Eastman Kodak - Kodachrome Film (Full Color)
Drive Oregon Highways (Full Color)
RCA Victrola - The World's Greatest Instrumentalists are on Victor Records
Rock of Ages Memorials
The Hammond Organ Company
German Railroads Information Office - Germany For Perfect Pleasure And Sparkling Sport
Hamburg America Line - North German Lloyd - Hapag Lloyd Trans-Atlantic Commuters
Eastman Kodak - Popular Priced 35 mm. Miniatures - Kodak 35
U. S. Lines - Atlantic Passage
Bell System - Big in Value... Little in Cost
1939-04 The National Geographic Magazine, Vol. LXXV, No. 4, Paginated 413-552.