Ship & Steamship Line Resources on the Web
The Great Ocean Liners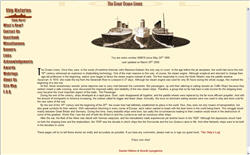 The Great Ocean Liners' specialty is Ship Histories and they cover a lot of them from the 1830s through the 1960s. Here you'll find all the great steamships and ocean liners including the Oceanic, Britannic, Normandie, City of New York, City of Paris, Teutonic, Majestic, Kaiser Wilhelm der Gorsse, Carpathia, Laurentic, Titanic, Aquitania and many more. This is an excellent resource to supplement your family history with information about the immigrant ship that your ancestors arrived on.
The Ocean Liner Virtual Museum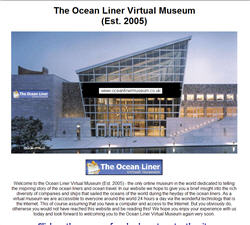 The Ocean Liner Virtual Museum (Est. 2005) is promoted as the only online museum in the world dedicated to telling the inspiring story of the ocean liners and ocean travel. This UK based webiste is a compiliation of historical information researched from many sources. Concentrations include the Cunard Line, Shipping Line History, Ocean Liners, P&O Ships, RMS Britannia 1840, Caronia, Carmania, Lusitania, Mauretania, Aquitania, The Saxonia Sisters, and the Cunard Queens (Queen Mary, Queen Elizabeth, Queen Victoria).
The Unofficial Holland America Line Home Page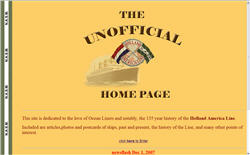 In December of 2007, this wonderful resourceful site was incorporated into its present site on HALPostcards.com/unofficial/. The current site combines two extensive websites - the other being the Holland America Line Postcard Collector's Website. This incredible combined resource offers researchers of the Holland America Line and extenisve amount of information and links to other worthwhile websites of related information. An excellent place to start your research for relatives and family members who left the old world from ports in the Netherlands.