Ordering High-Resolution Digital Images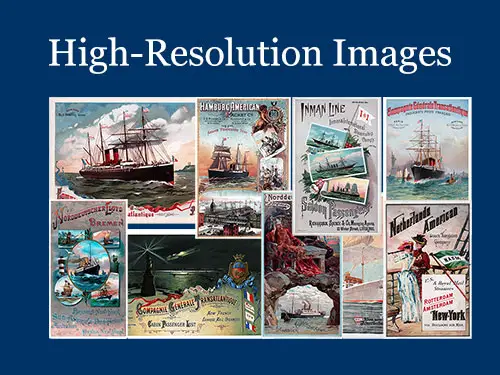 The original document(s) or individual image(s) may be available for purchase. Purchase options include Research, Presentation or Newsletter, Website or Social Media, Magazine or Book, Marketing Package, or Television. Payment through PayPal only. Major Credit Cards are accepted. Note: Individual Purchasers are limited to low-resolution images.
Send us your request to [email protected] with the URL of the page you found the image on ggarchives.com and GG Image ID # [10 alpha-numeric characters].
Price of Images
Usage Fees (are in addition to the base price of the image).
Presentation or Newsletters (corporate only) $15.00
Use in a presentation/discussion (e.g. Powerpoint and Keynote) or in a newsletter.
Corporate Website $50.00
Use in a single website, app, social media posting, or blog (excludes advertising), worldwide.
Magazines and Books $65
Use in a single magazine or book (print and/or digital), inside use, 2,500 circulation, worldwide (excludes advertising).
Magazine or Book Cover $100
Use in a single magazine or book cover (print and/or digitial), cover use, worldwide (excludes advertising).
Marketing Package $150
Use in a single marketing campaign, worldwide (excludes advertising). This package is for a marketing campaign for promoting a business.
Base Price of Images Based on DPI and Size
Royalty-Free License, For any permitted use, 10-Year Time Limit.
Small $65.00
72 dpi, any size image
Medium $175.00
300 dpi, maximum length or width 3000 px
Large $275.00
300 dpi, length or width greater than 3000 px
Extra Large $375
600 dpi, any size image
Very High Resolution $500.00
1200 dpi (Special Order, Limited to High Quality Master Images)
Other Services
Appraisal - Estimate of Worth - Although the Gjenvick-Gjønvik Archives focuses on documents dating from the 1880s through the 1940s produced by the various steamship companies, we are not appraisers. Accurate appraisals can be made by direct examination of the document. We recommend that you contact a local expert.
Try searching for "American Society of Appraisers" or "Antiques Roadshow" and look for a list of appraisers they use.
Credit Lines for Image Usage
Use of images from the Gjenvick-Gjønvik Archives must include the following credit line text with each use: "Courtesy of the Gjenvick-Gjønvik Archives.".