Publications Available from the GG Archives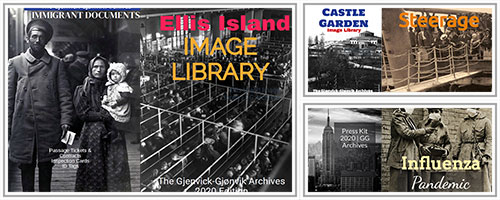 Logos, Business Cards, Gift-In-Kind Contribution Form, Press Kit, and Publications of the Gjenvick-Gjønvik Archives Available for Downloading.
Note: PDF files require the free Adobe Reader.
Administrative PDFs and Logo
Administrative downloads and publications include official GG Archives logo, business cards of selected staff members, Gift-in-kind Contribution Form, Press Kit, and a Media/Advertising Kit.
Topical Publications [PDFs]
Our Topical Publications cover Immigrant Documents and Documentation, the Influenza Pandemic of 1918-1919, Researching Immigration through Primary and Other Sources, Ocean Liner & Travel Brochures, Ocean Liner Breakfast Menus, and Revisiting the RMS Titanic.
Topical Image Library Publications [PDFs]
Suppose you're struggling to find an image to help illustrate your family history book. In that case, our Topical Image Library Publications are likely to make your job a lot easier. Each of our publications provides sourcing information. If low-resolution images work for you, it's easy to right-click and save to the image to your computer, directly from our publication.
Legacy Publications
Our Legacy Publications are books we previously published and are now releasing in PDF format, available at no cost. You can also check our Tenth Aniversary Website publication, a veritable time-capsule of web development ten years ago.
Other Publications
Other Publications by the GG Archives include a sample newsletter (Sign up for our Mailing List to Recieve our Quarterly Newsletter). We also have an Academic paper written in 2012 that featured the Gjenvick-Gjønvik Archives, most interesting to those involved with web analytics.