Passenger Lists Available on the Web
There are relatively few websites that offer free access to passenger lists or passenger manifests. The vast majority of the high-ranking websites on search engines that focus on "passenger lists" are simply links to other websites or utilize/hook up to a paid subscription service like Ancestry as their "database" of passenger lists.
Below we list websites that have actual passenger lists viewable by the public. Omitted from this list are sites that have not transcribed/digitized the passenger lists or sites that require a paid subscription.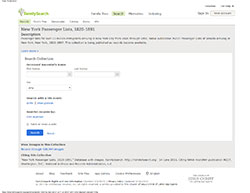 Family Search New York Passenger Lists, 1820-1891
Passenger lists for over 13 million immigrants arriving in New York City from 1820 through 1891. NARA publication M237: Passenger Lists of Vessels Arriving at New York, New York, 1820-1897. This collection is being published as records become available.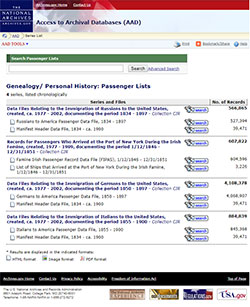 National Archives Passenger Arrival Lists
Aug 18, 2017 - Immigration records, also known as "passenger arrival records," can provide genealogical information including: a person's nationality, place of birth. ship name and date of entry to the United States. age, height, eye and hair color.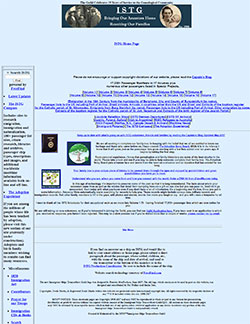 Immigrant Ships Transcribers Guild
17,000+ Passenger Manifests in 17 Volumes plus ... Passenger lists to the US including Port of Arrival, Brazil arrivals, Arrivals in countries other than the US and ...
Passenger Lists transcribed from over 17,000 passenger manifests; Maritime newspaper articles, adoption resources, immigrant resources and more. Dedicated to helping you conect with your past, the site offers and incredible amound of information for researchers and family genealogist. So extensive, you'll want to spend a few evenings getting aquainted with all that they offer.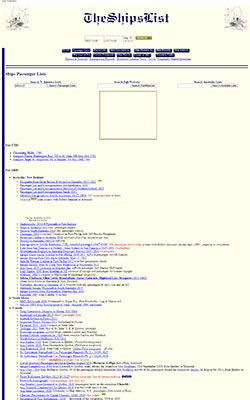 The Ships List Transcribed Passenger List
Offers access to hundreds of passenger lists to Canada, USA, Australia and even some for South Africa. Awkward navigation and dated website makes this site a little harder to use, and get use to than most.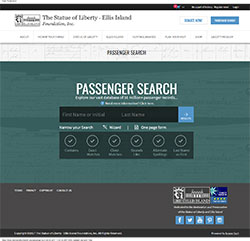 The Statue of Liberty - Ellis Island Foundation, Inc.
Search for your relative's arrival in our database of 51 million+ passenger records ... Ellis Island National Museum of Immigration. Discover your own family's ...You can keep copies of your searches and the passenger records, manifests, and ship images by saving them in Your Profile, which you can open by registering on Ellis Island or here on this website. And you can purchase copies of these documents online or at the Family History Center on Ellis Island.

The GG Archives is unique in its niche. They provide free access to transcribed souvenir passengers lists intended to augment your family history with often colorful passenger list covers. Many of the twentieth-century lists also included information for passengers, a glimpse into what many passengers for a particular class would have encountered during the voyage. The site offers many other related documents such as passage contracts, onboard music, theatrical and sports programs, immigrant documents (vaccination certificates, landing cards, ID cards), and other related items. This provides a unique view for family historians not found in any passenger manifest.
Why So Few Actual Passenger Lists Are Online
Cost is the main factor. It is expensive to curate and transcribe passenger lists. The primary documents used for create these lists are the passenger manifest required by immigration officials. The other major reason is it is very profitable selling subscriptions to Ancestry and similar sites that have transcribed government passenger manifests.
Tips on Using Subscription Services for Finding Passenger Lists
Many local libraries and the branches of the National Archives offer free access to Ancestry and other paid sites for research.
Some State Archives and Local History Centers also offer free access to one or more paid subscription services.