The Delineator Magazine - June 1896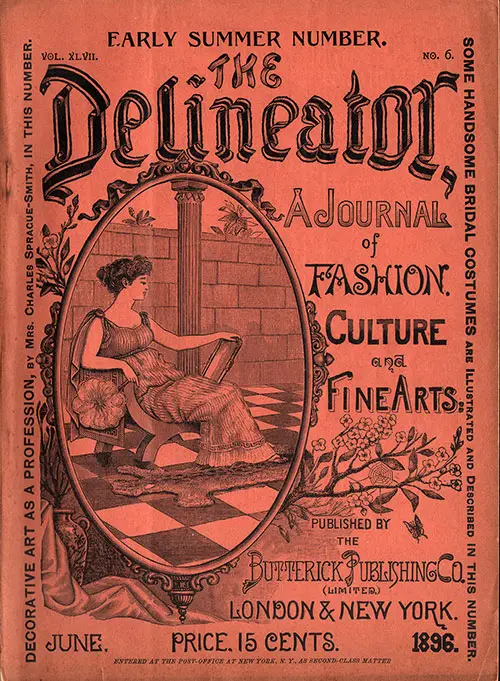 Front Cover, The Delineator Magazine, Butterick Publishing Company, Ltd., Vol. XLVII, No. 6, June 1896. GGA Image ID # 19fad2b331
The June 1896 issue of The Delineator magazine featured sheet music by Renwar Borscy, Wedding Customs and Costumes, an expanded Ladies' Fashions section, Surf Bathing, and Its Attire, and more.
THE DELINEATOR is Issued Monthly and covers the Field of Fashion. Women's Work and Recreation. Each Issue contains over One Hundred and Fifty Pages of Interesting Reading on the Fashions. Fancy-Work (including remarkable articles on Lace-Making, Knitting. Crocheting, Tatting, etc.).
Household Management, The Toilet, The Garden, etc., etc., and has, in addition, each month Articles by distinguished Writers on the Topics of the Time, Women's and Children's Education, Women's Handcrafts and Occupations, Suggestions for Seasonable Entertainments and a Variety of Other Matter Instructive and Helpful to oil Women.
THE DELINEATOR is the Cheapest and Best Woman's Magazine published.
Contents
Do You Remember, Love? (Sheet Music) by Renwar Borscy
Wedding Customs and Costumes
House Furnishing and Decoration
Hats and Bonnets
Ladies' Fashions (Illustrations and Descriptions.)
Styles for Misses and Girls (Illustrations and Descriptions.)
Styles for Little Folks (Illustrations and Descriptions.)
Styles for Boys (Illustrations and Descriptions.)
Illustrated Miscellany
Surf Bathing and Its Attire
Fancy Stitches and Embroideries by Emma Haywood
Fashionable Dress Goods
Fashionable Garnitures
Summer Millinery
Colonial Dames of America by Carolyn Halsted
Talks on Beauty No. 1. — The Skin by F. J, Leviseur, M.D.
Ecclesiastical Embroidery No. 3 By Emma Haywood
Domestic Sanitation No. 2 By A. Buchanan
Crocheting (Illustrated.)
Knitting (Illustrated.)
Interior Decoration No 2 by Frances Leeds
Seasonable Cookery by Blair
Novelties in Sleeves, Neckwear, Etc.
The Care of the Teeth. Third Paper
Lace Making (Illustrated.)
Around the Tea-Table by Edna S. Witherspoon
Summer Travel by Mary Cadwalader Jones
Decorative Art (Professions) By Isabelle Dwight Sprague-Smith
The Newest Books
Answers to Correspondents