The Titanic Disaster - 2011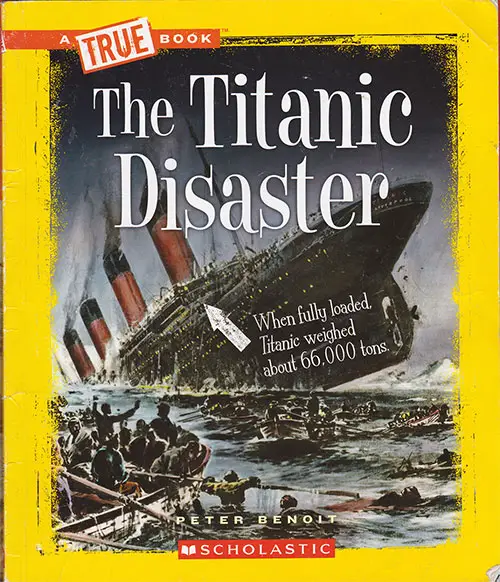 Front Cover, The Titanic Disaster - A True Book from Scholastic © 1911. GGA Image ID # 10d225b0e6
Table of Contents
Luxury Liner
What kind of luxuries did the Titanic passengers enjoy?
The Voyage
How did the ship's crew keep watch for icebergs?
The Collision
How did passengers react when the ship hit the iceberg?
The Big Truth: RMS Titanic, Crown Jewel of the White Star Line
What did the White Star Line do to grab attention?
Some People Played Cards to Pass the Time on the Titanic.
Women and Children First
Why did most of the lifeboats leave when they still had room for more people?
Mystery Ship
What ship is believed to have ignored the Titanic's alert flares?
The Rescue
What ship rescued the survivors of the Titanic?
Finding the Titanic
What explorer led the expedition that discovered the Titanic wreck?
Other Statistics and References
True Statistics‭
Resources‭
Important Words‭
Index ‭
About the Author‭
From the Back Cover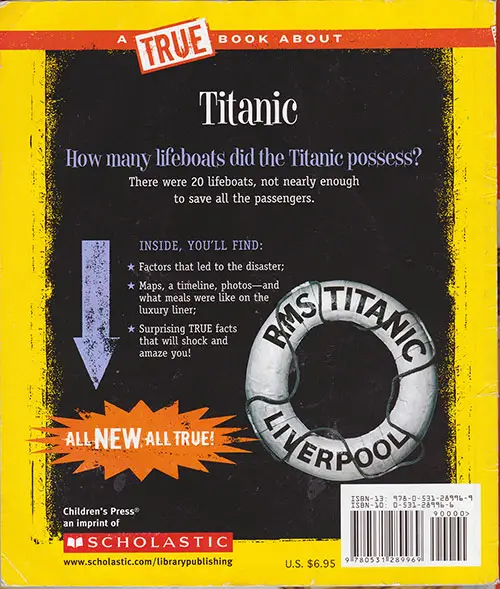 Back Cover, The Titanic Disaster - A True Book from Scholastic © 1911. GGA Image ID # 10d225b12d
How many lifeboats did the Titanic possess?
There were 20 lifeboats, not nearly enough to save all the passengers.
INSIDE, YOU'LL FIND:
Factors that led to the disaster;
Maps, a timeline, photos—and what meals were like on the a luxury liner;
Surprising TRUE facts that will shock and amaze you!
RMS Titanic Liverpool
Southampton, on England's south coast, was the White Star Line's new port for its New York service and was the first port of departure for Titanic's maiden voyage. The port of registry for the Titanic was Liverpool, where the Headquarters of the White Star Line was located. Although the Titanic never actually visited Liverpool, the city nonetheless counted as being her home port.
Library of Congress Catalog Listing
Main title: The Titanic disaster / Peter Benoit.
Published/Created: New York : Children's Press, 2011.
Description: 48 p. : ill. (some col.) ; 22 cm.
ISBN-13: 9780531289969
ISBN-10: 0531289966
Summary: Describes the ill-fated maiden voyage of the Titanic, a luxury liner claimed to be "unsinkable" that was destroyed after colliding with an iceberg, killing over one thousand passengers onboard.
Contents: Luxury liner : what kind of luxuries did Titanic passengers enjoy? -- The voyage : how did the ship's crew keep watch for icebergs? -- The collision : how did passengers react when the ship hit the iceberg? -- The big truth : R.M.S. Titanic, crown jewel of the White Star Line : what did the White Star Line do to grab attention? -- Women and children first : why did most of the lifeboats leave when they still had room for more people? -- The mystery ship : what ship is believed to have ignored the Titanic's alert flares? -- The rescue : what ship rescued the survivors of the Titanic? -- Finding the Titanic : what explorer led the expedition that discovered the Titanic wreck?
LC Subjects
Titanic (Steamship)--Juvenile literature.
Titanic (Steamship)
Shipwrecks--North Atlantic Ocean--History--20th century--Juvenile literature.
Shipwrecks--North Atlantic Ocean--History--20th century.
Notes: Includes bibliographical references (p. 44-45) and index.
Series: A true book
LCCN: 2010045932
Dewey class no.: 910.9163/4
Geographic area code: ln-----
Type of material: Book