The Last Days of the Titanic - 1997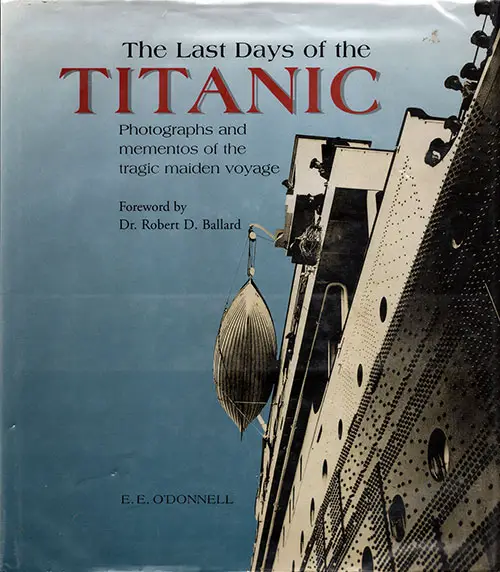 Front Cover: The Last Days of the Titanic: Photograph and Mementos of the Tragic Maiden Voyage - 1997. GGA Image ID # 1022bec599
The Last Days of the Titanic takes in the full sweep of the liners celebrated departure from England and Ireland, from boarding the Titanic Special rail car at Waterloo Station, to port activity at Queenstown, and ultimately to final photographs of the ship as it disappeared from view off the coast of Ireland.
From the Inside Flaps
ISBN 1-57098-201-5
$24.95
THE LAST DAYS OF THE TITANIC Photographs and Mementos of the Tragic Maiden Voyage E. E. O'Donnell,
Foreword by Robert D. Ballard
In the same year (1985) that oceanographer Robert D. Ballard discovered the wreck of the White Star liner Titanic at a depth of over 12,000 feet in the North Atlantic, a cache of 42,000 photographs—among them, remarkable images and mementos of the Titanic's ill fated voyage—was uncovered in a Dublin basement by Irish Jesuit archivist E.E. O'Donnell.
All the product of a single photographer, Francis ("Father") Browne, this collection is considered one of the most important photographic archives in Ireland, and contains the sole visual chronicle of the Titanic's passage from Southampton to Ireland (where Father Browne fortuitously disembarked), and thence to its doom at the bottom of the Atlantic.
A photo essay by Browne, titled "The Day a Liner Sailed," chronicles the bustling life of an Irish seaport, and includes snapshots of illegal traders, packets transferring passengers, mail bound for America being loaded into holds, and authorized Irish vendors selling their wares aboard ship.
Father Browne's own " Titanic Album," assembled as a commemorative gesture in 1920, portrays crew and passengers at work and play, and contains such rare interior shots as a typical state room, the dining room, gymnasium, and a "reading and writing room."
Hauntingly, che book also features the last photograph ever taken of Captain Smith, looking ominously down at Lifeboat Number two as a tender delivered passengers at Queenstown.
Unique mementos, such as Titanic brochures, menus, and floorplans are further supplemented by ephemera from the Olympic, the Titanic's sister ship and near duplicate.
By way of conclusion, The Last Days of the Titanic chronicles the evolution of the tragedy as it was reported in Ireland and England, from the first desperate telegrams to scenes of Queenstown in mourning, flags at half-mast over deserted quays.
About the Author
E. E. O'Donnell holds a doctorate in Communications from the University of Southern California. He is passionately committed to the preservation of the Francis Browne Collection, from which he has produced nine previous books, among them the bestselling Father Browne's Ireland and Father Browne's England.
Oceanographer ROBERT D. BALLARD led the expedition that discovered the wreck of the Titanic in 1985; his bestselling book about the discovery has sold over 300,000 copies worldwide.
Table of Contents
Letter from the THS: Edward S. Kamuda, President
Foreword: Dr. Robert D. Ballard
Acknowledgments
Introduction: E. E. O'Donnell
On the Day a Liner Sailed: a Photo Essay
Chapter 1: Before Sailing
Chapter 2: The Titanic Album Facsimiles
Chapter 3: The Titanic Photographs
With assistance in captioning from Donald Lynch and Ken Marschall
Chapter 4: Supplementary Pictures
Photographs of the Titanic and the Olympic
Chapter 5: At Sea on the Titanic
By F. M. Browne
Chapter 6: The Titanic at Queenstown
Chapter 7: After the Tragedy
Chapter 8: In Later Years
Chapter 9: In Memoriam
A Poem by F. M. Browne
Chronology
Index
Publishing Information
Publisher: Roberts Rinehart Pub
Published: November 1, 1997
ISBN-10: 1570982015
ISBN-13: 978-1570982019
Dimensions: 11.5 x 0.8 x 11.8 inches