All Stations! Distress! - The Day the Titanic Sank - 2008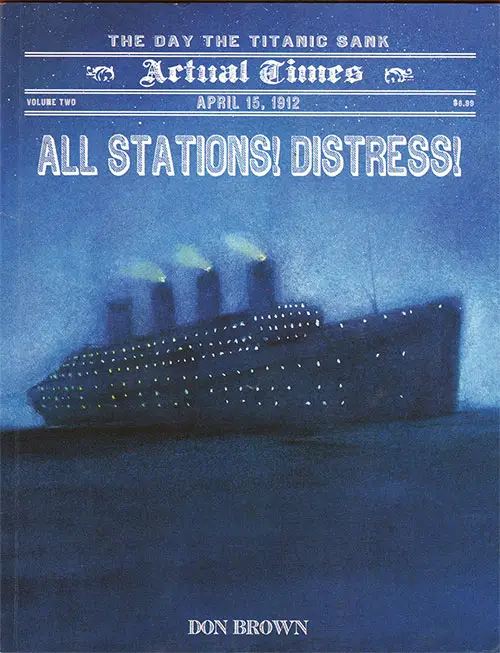 Front Cover, All Stations! Distress! - The Day the Titanic Sank. © 2008. GGA Image ID # 10d1d01d61
Five days into her maiden voyage, with 2,200 people on board, the "unsinkable" Titanic struck an iceberg.
From the Publisher
THE "UNSINKABLE" MEETS THE UNTHINKABLE -- A gripping acount of the ill-fated maiden voyage of the Titanic. It took 4,000 men to build it, 23 tons of animal grease to slide it into the ocean, 100,000 people to wave bon voyage, but only one wrong move to tear the Titanic apart, sinking it into the pages of history.
On a cold moonless night in April of 1912, 2,000 passengers--both the uber-rich enjoying a luxury cruise and the dirt-poor hoping to find a new life in America--struggled to survive.
Only 700 suceeded. Lifeboats were launched half-full; women were forced to leave their husbands and sons behind; and even those who made it out alive were forever haunted, constantly wondering "why me?"
Told through captivating prose and chilling first-hand accounts, Don Brown take the pieces of the broken Titanic and gives it such a vivid shape that you'd swear you've never heard the story before.
From the Back Cover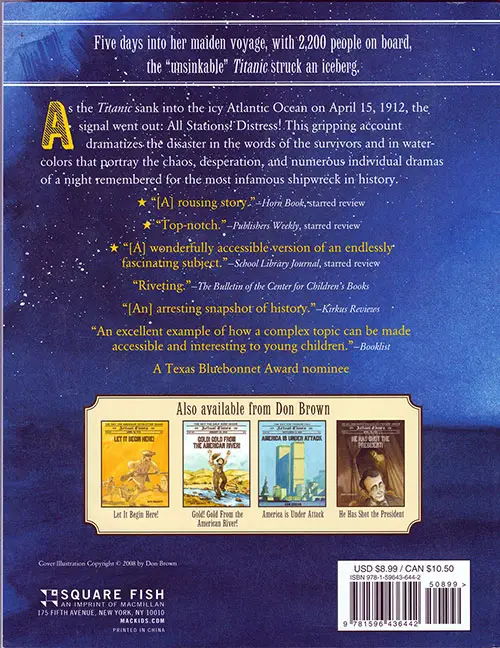 Back Cover, All Stations! Distress! - The Day the Titanic Sank. © 2008. GGA Image ID # 10d1fe47fc
As the Titanic sank into the icy Atlantic Ocean on April 15, 1912, the signal went out: All Stations! Distress! This gripping account dramatizes-thë disaster in the words of the survivors and in water-colors that portray the chaos, desperation, arid numerous individual dramas of a night remembered for the most infamous shipwreck in history.
About the Author
Don Brown is the author and illustrator of many highly praised picture-book biographies and histories for children. His subjects have included the 1899 New York newsboys* strike, the movie pioneer Mack Sennett, and the scientist Albert Einstein. His Actual Times series covers significant days in history such as the battles of Lexington and Concord, and the sinking of the Titanic. He is also the author of two historical novels for older readers. Don Brown lives with his family on Long Island, New York.
Library of Congress Catalog Listing
Main title: All stations! distress! : April 15, 1912, the day the Titanic sank / Don Brown.
Edition: 1st ed.
Published/Created: New York : Flash Point/Roaring Brook Press, 2008.
Description: [60] p. : col. ill. ; 24 cm.
ISBN-13: 9781596432222
ISBN-10: 1596432225
LC classification: G530.T6 B756 2008
Summary: Provides the captivating story of this amazing vessel, the people who built it, and its tragic demise during its maiden voyage across the Atlantic as told through first-hand accounts and detailed illustrations of the events as they happened.
LC Subjects
Titanic (Steamship)--Juvenile literature.
Titanic (Steamship)
Shipwrecks--North Atlantic Ocean--Juvenile literature.
Shipwrecks--North Atlantic Ocean.
Notes: Includes bibliographical references.
LCCN: 2008008934
Dewey class no.: 910.9163/4
Geographic area code: ln-----
Type of material: Book