A Night To Remember - Final Hours of the Titanic - 2005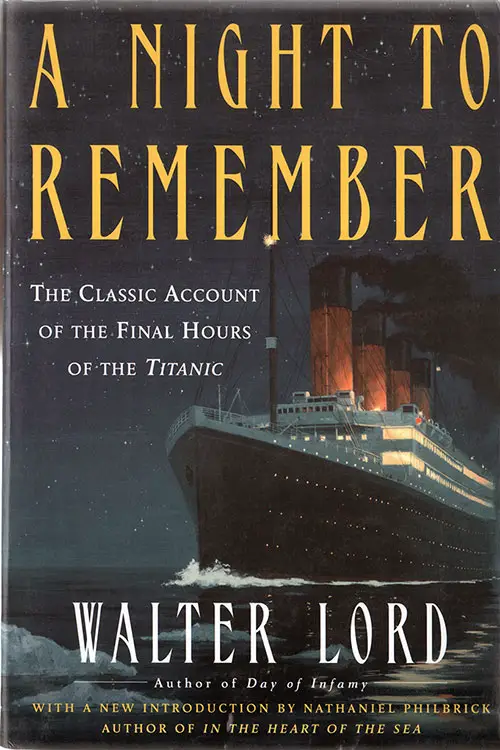 Front Cover, A Night To Remember: The Classic Account of the Final Hours of the Titanic by Walter Lord © 1955/1983/2005. GGA Image ID # 10d29254a2
Excerpt from Introduction to the Fiftieth-Anniversary Edition
Amazing as it may seem today, even though the Titanic had sunk forty-three years before, A Night to Remember was the first significant book about the disaster. Despite the passage of all those years, there were still more than sixty Titanic survivors left alive for Lord to interview. But Lord had much more going for him than good timing and groundbreaking research. He was, in many ways, the perfect author for this book.
As a boy, he had enjoyed a transatlantic cruise on the Titanic's sistership, Olympia, during which he had fantasized about what it must have been like aboard the doomed liner. The Titanic remained a lifelong obsession, and, after a stint in the military during World War II, he worked as a copy editor at a New York ad agency while writing A Night to Remember.
Table of Contents
Introduction to the Fiftieth-Anniversary Edition Foreword
"Another Belfast Trip"
"There's Talk of an Iceberg, Ma'am"
"God Himself Could Not Sink This Ship"
"You Go and I'll Stay a While"
"I Believe She's Gone, Hardy"
"That's die Way of It at This Kind of Time"
"There Is Your Beautiful Nightdress Gone"
"It Reminds Me of a Bloomin' Picnic"
"We're Going Nordi Like Hell"
"Go Away—We Have Just Seen Our Husbands Drown"
Facts About the Titanic
Acknowledgments
Passenger List
From the Back Cover
Back Cover, A Night To Remember: The Classic Account of the Final Hours of the Titanic by Walter Lord © 1955/1983/2005. GGA Image ID # 10d2b33535
First published in 1955, A Night to Remember remains the definitive, classic tale of the sinking of the Titanic. Walter Lord interviewed more than sixty survivors before committing their searingly vivid recollections to his minute-by-minute account of the Titanic's fatal collision and the experiences of both passengers and crew under pressure of the unthinkable: the swift plummet into icy waters of the ship promised never to sink.
With a new introduction by Nathaniel Philbrick, bestselling author of In the Heart of the Sea and Sea of Glory, this fiftieth-anniversary edition of Walter Lord's classic brings the drama of that night back to life.
As Philbrick concludes in his introduction: "Prom first to last, A Night to Remember is about the people who briefly inhabited the Titanic, and never again will ah author have the opportunity to speak to so many of them. In this most essential way. Lord's book can never be outdone, making A Night to Remember the ultimate survivors' tale."
Library of Congress Catalog Listing
Personal name: Lord, Walter, 1917-2002.
Main title: A night to remember / Walter Lord.
Edition: Rev. illustrated ed.
Published/Created: New York : Holt, Rinehart and Winston, 1976.
Description: 232 p. : ill. ; 26 cm.
ISBN: 0030150760 (1976 Edition)
ISBN-13: 9780805077643
ISBN-10: 0805077642
LC classification: G530.T6 L6 1976
LC Subjects: Titanic (Steamship); Shipwrecks--North Atlantic Ocean
Notes: Includes index.
LCCN: 75005462
Dewey class no.: 910/.09/1631
Type of material: Book