US Naval Fleet in the Great War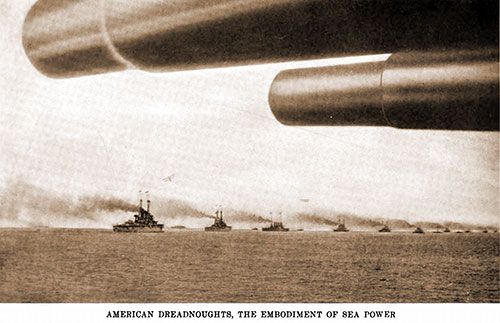 American Dreadnoghts, The Embodiment of Sea Power. Our Navy at War, 1922. GGA Image ID # 180af232ef
The Fleet: 338 US Vessels, 75,000 Men, in European Service
Every destroyer that could be spared was sent across the Atlantic; work was rushed on those under construction—orders had been given early in the war for all American shipyards could build—and the new ones were dispatched as rapidly as they were completed. Converted yachts, patrol' vessels, submarine chasers, and other types that could be utilized were sent over.
By January 1, 1918, there were 113 United States naval vessels across, and in October 1918, the total had reached 338 ships of all classes. At the time hostilities ended, there were 5,000 officers and mow enlisted men of the United States Navy serving in Europe, this total being greater than the Navy's full strength when the United States entered the war.
Some indication of the work done by our naval vessels in the war zone can be gained from the following averages of miles steamed per month:
Destroyers: 275,000 Miles
Miscellaneous Patrol Craft: 120,000 Miles
Minesweepers: 10,000 Miles
Mine Layers: 120,000 Miles
Battleships and Submarines: 90,000 Miles
Submarine Chasers: 121,000 Miles
Total: 626,000 Miles
These figures include vessels actively engaged in naval duties only, under the command of Admiral Sims, and do not include troopships, transports, cargo carriers, or miscellaneous merchant vessels flying the American flag, constantly plying through the war zone; nor do they include cruisers or battleships engaged in oversea escort duties.
Patrol and Convoy Work of U. S. Vessels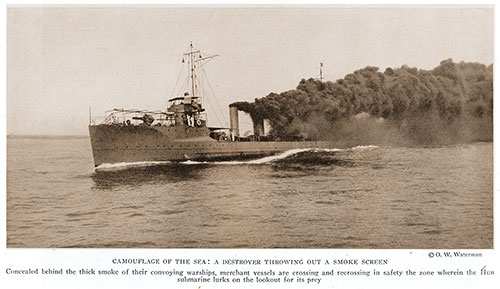 Camouflage of the Sea: A Destroyer Throwing Out a Smoke Screen Concealed behind the Thick Smoke of Their Convoying Warships, Merchant Vessels Are Crossing and Re-Crossing in Safety the Zone Wherein the German Submarine Lurks on the Lookout for Its Prey. Photograph © O. W. Waterman. The National Geographic Magazine, April 1918. GGA Image ID # 180af9e229
In six months, the sum total of distances steamed by one squadron of destroyers amounted to more than a million sea-miles. In their first year of service, the Porter steamed 64,473 miles, the Conyngham, 63,952, and the Davis, 63,015. One of the new destroyers, the Kimberly, in one month steamed 7,019 miles and was at sea 470 hours; that is, 65 percent of the time.
At the height of our activity, during July and August 1918, 3,444,012 tons of shipping were escorted to and from France by American escort vessels operating from French ports; of the above amount, 1,577,735 tons were escorted, in and 1,864,677 tons were escorted out of French ports.
Of the tonnage escorted into French ports during this time, only 16,988 tons, or 0.009 percent, were lost through enemy action, and of the tonnage escorted out from French ports, only 27,858 tons, or 0.013 percent, were lost through the same cause.
During the same two months, 259,604 American troops were escorted to France by United States escort vessels without the loss of a single man through enemy action.
During the same period, destroyers based on British ports supplied 75 percent of the escorts for 318 ships, totaling 2,752,908 tons, and including the escort of vessels carrying 137,283 United States troops; with no losses due to enemy action.
The destroyers on this duty were at sea an average of 67 percent of the time and were underway for a period of about 16,000 hours, steaming approximately an aggregate of 260,000 miles.
The American force based on Gibraltar, including destroyers, gunboats, cruisers, yachts, and Coast Guard cutters during July and August 1918, was at sea 56 percent. of the time, and actually underway 15,500 hours, steaming during this period 160,000 miles.
They have supplied approximately 25 percent of the escorts for Mediterranean convoys between Gibraltar on the one hand and France and Italy on the other and performed 70 percent of the ocean escort duties between Gibraltar and England.
The above figures were given by Secretary Daniels, in his annual report for 1918, as indicative of what was accomplished month by month by our vessels in the war zone.
2,000,000 Troops Transported across Atlantic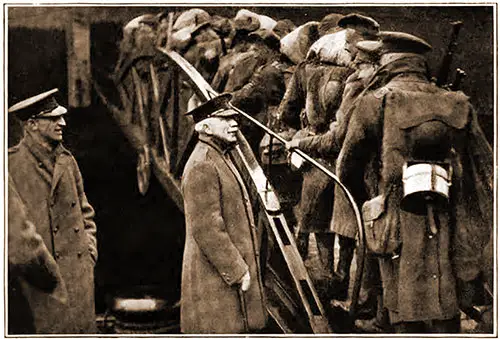 Embarkation of Troops Onto Transports. A Merchant Fleet at War, 1920. GGA Image ID # 180b54f91e
The conveyance of more than 2,000,000 American troops 3,000 miles overseas to France has been called "the biggest transportation job in history." That it was performed without 'the loss of a single American troopship on the way to France was marvelous, in view of the fact that our ships faced the constant menace of attack by submarines and were exposed to all the hazards of war-time navigation.
When it was decided, soon after this country entered the war, to send over, as soon as possible, all the American troops available, this task was entrusted to the Navy. Vessels that could be used were quickly converted into transports, a force was organized under Rear Admiral (now Vice Admiral) Albert Gleaves, and the first convoy of American troops sailed from New York in dense fog on June 14, 1917.
First Convoy of American Troops
Admiral Gleaves, on his flagship, the cruiser Seattle, was in command. The transports were in four groups, as follows:
Group I (Transport / Escort /Type)
Saratoga / Seattle / Armored Cruiser
Havana / De Kalb / Auxiliary Cruiser
Tenadores / Corsair / Converted Yacht
Pastores / Wilkes / Destroyer
Pastores / Terry / Destroyer
Pastores / Roe / Destroyer
Group II (Transport / Escort /Type)
Momus / Birmingham / Scout Cruiser
Antilles / Aphrodite/ Converted Yacht
Lenape/ Fanning / Destroyer
Lenape/ Burrows / Destroyer
Lenape/ Lamson / Destroyer
Group III (Transport / Escort /Type)
Mallory / Charleston / Cruiser
Finland / Cyclops / Converted Yacht
San Jacinto / Allen / Destroyer
San Jacinto / McCall / Destroyer
San Jacinto / Preston / Destroyer
Group IV (Transport / Escort /Type)
Montanan / St. Louis / Cruiser
Dakotan / Hancock / Cruiser Transport
El Occidente / Shaw / Destroyer
D. N. Luckenbach / Amen / Destroyer
D. N. Luckenbach / Flusser / Destroyer
The groups sailed six hours apart. The vessels were arranged according to speed to assure each group the safety of the best speed and lessen the chances of a collision.
Admiral Gleaves, Commander-in-Chief; was in personal command of the first group; Captain D. W. Blamer, of the Seattle, was Chief of Staff; Lieutenant A. L. Bristol, Flag Secretary; Lieutenant F. M. Perkins, Force Engineer; Lieutenant F. H. Roberts, Force Torpedo and Gunnery Officer; Lieutenant T. A. Symington, Flag Lieutenant; Lieutenant C. N. Ingraham, Flag Radio Officer.
The second group was commanded by Commander Hussey; the third by Commander Campbell; the fourth by Captain Pollock. Major General Sibert, on the Tenadores, was in command of the troops. 
It was known that submarines were operating in the area that had to be crossed; specific instructions were issued to each group and vessel, especially as to what to do in case of attack, and a general "doctrine of conduct" was evolved. Target practice and "abandon ship" drills were held daily, water-tight doors were kept closed, and every possible precaution was taken.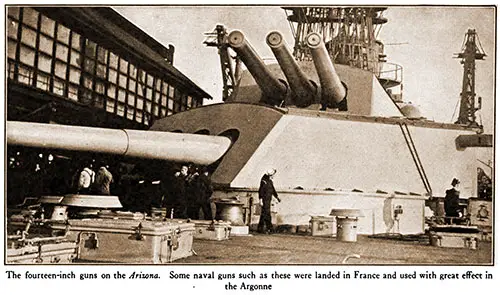 The 14-Inch Guns on the USS Arizona. Some Naval Guns Such as These Were Landed in France and Used with Great Effect in the Argonne. The United States in the Great War, 1919. GGA Image ID # 180c102d07
Two Groups Attacked by Submarines
At 10 o'clock on the night of June 22, the first group was attacked by submarines, the wake of a U-boat being sighted fifty yards off the Seattle port bow. A few seconds later, the De Kalb and the Havana sighted torpedoes and fired. 
Two torpedoes passed close to the Havana, one ahead and the other astern of the De Kalb, but neither ship was struck.
The second group sighted a submarine at 11:50 A. M. on June 26, a hundred miles off the French coast, and another two hours later. The destroyer Cummings, which had zigzagged ahead of the group for days, dashed down the wake of the submarine and dropped a depth-bomb over the indicated position of the U-boat.
Patches of oil and pieces of wreckage rose' to the surface, and nothing more was seen of the submersible. On June 28, about 10:05 A. M., a submarine appeared to be sighted from the fourth group and was fired upon by the Kanawha.
The French Admiralty, in a confidential official bulletin, reported that the submarine which bombarded Ponta Delgada, Azores, on July 4, apparently was the same which sank a merchant vessel on June 25, four hundred miles north of the Azores and on June 29 sank two other vessels a hundred miles from the islands, and the French bulletin added: "This submarine was ordered to watch in the vicinity of the Azores at such a distance as it was supposed the enemy American convoy would pass from the Azores."
The first group of transports arrived at St. Nazaire on June 26; the second, June 27; the third, June 28; the fourth, July and. On July 3, Secretary Daniels announced that all the troops of the first contingent had arrived safely.
Large Cruiser and Transport Fleet Built-Up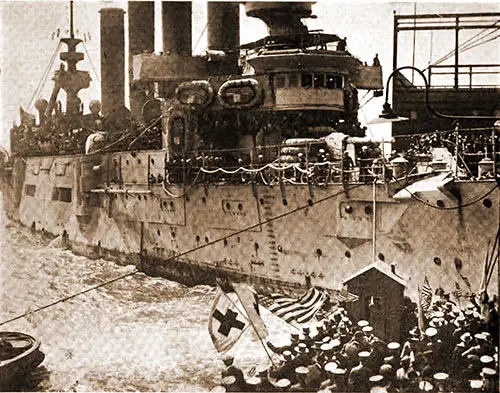 The US Cruiser Charleston Arriving at Hoboken Returning Troops from Europe. History of the Transport Service, 1921. GGA Image ID # 180c1130fd
From this comparatively small beginning, the Cruiser and Transport Force was developed into a large fleet of 24 cruisers and 42 transports, manned by 3,000 officers and 41,000 men. These were augmented by four French men-of-war and 13 foreign merchant vessels, a total of 83 ships.
The largest of the German interned vessels were repaired and fitted out as transports, as follows:
Old Name / New Name / Gross Tonnage
Grosser Kuerfurst / Aeolus / 13,102
Kaiser Wilhelm II / Agamemnon / 19,361
George Washington / George Washington / 25,569
Friedrich der Grosse / Huron / 10,771
Vaterland / Leviathan / 69,000
Koenig Wilhelm / Madawaska / 9,410
Barbarossa / Mercury / 10,984
Princess Irene / Pocahontas / 10,893
Hamburg / Powhatan / 10,531
President Grant / President Grant / 18,172
President Lincoln / President Lincoln / 18,172
Cincinnati / Covington / 16,339
Kronprinzessin Cecilie / Mount Vernon / 19,503
Amerika / America / 22,622
Rhein / Susquehanna / 10,058
Neckar / Antigone / 6,200
Prinz Eitel Friedrich / De Kalb 5,000
British Furnished Many Transports
The British Government-furnished many of its largest vessels for the transportation of American troops, carrying over more than a million men, and the French and Italians gave such aid as they could. According to the table made up by Walter Logan, the statistical officer of the Cruiser and Transport Force, a total of 2,079,880 American troops were transported to France, as follows:
1917
May: 1,543
June: 15,091
July:  12,876
August:  19,403
September: 33,588
October: 40,027
November: 23,722
December: 48,815
1917 Total: 195,065
1918
January: 48,055
February: 49,239
March: 85,710
April: 120,072
May: 247,714
June: 280,434
July: 311,359
August: 286,375
September:  259,670
October: 184,063
November: 12,124
1918 Total: 1,884,815
Of these, according to Mr. Logan's figures, 911,047 were carried by the United States naval transports, and 41,544 by other United States ships—a total of 952,591 carried in American vessels. British ships carried 1,006,987, British-leased Italian ships, 68,246; other ships, French, Italian, etc., 52,066.
Not One U. S. Troopship Lost on Way to France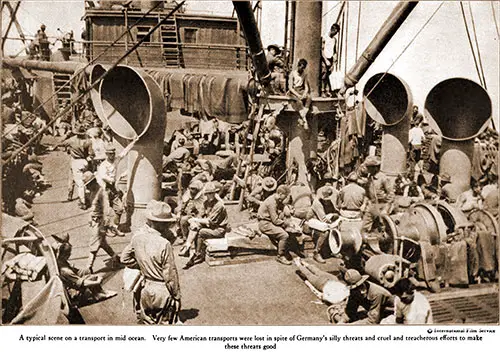 A Typical Scene on a Transport in Mid Ocean. Very Few American Transports were Lost in Spite of Germany's Silly Threats and Cruel and Treacherous Efforts to Make These Threats Good. Photograph © International Film Service. The United States in the Great War, 1919. GGA Image ID # 180c1525f6
Though several hundred lives were lost in the regrettable sinking of the Tuscania, the Moldavia and the Otranto, British vessels carrying American troops, the total loss of life was remarkably small, and it was a source of gratification and thankfulness that not one American transport was sunk on the way to France. 
Three were sunk on the homeward voyage—the Antilles on October 17, 1917; the President Lincoln, on May 31, 1918; and the Covington, on July I, 1918. The Finland was torpedoed in October, 1917, and the Mount Vernon on September 5, 1918, but both managed to reach port, were repaired, and put back into service.
Secretary Daniels, in reviewing the work of troop transportation, wrote: "It is probably our major operation in this war and will, in the future, stand as a monument to both the Army and the Navy as the greatest and most difficult troop transporting effort which has ever been conducted across seas."
The Leviathan, formerly the German Vaterland, the largest ship in existence, carried over nearly 100,000 troops. She made ten round trips in ten months, making most of these voyages without escort, trusting to her speed and armament to foil the U-boats.
Patrol Squadrons Sent to France
The operations on the coast of France comprised one of the most important United States Navy activities. The first of the "U. S. Patrol Squadrons Operating in European Waters," under Rear Admiral W. B's command. Fletcher sailed from the Navy Yard, New York, for France on June 4, 1917; its mission being defined as "to operate against submarines and to protect shipping adjacent to the coast of France." 
This squadron consisted of the following converted yachts:
Corsair Lieutenant Commander T. A. Kittinger
Aphrodite Lieutenant Commander R. P. Craft
Noma Lieutenant Commander L. R. Leahy
Kanawha Lieutenant Commander H. D. Cooke
Vedette .Lieutenant Commander C. L. Hand
Christabel Lieutenant H. R. Riebe
Harvard Lieutenant A. G. Stirling
Sultana Lieutenant E.G. Allen
The squadron arrived at Brest on July 3. The day previous, the Noma had sighted a periscope, and depth-bombs were dropped, but the submarine disappeared. The Sultana rescued 50 survivors of the steamship Orleans, sunk in the vicinity, apparently torpedoed by the same submarine which the Noma had sighted.
Rear Admiral Fletcher established headquarters in Brest, and on July 14, the French national holiday, the American squadron began active service with the French Navy.
Five days later, the first attack on an American war vessel occurred, a torpedo being fired at the Noma. The submarine submerged and was not again sighted. The Noma also had a gun engagement with a large submarine on August 15.
The second squadron reached Brest the latter part of August; the Guinevere and Carola IV arriving August 29, and the Alcedo, Wanderer, Remlik, Corona, and Emeline on the 30th.
Patrol Squadron 4, consisting of the Wakiva, Lewes, McNeal, James, Douglas, Bauman, Anderson, Courtney, Cahill, Rehoboth, and Hinton, reached Brest September 18th. They were accompanied by sixteen Ho-foot submarine chasers, which were turned over to the French Navy.
John Wilber Jenkins, Our Navy's Part in the Great War, New York: John J. Eggers Company, Inc., 1919, pp. 9-14.