Our Navy in the Great War - 1919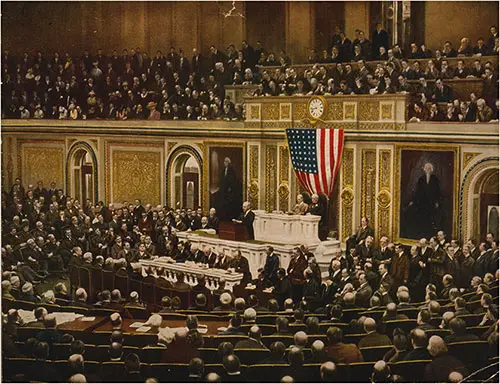 President Wilson Reading to Congress his Famous War Message on April 2, 1917. When he left the Capitol after reading this message he had built himself a monument which will stand while this nation lives. The entire country, as ex-Secretary of State Root expressed it, stood unitedly behind President Wilson in the gravest emergency that the nation had ever been compelled to meet. When President Wilson asked for war his words were not directed against a people but against an artificial evil. When he had finished speaking, the final day for imperialism and its abuses had begun. Everywhere throughout the world, save in those unfortunate lands where the iron hand of despotism was clinched for one last blow, this lofty message was received with limitless rejoicing. From that time forth President Wilson became and remained the foremost spokesman of the Allied cause. Photo from Library of Congress LC 2002716887. Text from The United States in the Great War, 1919. GGA Image ID # 1804e34a71
By John Wilber Jenkins of the Navy Department
On April 6, 1917, the day President Wilson, in accordance with the resolution of Congress, declared the existence of a state of war with Germany, Secretary Daniels sent out the order for the mobilization of the Fleet.
This order, which marked the Navy's actual beginning of hostilities, was flashed to the flagships Pennsylvania, Minnesota, Seattle, Columbia and Vestal, and sent to every ship in service.
So thoroughly had the plans been worked out under the direction of the Chief of Naval Operations, Admiral William S. Benson, that Admiral Henry T. Mayo, Commander-in-Chief of the Atlantic Fleet, is quoted as saying:  "I did not give a single solitary order of any kind or description to pass the Fleet from a peace to a war basis."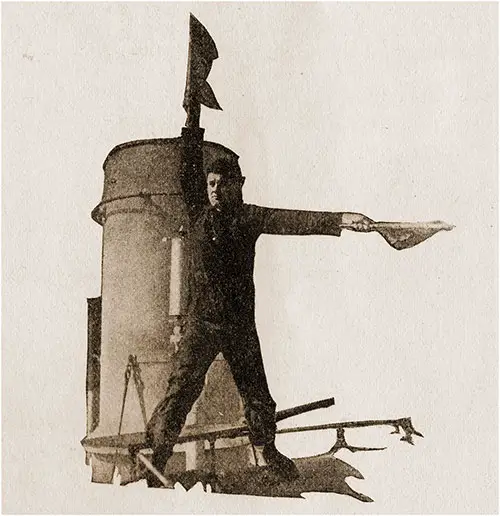 US Navy Sailor Using Flag Signals. Our Navy's Part in the Great War, 1919. GGA Image ID # 18070e914c
Ships that were in reserve were put into full commission without delay; supply ships had been loaded and fully equipped and were ready to sail. Reserves of ammunition and supplies had been acquired, battleships and cruisers were in a high state of efficiency; the Navy was ready for action.
Ruthless submarine warfare was at its height. Germany was carrying out to the letter its intention of sinking without warning all vessels, neutral as well as belligerent, entering the so-called barred zone proclaimed in its note of January 31, 1917, which had caused this Government to break off relations with Germany on February 3, and to arm American merchantmen for protection against attack from submarines.
On March 12, the Navy had begun the arming of merchant ships in accordance with the order of the President.
Armed Guards on Merchantmen
Guns and gun-crews were promptly placed on our merchantmen, which, with naval armed guards aboard, were sailing through the war zone before the actual declaration of war. In fact, on April 1, the day before President Wilson made his historic address to Congress, John I. Eopolucci, of Washington, a member of the armed guard on the Aztec, was killed when that vessel was sunk by a submarine.
The first American officer lost in service against the enemy was Lieutenant Clarence C. Thomas, of Grass Valley, Cal., who, with four of his men, perished after the sinking of the Vacuum on April 28. 
To provide these gun-crews for merchantmen, the Navy organized an Armed Guard Section. Trained gunners were required, and many were taken from battleships and cruisers for this important duty.
This was a duty no navy had contemplated in previous years, as the days of piracy were long past, and Germany was the first nation in modern times to attack merchantmen and sink them without warning, taking no steps to save the lives of crews or passengers.
There were not enough free guns of the proper calibers available, but the Bureau of Ordinance managed to meet the demand; though in some cases they had to be taken from the secondary batteries of battleships, to be replaced later when more could be manufactured.
Many Encounters with Submarines
Despite the difficulties, it was not long before every American vessel that applied was armed and furnished with a naval gun-crew; and the exploits of these armed guards in their encounters with submarines make one of the brightest chapters of the war. 
The Mongolia, on which Lieutenant Bruce R. Ware, Jr., was in command of the armed guard, was first to report having scored a hit against an enemy U-boat; and not long afterward, the French Ministry of Marine credited the Silver Shell with sinking a submarine, and Turret Captain William J. Clark, who commanded its armed guard, was promoted by Secretary Daniels for courageous and efficient conduct.

Double Line of US Destroyers Kept the Sea Lanes Open for Transports. Photo by Brown Bros., New York. Our Navy's Part in the Great War, 1919. GGA Image ID # 18043c169d
Destroyers Sent to the War Zone
The submarine was the immediate menace. It was apparent that the United States Navy's immediate duty was to give the British and French every assistance in its power in the anti-submarine campaign. 
Admiral William S. Sims, who was on his way to London before the war was declared, was made Commander-in-Chief of the United States naval forces operating in European waters.
Orders were given for the fitting out of a flotilla of destroyers "for distant service." The first group of six sailed from Boston on the morning of April 24, 1917.
This was composed of: first section—The Wadsworth, Commander Joseph K. Taussig, Jr., commanding; the Porter and the Davis; second section—the Conyngham, McDougal, and Wainwright.
They arrived at Queenstown, Ireland, on May 4. A British destroyer, the Mary Rose, and fast motorboats were sent out to greet them and guide them into the harbor.
At Admiralty House, they were received by Admiral Sir Lewis Bayly, Commander-in-Chief of the Coasts of Ireland. Presuming that, after their long and stormy voyage, they would require some time for repairs and "tuning up," Admiral Bayly asked, "When will you be ready to go to work ?" Commander Taussig, the senior officer, answered, "We are ready now, sir." That answer struck the keynote.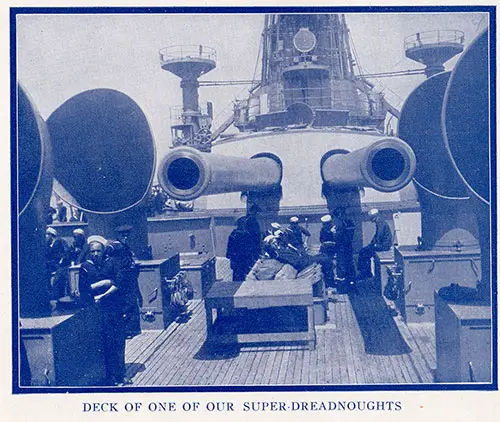 Deck of One of Our Super Dreadnoughts. Our Navy's Part in the Great War, 1919. GGA Image ID # 1804c8dd04
High Praise from British Admiral
The American destroyers and their crews were always ready for any duty, no matter how difficult or dangerous. They entered into the campaign with an energy and enthusiasm that won the regard of their British comrades, and a year later, on the anniversary of their arrival, Admiral Bayly, in a general order, said:
"I wish to express my deep gratitude to the United States' officers and ratings for the skill, energy, and unfailing good nature which they have consistently shown, and which qualities have so materially assisted the war by enabling the ships of the Allied Powers to cross the ocean in comparative freedom. To command you is an honor, to work with you is a pleasure, and to know you is to know the best traits of the Anglo-Saxon race."
Sailed under Sealed Orders
Commander Taussig gave the following interesting description of the voyage of the first flotilla of destroyers and their work:
"When the United States became a belligerent, one of the first requests the Allies made was that we send as many destroyers and other patrol boats as we could possibly muster over to the other side to assist them in combating the submarines.
At 9:30 one April night, I received orders to proceed at daylight to my home navy yard to fit out for distant service. What was before us, I did not know.
There were five other commanding officers of destroyers who received the same orders, and at 5 o'clock the following morning we left the Chesapeake Bay and were on our way to New York and Boston at high speed, in order that we might get ready, as soon as possible, for whatever it was to be.
"So anxious was the Navy Department that the outside world, in general, knows nothing of the movement of these ships that not even I, who was in command of the expedition, was informed of our destination.
"We went to the navy yards, the ships went in dock, had their bottoms cleaned and painted, we took on stores and provisions to last three months, and in a few days sailed from Boston.
"My orders were to proceed to a point fifty miles east of Cape Cod and then open my sealed instructions. Until I got to that point, at midnight of the first night out, I did not know that our first port of call was to be Queenstown.
'It was quite natural that the few in authority who knew of our movements watched with anxiety for news of our crossing. It was the first time that vessels of this type had ever made so long a continuous passage without refueling or without the company of larger vessels.
Warmly Welcomed by the British
"We were ten days in making the trip, due mostly to a southeast gale, which accompanied us for seven of the ten days. So rough was the sea during this time that for seven of the ten days, we did not set our mess tables; we ate off our laps. On the ninth day, we were pleased to be met by a little British destroyer named the Mary Rose.
She picked us up early one morning and came along flying the international signal, 'Welcome to the American Colors.' To this, we replied, 'Thank you, we are glad of your company!
The Mary Rose then accompanied us to Queenstown. I am sorry to say that the Mary Rose was sunk with all hands by a German raider in the North Sea three months later.
We received a very hearty welcome at Queenstown by the British Admiral, Sir Lewis Bayly, and the others in authority. They were very glad to see us.
"Things were looking black. In the three previous weeks, the submarines had sunk 152 British merchant ships. It was manifest that this thing could not go on if the Allies were to win the war. The British Admiral gave us some wholesome advice in regard to how best to fight the submarines. 
We immediately prepared for this service by having what is known as depth charges or depth bombs installed. We put all of our surplus stores and provisions ashore in order to lighten our draft, as it was possible that a few inches might save us from striking a mine.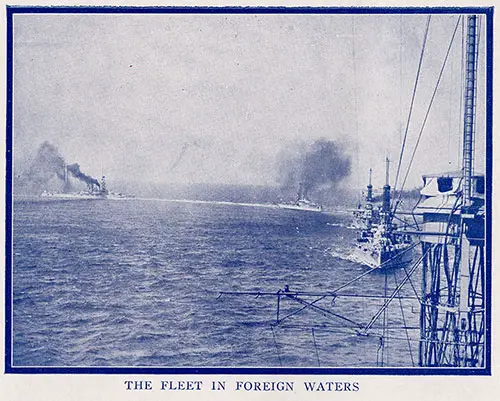 The Fleet in Foreign Waters. Our Navy's Part in the Great War, 1919. GGA Image ID # 1804ce7aed
Mines Had Been Planted in Channel
"The seriousness of the work before us was made evident, not only by the large number of vessels that were being sunk but by the fact that the night before we entered the harbor, a German submarine had planted twelve mines right in the channel. Fortunately for us, they were swept up by the ever-vigilant British minesweepers before we arrived.
The day following our arrival, one of the British gunboats from our station was torpedoed, and her captain and forty of her crew were lost. Patrol vessels were continually bringing in the survivors from the various ships as they were sunk.
"The British Admiral told us that we would go on patrol duty for six days at a time, and then come in for two or three days' rest. In this patrol duty, we were assigned to certain areas, as far as 300 miles offshore, as the submarines were then operating that far out.
"Our orders were to destroy submarines; to escort or convoy valuable merchant ships; to save lives if we could. We did escort many ships, and we did save many lives.
Submarines Were Hard to Catch
"I cannot say that we sank many submarines. The submarine, I found, is a very difficult bird to catch. He has a tremendous advantage over the surface craft. In the first place, he always sees you first.
"This is because when on the surface, he is very low, and when submerged, he has only his periscope out, or perhaps nothing at all. As he was not after destroyers, he avoided us whenever he could. That is, if he saw the destroyer on the horizon, the submarine immediately went the other way.
"When we saw a submarine, which sometimes happened frequently, and at other times several weeks might pass without seeing one, we would immediately go after him full speed, and open fire with our guns in the hopes of getting in a shot before he submerged; but he always submerged very quickly.
Only once did my vessel in seven months succeed in actually firing at a submarine. He then went down after the fifth shot was fired. At that time, he was five miles away. But what they are afraid of are the depth charges or depth bombs.
Depth Charge Used against U-Boats
"I will tell you how they operate. A depth-charge is about two or three hundred pounds of a high explosive. It is fitted so as to explode automatically at any depth we may desire.
"The destroyers and patrol vessels carry them on deck at the stern. When we see a submarine submerge, we try to find his wake, and if we can see the wake of a submerged vessel, we run over it, drop the depth charge by simply pulling a lever, and in a few seconds, there is a terrific explosion.
"This explosion is so great that on one or two occasions when I happened to be in the chart house when they let go, I thought my own ship was torpedoed.
"They can be felt underwater for a distance of several miles, but, of course, they must be dropped very close to the submarine in order to destroy him.
"If we get it say within ninety feet of the hull, it may damage it enough to cause him to sink; otherwise, only superficial damage may result.
"The patrol duty was very trying, as the ocean was strewn with wreckage for a distance of 300 miles offshore. It was hard to tell a periscope when we saw one.
"Fish, floating spars, and many other objects were taken for periscopes and fired at; we could not afford to take a chance, as our whole safety depended on our being vigilant.
"The submarines did less damage as the summer wore on, due, undoubtedly, to our having more patrol vessels.
Convoy System Protected Merchant Ships
"Then the scheme was taken up of having convoys. The advantage of a convoy is that six or ten destroyers can protect from twenty to thirty merchant ships, while in the patrol system, only one destroyer could be with one merchant ship at a time. The convoy system has now developed so that practically all vessels passing through the danger zone are in large convoys of from ten to thirty with an escort of from six to ten destroyers.
"These convoy trips would take us out of port from six to eight days. They were very trying days, especially during the latter part of fall when the weather got bad. When we are at sea in this way, we do not take off our clothes, neither officer nor man. We must be ready at all times.
"We do not even have the pleasure of taking a bath, as something might happen, and we would not be ready for it. As one young officer expressed it, we had to come down to the Saturday night bath habit, and if we happened to be at sea Saturday night, we might be out of luck.
"The night work was very difficult, as the danger of collision was great with so many ships without lights operating in close proximity. There are frequent collisions, and we must use our judgment as to whether we should turn on our lights, avoid the danger of collisions, take the risk of a submarine seeing us, or keep our lights out and take our chances.
"We have this to remember, that if a submarine sinks us, she only sinks one ship, but a serious collision may result in the sinking of two ships, so it is a matter of judgment."
John Wilber Jenkins, "Our Navy in the Great War," in Our Navy's Part in the Great War, New York: John H. Eggers Company, Inc., 1919, pp. 5-9.